Little did we know when we brought home Isabel, Roscuro and Despereaux that we'd brought home a few more creatures than we realized. But, in "due" time, wouldn't you know Izzy gave us a tiny surprise -- several in fact!!! Of course, the fort she built...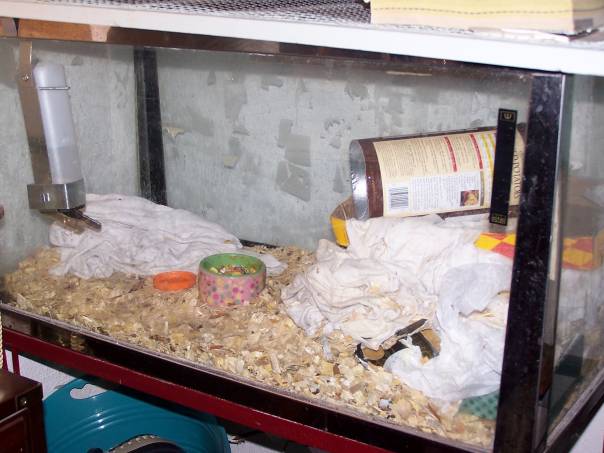 ...and poor Sunny (who we'd adopted with Noah) being forced to sleep outside it...
...indeed gave us some clue. But, Sunny tried to be patient and avoid the nursery in accordance with Izzy's wishes...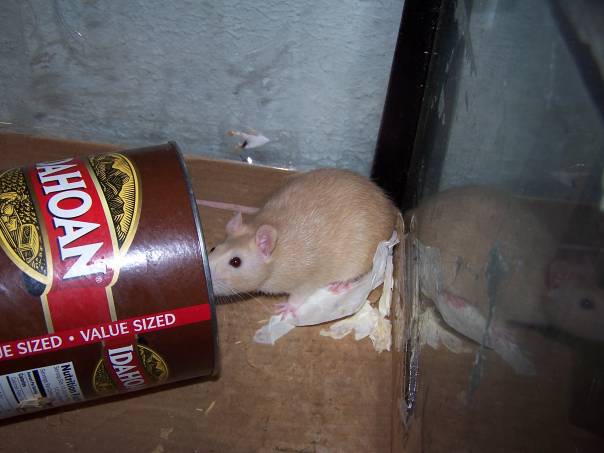 Finally (after about a week) she allowed both us and Sunny to have a couple quick peeks...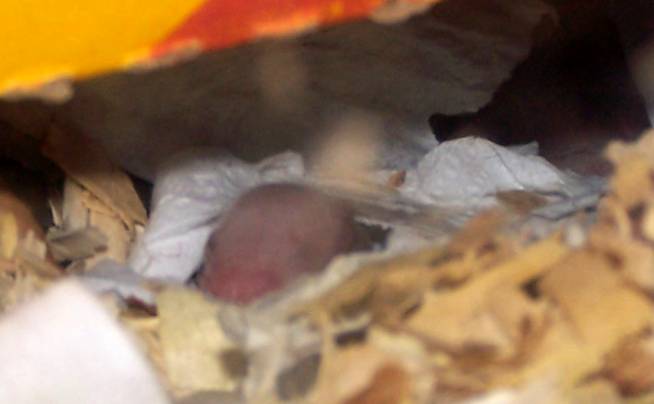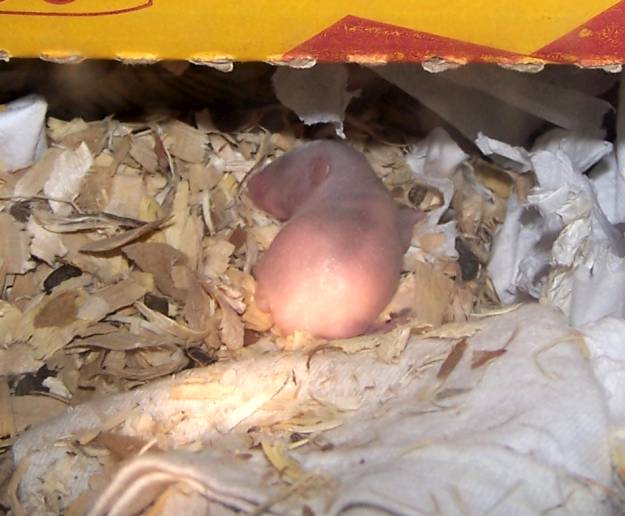 And, once she realized Sunny (who we learned had arrived at home in the same condition) was about to have babies, too...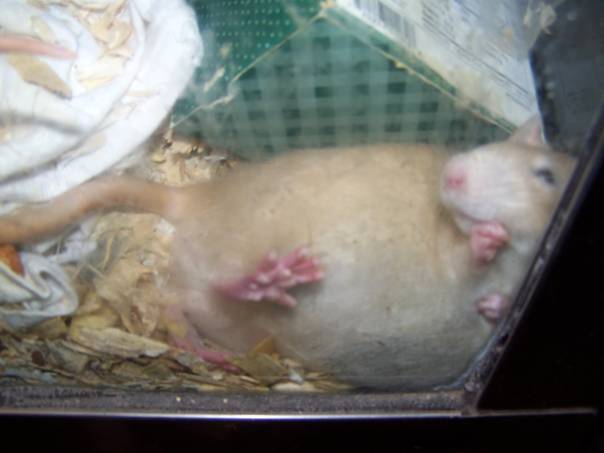 ...they became the best of friends...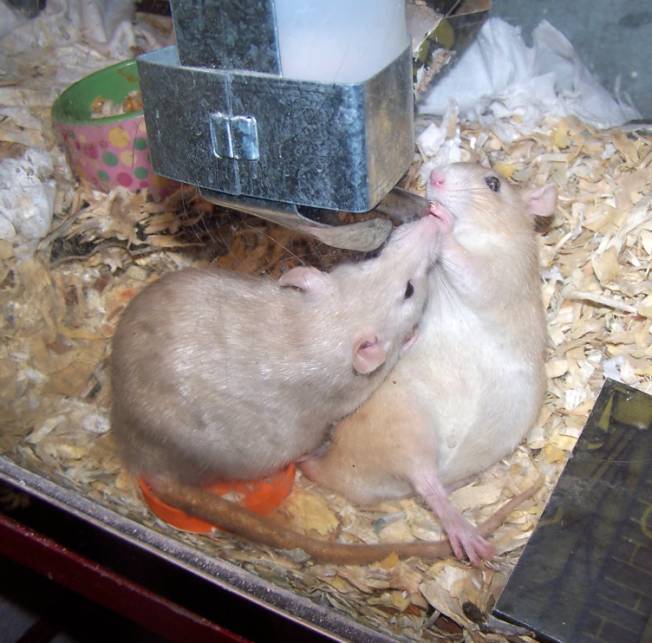 Now Izzy was busy with both taking care of her own babies...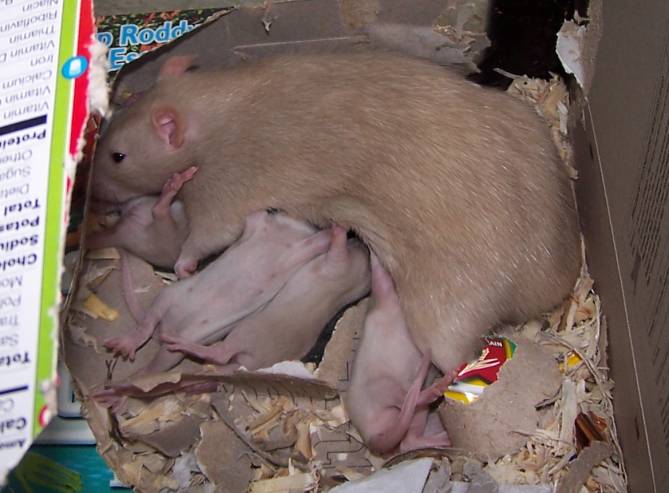 ...and anticipation at the arrival of Sunny's. Fortunately, when Izzy's were only two weeks old...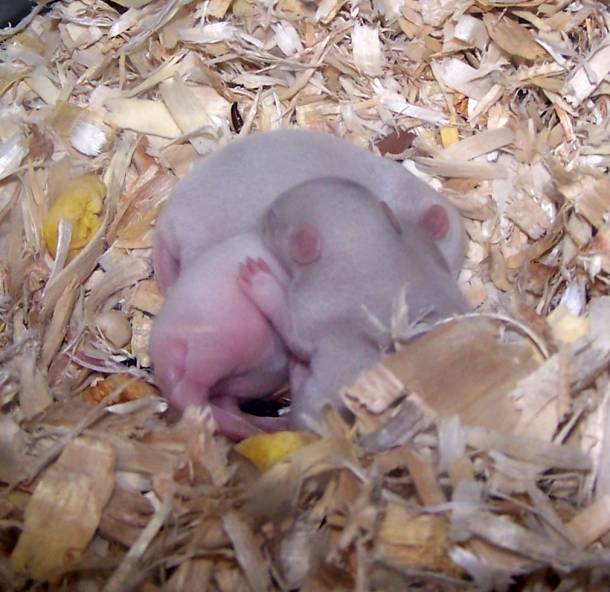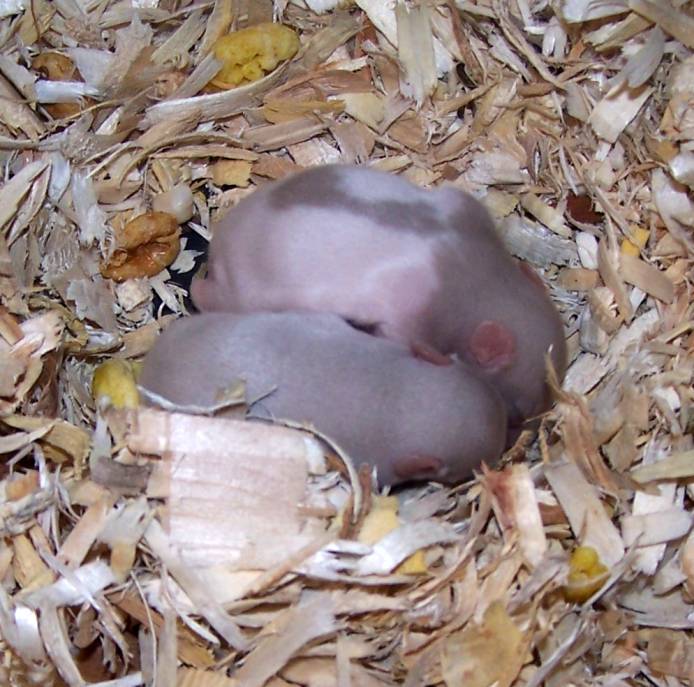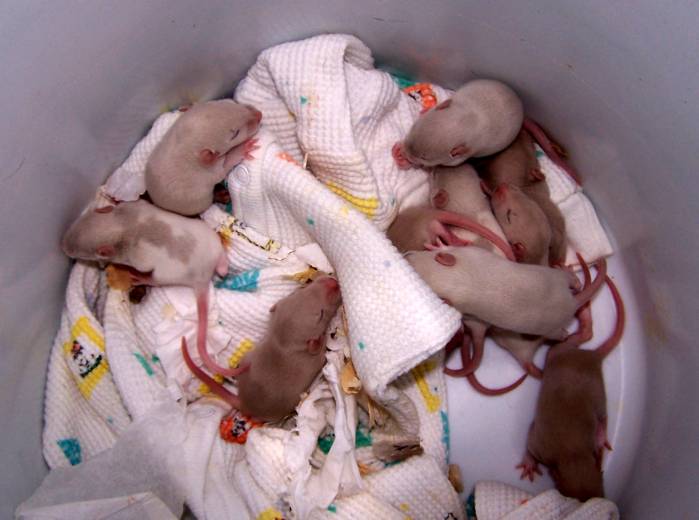 ...the wait ended!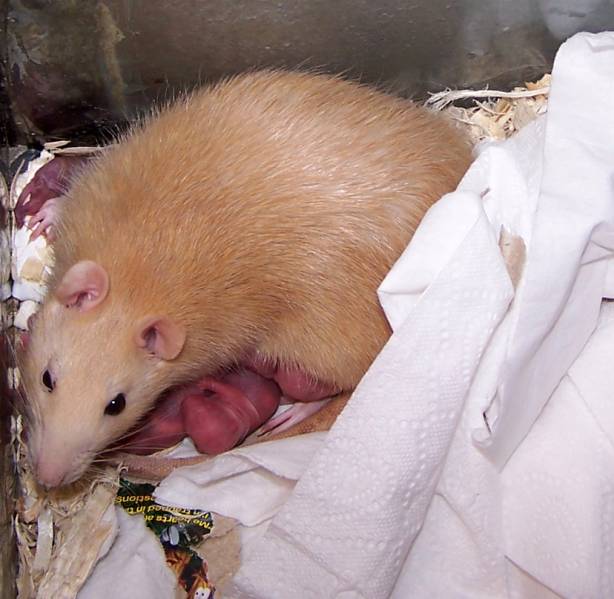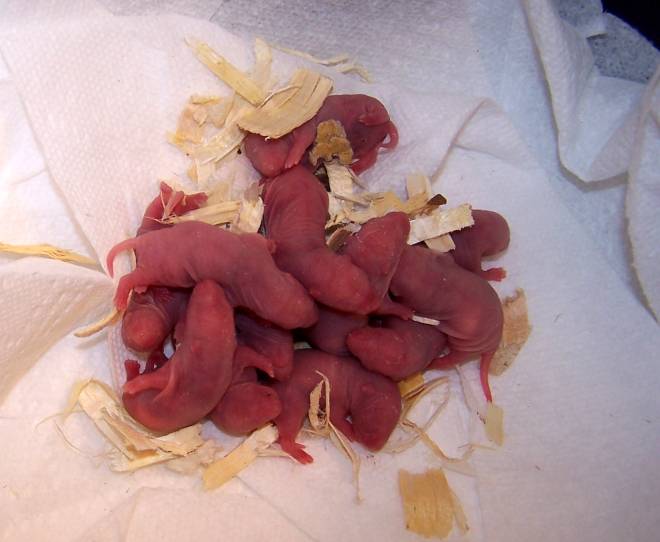 Excited as Izzy was, she still had more work to do herself. By the time Sunny's babies were a week old, Izzy had to start teaching her own brood about the food bowl...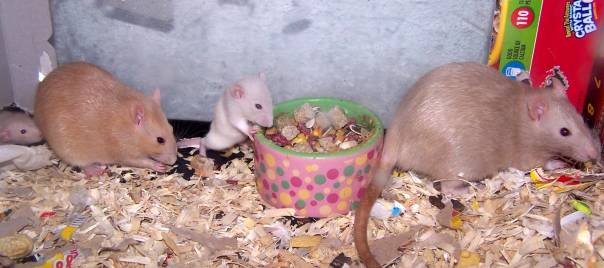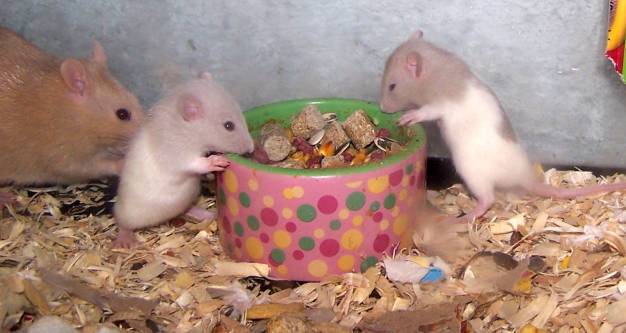 ...and the water bottle...
As you can see, Sunny proved a big help with that...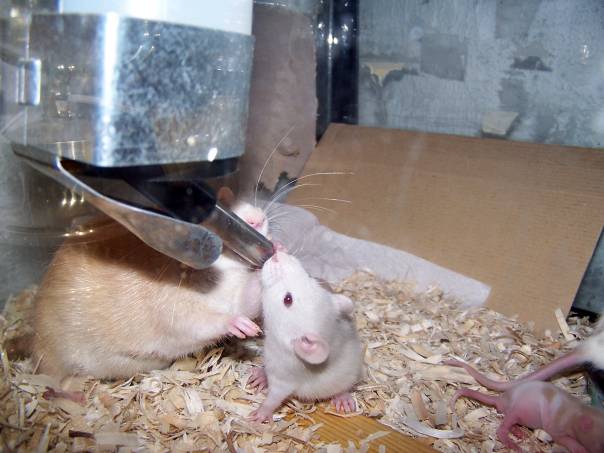 So, under the tutelage of Mom and Aunt Sunny, Izzy's babies continued to grow...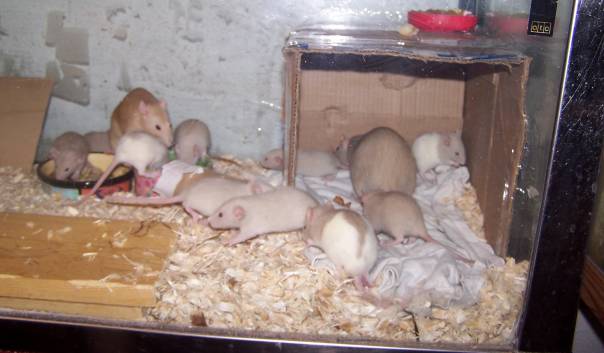 ...and learn new things, like how to climb Mom's tail...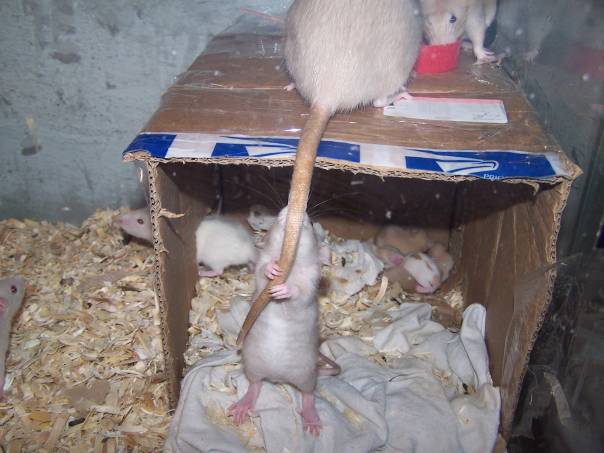 ...savor oatmeal for breakfast....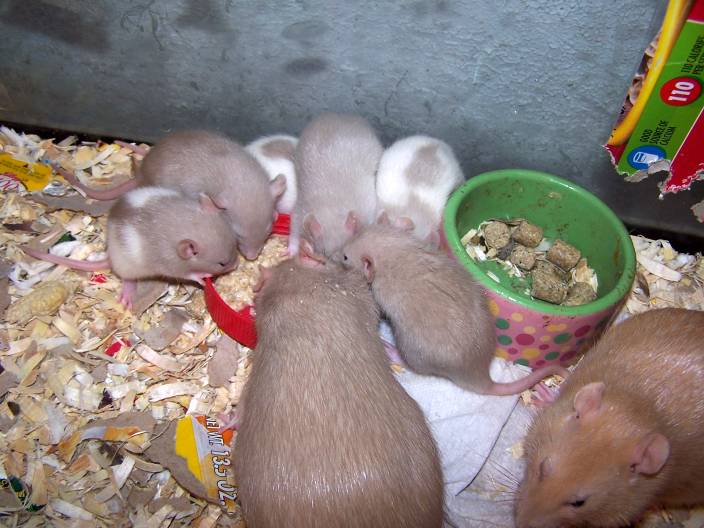 ...and sleep in the food bowl...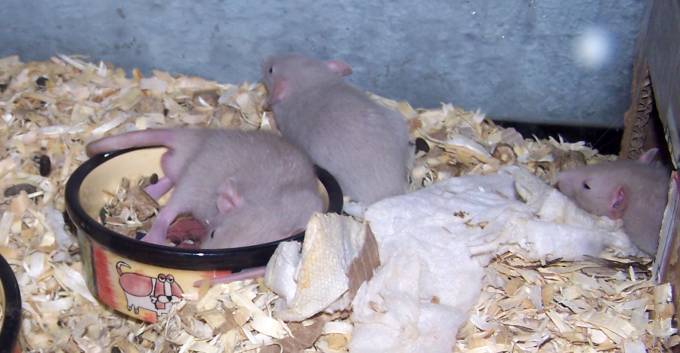 And, though Sunny's babies were still too little for these activities, that didn't stop them from trying to keep up...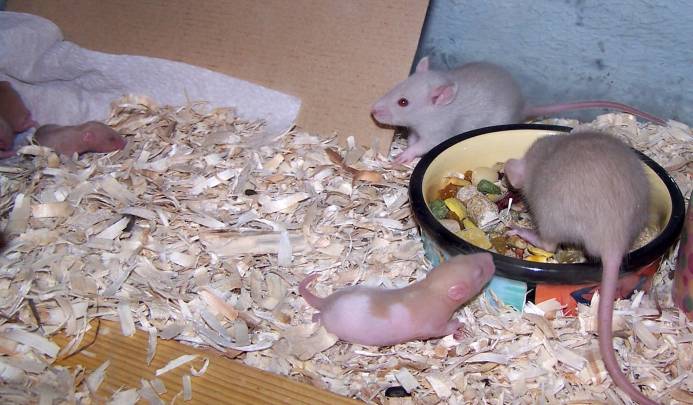 Soon it was time for Izzy's boys to be weaned, meaning they were relocated to the tank with Noah and his friends. They weren't sure they liked that idea at first...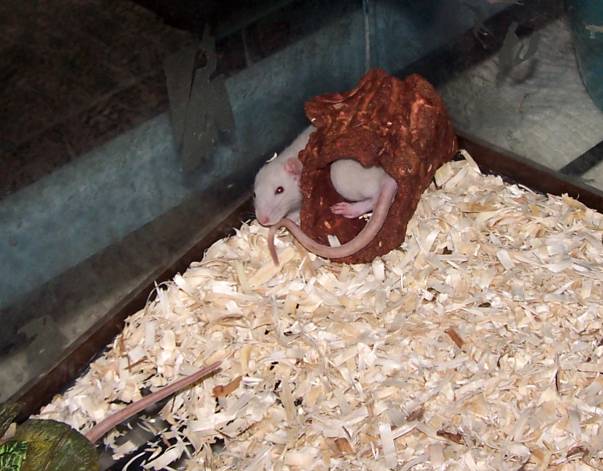 But Noah promised to take good care of them...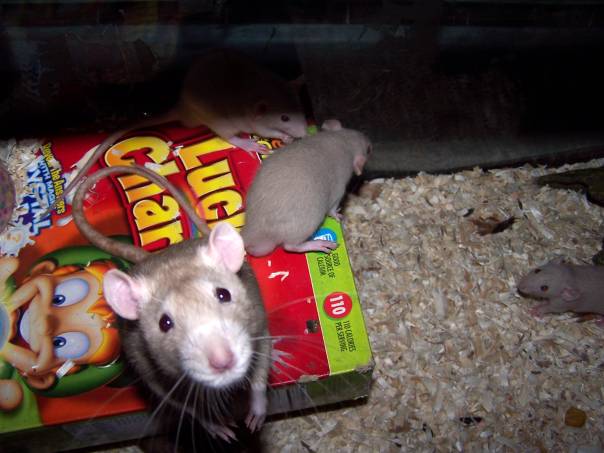 He introduced them to the supper dish...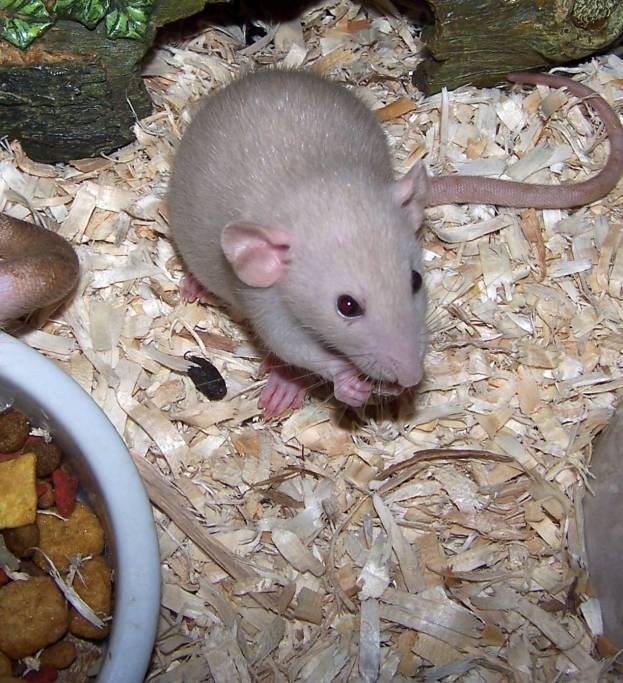 ...and they immediately felt more at home. And, of course, he let them beat him handily at wrestling!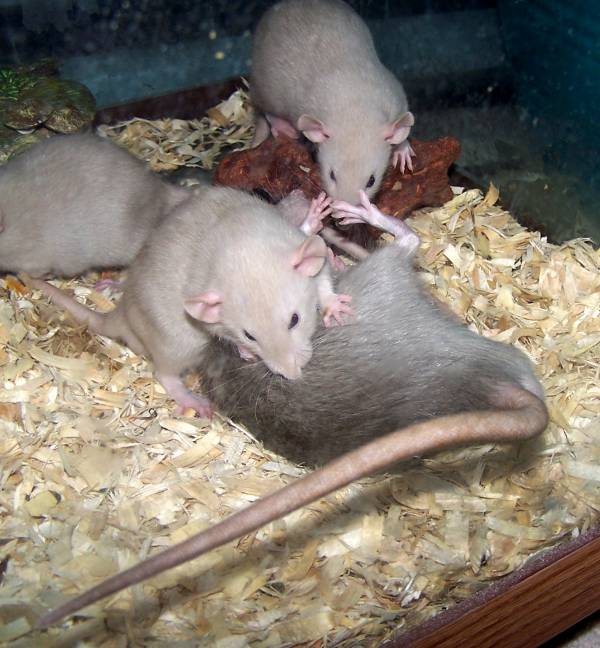 Soon they were enjoying treats together...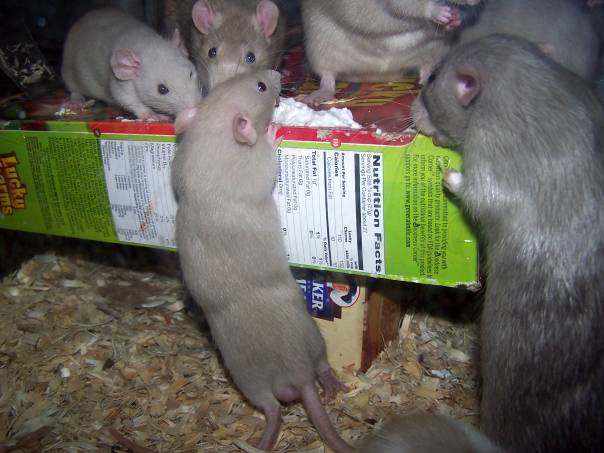 ...as were the girls, younger babies and their moms...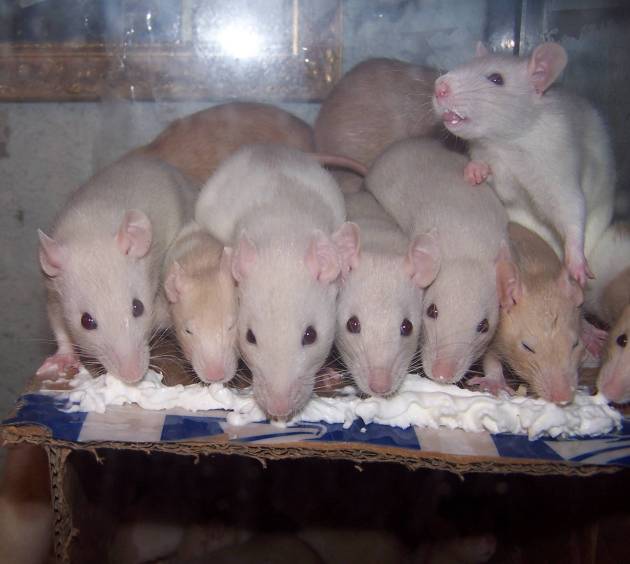 Oops, not so fast -- wait for ME!!!
Ahh...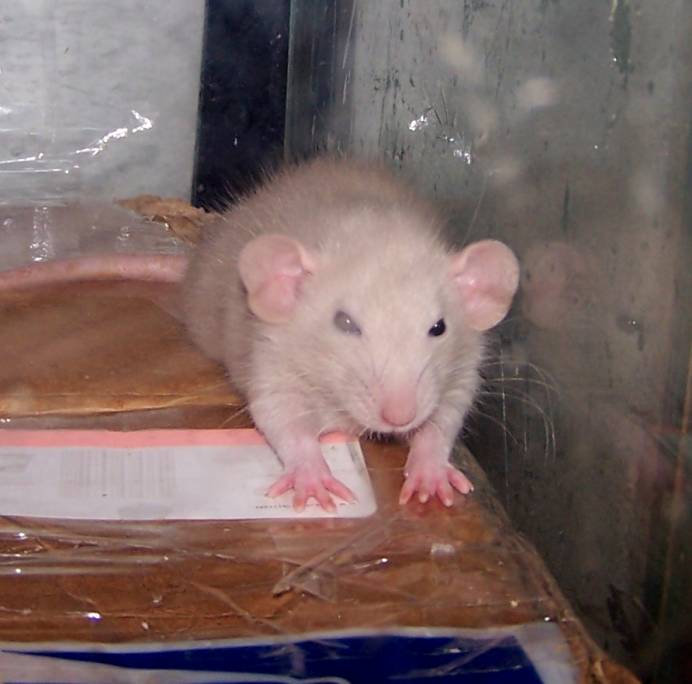 That was GOOD!!!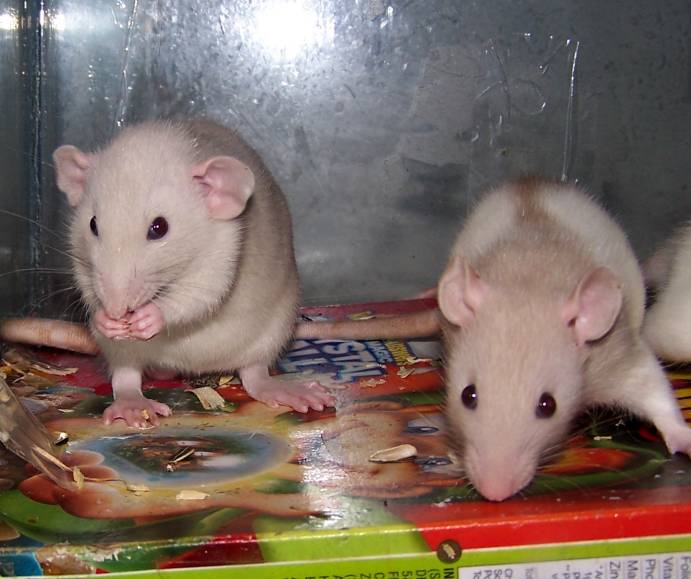 Of course, even Sunny's teenies were learning that a thorough cleaning is necessary after such a feast (would you just look at that tongue?!?!?)...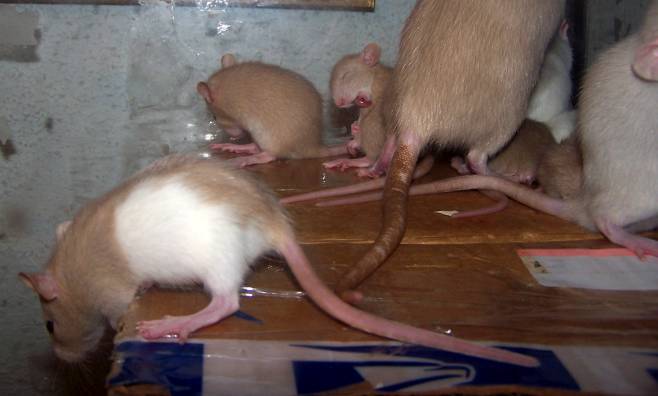 But they were still small enough to fit in some pretty tight spaces...
...which panicked one of Izzy's girls with regard to supper...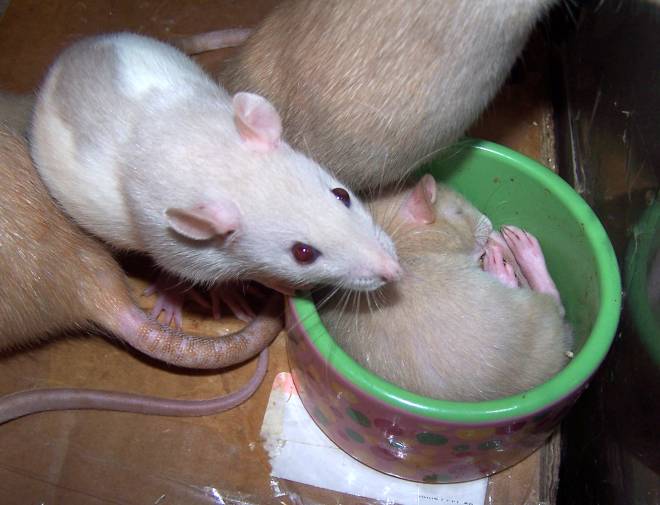 No need to worry...the little guys wanted food, too...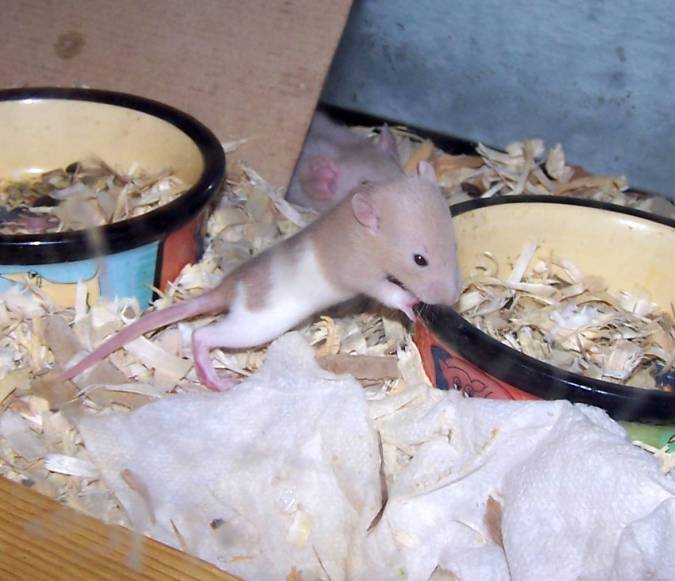 Plus, everybody knows you can always snack in bed...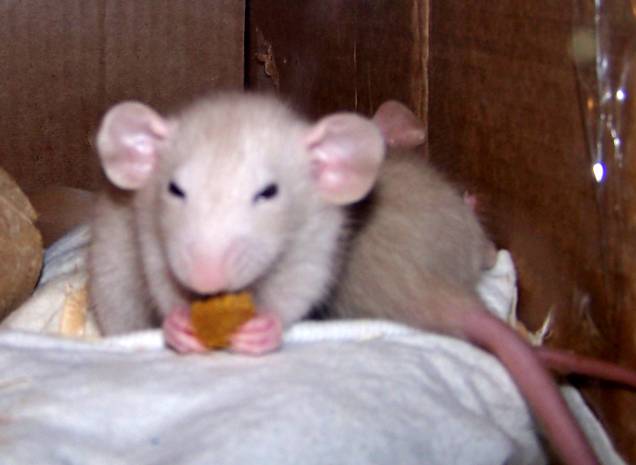 Before long, the little guys weren't so little anymore...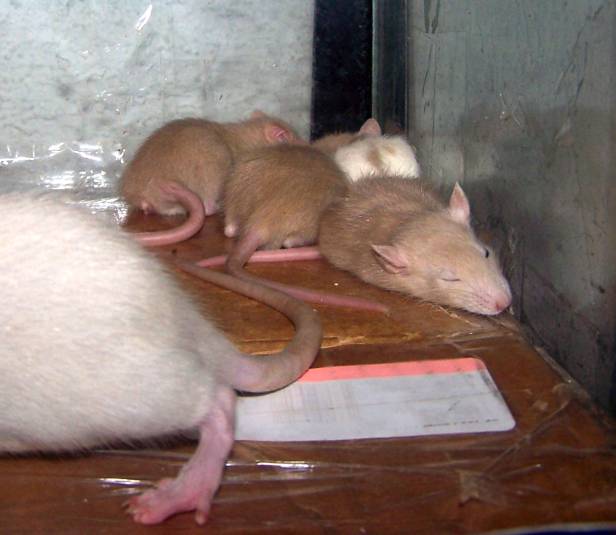 ...and weaning/relocation day for Sunny's boys came, too...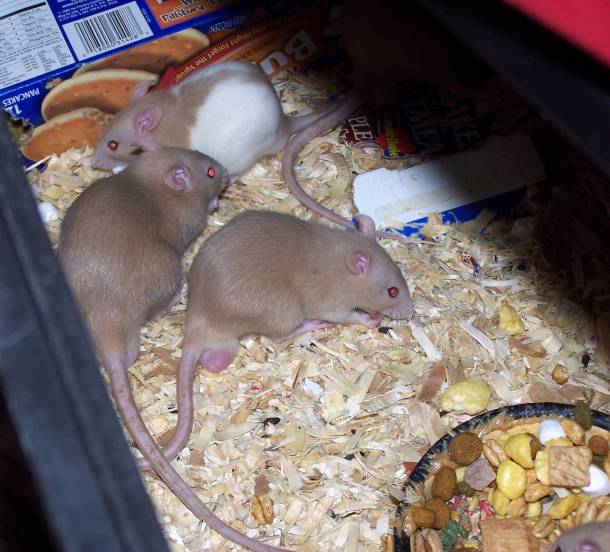 At last their moms could enjoy a well deserved REST!!!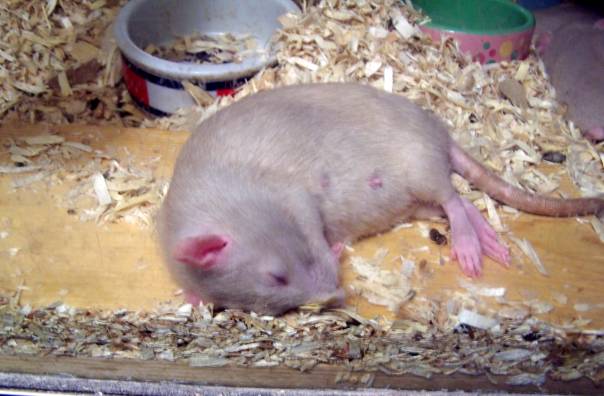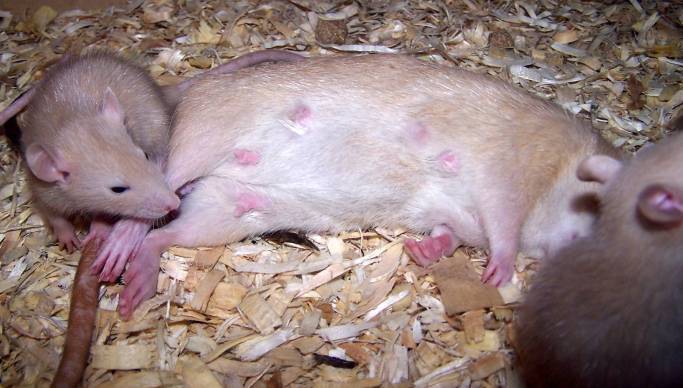 Well done, moms. HAPPY MOTHER'S DAY!!!
That said, here's one more evidence of how strong and confident their offspring...
a video of Izzy's daughter, Ruth at that favorite rat baby activity -- wrestling. Enjoy!!!
Ruth Wrestling - Bout 1 (.wmv format)
(Also hosted at myspace.com for those with Quicktime or other players - here's the link)