Third Eye Blind
at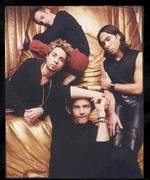 10-04-05
Setlist (*Denotes New/Unreleased Song):
Never Let You Go/Crystal Baller/Graduate/*Don't Believe A Word/*Summer Town/*Standing Up For You/ *Red Star/Narcolepsy/Wounded/Palm Reader/Jumper/Motorcycle Drive By/Semi-Charmed Life

Encore: Deep Inside Of You/Slow Motion (complete)/(cover?)/How's It Going To Be/Losing A Whole Year/*Second Born/God Of Wine

Review/Recap:
Where to begin describing this amazing night of magic and fun and mayhem and brilliance that encapsulate the up-close experience of Third Eye Blind in the intimate club setting of New Jersey's Starland Ballroom. As I'm sure each person present has his or her own firsthand impressions, I guess I should start by walking those reading this through my own experience, exactly as it unfolded. It all started with the announcement on StephanJenkins.com that a select few tour dates had been scheduled -- with one in my home state. Needless to say, the next step was an online trip to Ticketmaster to make sure the event hadn't already sold out, and to purchase admission for myself and my husband before it did. And, having never been to this venue before, another cyber-journey to their web home was likewise in order (where I unfortunately read a notice prohibiting cameras -- even camera phones...which is why no photos from the show itself accompany this review). Finally, I decided to splurge on the slight additional fee for "Star Parking", which promised a spot only a few steps from the door, and immediate entry to the event, with no waiting in line.
As it turned out, this last privilege was the bargain of the night, since I'd been correct in assuming the crowd would be enormous. And, after having been led to the front of a line of fans that seemed to stretch into oblivion, we were able to make our way only about 6 rows from the stage itself -- a pretty impressive feat, considering the prior 3eb shows we'd attended were at the 13,000 seat PNC Bank Arts Center, where Stephan and the boys looked more like ants than musicians from our mid-pack vantage point.
In any case, the venue (an all general admission, standing room only club) became more and more packed during the opener's set, which resulted in much shoving and shuffling as the bolder among the newcomers attempted all manner of maneuvers to squeeze in front of the line my husband and I occupied, and the lines in front of that. And, while, all of this displacement dismally promised to put us somewhere mid-pack (or beyond again) by the time 3eb went on, by some miracle, after the opener closed, the human blender in which we found ourselves constantly shaken ultimately tossed us out closer and closer to the front instead -- so close, in fact, that by the time 3eb indeed took the stage, I was actually leaning against the rail separating the audience from the performers.
Of course, I was also literally three feet in front of an enormous speaker, meaning I still can't hear properly as I write this nearly 24 hours later! But, that's okay. The loudest echo in my ears is still that of the joy at witnessing Third Eye Blind in action -- truly as "live" as music gets.
That said, on to the show. Needless to say, in the crush of bodies swaying, dancing, even being crowd-surfed overhead, the thought of extracting the pen and paper I'd brought for taking notes and writing down the setlist immediately proved ludicrous. As a result, while I'm quite certain of what was played, I'm not a hundred percent clear on the order (I may even have a couple of the main set's songs as part of the encore, and vice versa). But, I know with certainty that the show opened with the wonderfully infectious strains of "Never Let You Go"...and that within seconds of the first note I wore a smile that was equally spontaneous and joy-filled. And, by the time Stephan, Arion, Brad and Tony had moved on to "Crystal Baller" and "Graduate", the whole crowd had gone wild.
So positive was the reaction that Stephan addressed the audience directly with his pleasure at the enthusiastic reception after such a long time since the band had released an album or embarked on a more extensive tour. "We've become this little cult thing," he explained, then looking over the overflowing wall of faces before him, added in awe... "But THIS is f---ing incredible. Incredible indeed...though to fellow 3eb supporters reading this, surely no surprise.
Stephan then went on to invite the crowd into a little secret, of sorts...noting he felt that the band was "among friends", he asked permission to share several new songs. "That's part of why we chose to do a couple of shows now," he said, " to let you hear some of the songs that might be on the next CD and let us know what you think of them." And, without further ado, a tune entitled, "Don't Believe A Word" began this mini-album-preview. A catchy relationship-based work that included very realistic re-enactment of an over-the-top screaming match as part of a verse, the chorus then kicked in with the stern admonishment, "Don't believe a word....you know we'll wake up screaming". As usual, dauntingly serious lyrical material couched in a deceptively accessible melody -- i.e. a true to form example of the music of Third Eye Blind.
Moving on to "Summer Town", a song about the transient nature of routines as seasons pass, the new song portion of the show concluded with another excellent composition entitled, "Standing Up For You." Again, I may have the order somewhat misplaced, so it's possible the final new song of the main portion of the show immediately followed, but I believe it came a few songs later. In any case, "Red Star" proved a truly "rocking" track, though one to which I unfortunately couldn't make out enough of the lyrics to comment on its content in any meaningful way.
What I can comment on, however, are the wonderfully meaningful bits of acting interjected into "Narcolepsy"...particularly during an instrumental break in which Stephan sat on the drum platform, simulating an attempt to escape the noise of his own thoughts and the outside world while Tony descended on him with repeated screaming guitar riffs inches from his ear...and no matter which direction he turned, the "noise, noise, noise, noise" as Dr. Seuss once put it," inevitably followed. Similar visual accompaniment characterized the clearly crowd-favorite "Wounded", which I must confess was punctuated for me by the admittedly unwelcome distraction of a particularly zeal-infected female fan's repeated attempts to wriggle by, under, over and or otherwise around those of us already tightly squeezed into our coveted front-row spots, and who, upon settling into her own space -- sort of -- still managed to flail her way into all surrounding her as she danced about (while literally screaming in my ear at the top of her lungs). Finally, however, her efforts to rise above the crowd by sitting on a companions shoulders and ultimately being caught up in the (for a time quite rampant) crowd surfing landed her over the front rail, courtesy of security, and led away to a spot -- thankfully -- much farther behind me.
Realizing the crowd surfing proved ongoing and was becoming potentially dangerous, Stephan deftly segued into a roundabout attempt to calm this down before announcing the next song would be one from the band's "highly underrated" third album...a comment delivered in a mildly enigmatic way that suggested tongue-in-cheek intent -- or perhaps merely resignation at the capricious nature of "the biz". Either way, it was a treat to experience live one of my favorites from that disc, "Palm Reader".
Moving on to "Jumper", as the crowd surfing unfortunately intensified once more, Stephan finally addressed this activity directly, expressing his concern over anyone getting hurt, and leading the band into an extended instrumental interlude during which he encouraged the audience to bring the excitement level down a bit, and simply enjoy "chilling" for a few moments. During this quieter, slowed down break in the action, Tony took the fore by playfully interacting with the audience, continuing to transform the mood with beautifully melodic guitar work, as Arion snugged up to the crowd on his own side of the stage.and Brad exhibited a bit of the jazz experience he'd brought with him when first becoming a part of Third Eye Blind.
Keeping things at a slightly lower energy level for a time, the band moved on to the stream-of consciousness poetry of the regret-turned-peaceful acceptance tale of "Motorcycle Drive By"...before turning things up several notches once again for the final song of the main set -- the signature hit, "Semi-Charmed Life."
Of course, after such an energetic and satisfying experience, one to which no one wished to "say goodbye", the thunderous applause that followed the band offstage continued pulsing in insistent waves that gave way to the chanted incantation, "THIRD EYE BLIND, THIRD EYE BLIND, THIRD EYE BLIND" -- until that which the crowd had willed into being indeed suddenly re-appeared...in the form of Stephan alone at first (for the wistfully conflicted "Deep Inside of You" and the scathing social commentary of "Slow Motion -- in its entirety), then joined by Tony, Arion and Brad as well -- for what amounted to not merely a standard-length encore, but rather something much more like an opener's whole set! And, a versatile set it was, including more traditional faves, a cover, yet another brand new song, and a bit of up close, hand-to-hand connection between Stephan and the front-row audience... all before the telling strains of the traditional 3eb show closer, "God of Wine".
And, while I'm sure none of us present would have objected to delaying the evening's goodbyes to the band 'til a "glamorous sunrise" at last appeared, still we departed with the unfading glow of a glorious memory and the already building anticipation of doing it all again the next time the band hits town.
Here's to that return occurring very, very soon.