New: Because shipping outside North America makes the cost of The Rodent Reader Quarterly (in its regular print format) quite high for readers abroad, weíve created a monthly pdf version thatís more feasible for purchase by this group. It contains the same material as that within the quarterly print issue, merely divided into three parts and slightly re-distributed.
PDF cost - Quarterly subscription - $8.95/ (3 monthly issues)
Annual subscription - $27.95/yr. (12 monthly issues)

(12 pages per monthly issue -- which include NO PAID ADVERTISING.)

Choose Quarterly or Annual Duration

Here's a bit more info about the pdf version in general -- and the first monthly issue, specifically...
(The following is an excerpt from the Jan. 11 pdf version's intro -- by The Rodent Reader Quarterly's editor-in-chief, (pet rat) Keela:
"Here it is, everybody -- the first ever pdf issue of The Rodent Reader Quarterly -- or rather, part issue...because the material covered in the first print edition of TRRQís second year has been divided up into three sections -- and redistributed a bit -- to create the new monthly version youíre reading here. . The way I see it thatís a good thing and a bad thing -- good because I canít tell you how excited I am for you to bury your whiskers between its pages...or scroll through them on your computer, I should say. But, itís bad because youíre going to have to wait until March to get to some of what Iím so excited about. And, of course, Iím aware that reading this on a screen isnít quite the same as holding a real, professionally printed magazine in your paws. But, since worldwide postage makes the print edition pretty pricey, this seems the next best option.
...in this first pdf alone, youíll find a very up-front exploration of a subject thatís followed us rats around for centuries (our tails!), a profile of an amazing artist -- who doesnít work exclusively with rodents, but who sure has made some great contributions to stories that contain them -- and, of course, some great rat photos.
Speaking of photos, it should be noted that these are generally full-page in print issues of TRRQ -- three per issue -- all of which are included in some form in these pdf versions. However, due to space limitations not all are able to be reproduced at such large size -- and others have been converted into cover shots. Nonetheless, itís hoped youíll enjoy meeting the wonderful individuals each captures -- and the poems that share a little about the scenes their photos convey."

And, here's the first pdf issue's Table of Contents: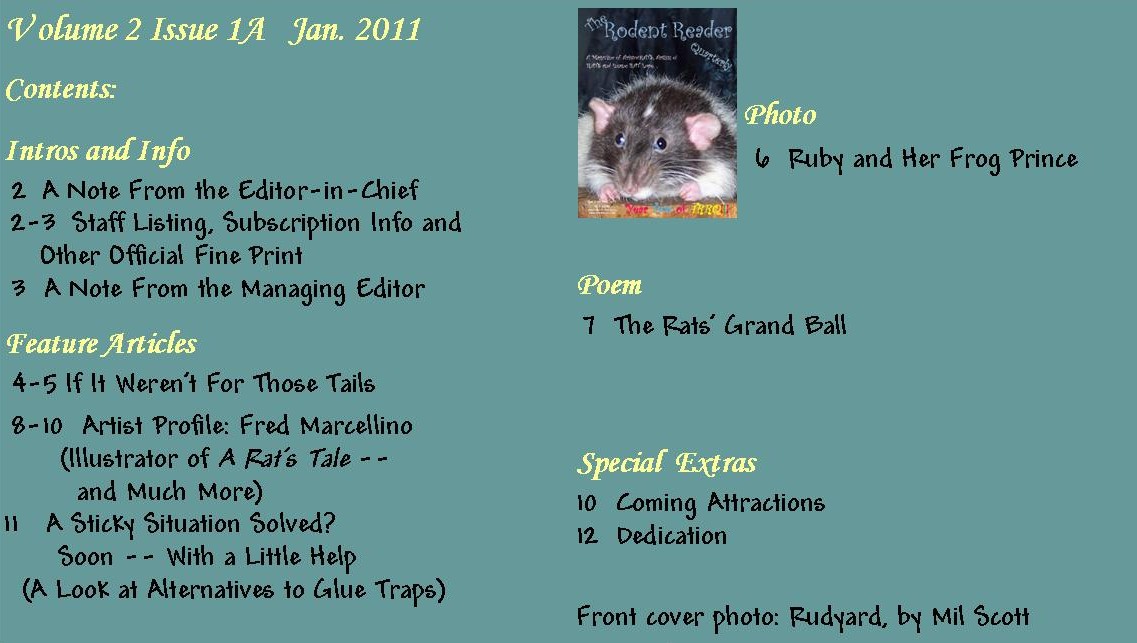 Hope you enjoy it!!!
Questions? E-mail mil@artistinsane.com
Thank you!
Back to the Rodent Reader Main Page