The Rodent Reader Quarterly is now the ONLY (multi-issue per year) pet rat magazine based in the U.S. — and it's available in both PRINT and digital formats! Subscribe today to have rodent facts and fun you can hold in your hands delivered to your door!!!


The NEW ISSUE has begun mailing out!!! Featuring The Incredible Sadie's 5th birthday celebration, adorable elder rat gent Snoot, an artist profile of Lucia Heffernan, more of Stacy Winnick's Prince Dobalob, a new chapter in The Return of Row and Rifflerat, another Rat Lady: Rewind, and much more!!! Subscribe or renew today to get yours "hot off the press!"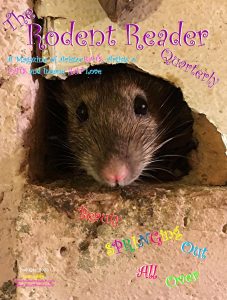 ALSO, THE (1st) SADIE COVER ISSUE (2nd qtr. 2020) IS AVAILABLE ON THE BACK ISSUES PAGE IF YOU DON'T ALREADY HAVE YOUR COPY!
An issue not to be missed — including the conclusion (or is it?) of Kevin Grazier's "The Incredible Sadie," — in honor of which, Sadie is the gorgeous cover girl!!!!   Also in this issue… a new "Clara's Corner," rat art, photos, poems — and a very special announcement in the new "Keela's Reviews!"
Visit the Quick Subscribe page today to join us for a full year of rodent facts and fun — or to purchase just this issue!
And, if you're new to TRRQ and need to catch up on the prior installments of Sadie's tale — here are Part 1 (in fact, a whole issue for your perusal) and Part 2!
And, don't forget – TRRQ makes a great gift for any occasion!
A Magazine of AristocRATS, Artists o' RATS and Insane RAT Love

"One of my proudest moments was being chosen for the artist interview in the first issue."
               Manon Cleary (internationally renowned artist)
TRRQ Features 28 Full-color, Oversized (8.5″ x 11.25″) Pages of Articles, Full-page Borderless Photos, Poems, Reviews, a Chapter of a Rat Fiction Book in Progress and much more!!! Professionally printed. And, The Rodent Reader Quarterly contains NO PAID ADVERTISING. It's TRRQ's primary goal to make each issue a positive and enjoyable experience for readers — and rats! Click here to check out a 15 page preview excerpted from the intro issue.
1 yr. Subscription (4 print issues) – $31.95 (within the U.S.)
The button below is for within U.S. only.
Outside the U.S. email me to request a paypal invoice.
Canada — $34.95 *Rest of the World — $46.95
International subscribers please email me for a paypal invoice):
(Subscriptions DO NOT automatically renew, and will begin with the current issue unless you specify otherwise when making payment.)
You can also send a check or money order (U.S. Dollars — payable to Rodent Reader Press)  to the following address:
Rodent Reader Press, P.O. Box 22, Broadway, NJ 08808 (USA)
——————————
Full year subscription (PDF/electronic version – $19.95, anywhere in the world)
Single Issues (print):
NOTE: The paypal link below is for purchasing the current issue. To buy the prior ones, click the "back issues" tab in the box at the top right of this page.
You can send a check or money order (U.S. Dollars) to the address above or click the button below to use PayPal:
If desired, you can change the quantity in the next step (the default quantity
is 1).
Single Issue (current )
Print version –  $8.95  (within the U.S.) Canada $9.95
Rest of the World $12.50
The button below is for within U.S. only.
Outside the U.S. email me to request a paypal invoice.
Single Issue (current )
PDF version – $5.50 (anywhere in the world):
Back issues and gift subscriptions available, too!
Finally, your thoughts and suggestions are always welcome! E-mail me with those and/or any questions anytime.