(this originally appeared under "About Michael" on his official website, www.michael-mcdermott.com)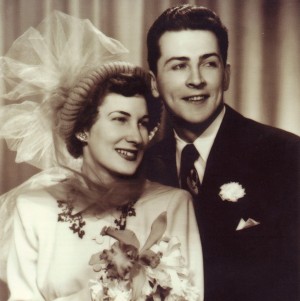 The booklet insert that accompanies Michael McDermott's latest album, Hey La Hey, features a nostalgic photo of a young couple on what appears to be their wedding day.  While no explanation is provided in the credits, to those who've seen McDermott in the flesh, the familial resemblance is unmistakable.  And though, at first blush, it might seem oddly incongruous with the other images on the disc, the glimpse this photo (of his parents) offers into McDermott's personal world and (Irish American) heritage serves as a perfect preface to not only Hey La Hey itself, but McDermott's catalog as a whole, and the life stories – McDermott's and others – his songs so timelessly capture.
"I consider myself a storyteller," McDermott said in a 1999 interview.  "I'm also a hopeless romantic, so lots of my subjects are simply from everyday life and the relationships we have in today's fast-paced urban world.  People and loved ones are an important part of my music."
A decade later, that statement continues to apply.  McDermott's father once held a job parking cars "for a Clark Street dive" in Chicago's Near North Side neighborhood, and it's his nickname from those days that's borrowed by the title character in The Ballad of Johnny Diversey, a musical crime caper on Hey La Hey, about which screenwriter Brian Koppelman says, "These are great characters, real and mythical at the same time, and I want to know 'em, to hang with them in that bar, which, from the sound of it, isn't that far from where the good ol' number 49 train rumbles into Chicago."
That train, as longtime McDermott fans well know, served as the inspiration for a song on Michael's first release, 620 West Surf (1991), an album that came about after Koppelman, then scouting talent for the label, Giant Records, discovered McDermott, and invited him to an informal showcase in his hotel room.  As McDermott tells it, "So I went over there, and played, like, 30 songs that he hadn't heard.  It was unbelievable."  A trip to New York for a second meeting followed, after which Koppelman told him, "I'm gonna sign you.  I'd be crazy not to."
It was also 620 West Surf that introduced McDermott's signature hit, "A Wall I Must Climb" – a maturely introspective and insightful song – written on the ground at LaGuardia airport in an hour and a half—and which, 7 albums and 18 years later, is still a staple at nearly every McDermott show.  It's a song characteristic of those McDermott, who grew up listening to such musical giants as Dylan and Van Morrison, would spend the bulk of his career writing — compositions Stewart Franke of the Metro Times summed up in a 1996 article as "a simple, brave music."
"McDermott's [work] is reasoned and spare," Franke wrote.  "His songs are longer than most, his poetry dense and wordy.  McDermott's songs are often in the form of a personal letter, to a variety of unknown correspondents:  the half-remembered friend, a fallen accomplice, the ghosts of high school, a vanquished lover, a family member."
They're also products of what Franke called a "precise literary mind" (influenced by an eclectic mix of writers ranging from Shakespeare to Whitman to Bukowski and beyond), and laced throughout with evidence of a never quite escapable aspiration to become a Catholic priest.  From the spoken epilogue of "the wistful tears of Christ that flood this garden, and these flowers of sin" on Gethsemane's "Just West of Eden" (1993), the "sermons sung" and "seven psalms were hung on the walls of my dying faith" on his self-titled album's resounding "Bells" (1996) to the declaration "just say the word, and I shall be healed" on Noise From Words (2007), it might be argued McDermott's strongest work derives from the ongoing conflict of good and evil living side by side – often within himself – a tradition continued on Hey La Hey in the form of the achingly beautiful piano ballad, "Carry Your Cross."
Make no mistake, however; McDermott's songs are far more than lofty professorial or theological essays set to music.  On the contrary, they remain ever accessible – bringing to light universal experiences of the common man (and woman), in a way all can relate to and few could forget.  As John Thompson wrote in a 1996 review, "As far as I can tell, McDermott hasn't signed up for a seminary just yet."  Instead, he's "put together a scrapbook of memories we all share – like relationships that ended for some un-remembered reason.  His telling of the stories is so brilliant that each sounds like someone we know…his songs are, more often than not, tales of woe and misguided steps.  He's a dysfunctional prophet who sometimes forgets his name. He loves, he loses, tries and tries again – but he usually ends up at a bar somewhere wondering what the hell went wrong.  He's the prodigal son who – no matter how hard he strives to embrace the world and its darkness – is constantly reminded that there's another perspective.
"He's also in possession of one of the best voices in the annals of rock.  He's not an 'alternative' artist, other than that he's extraordinarily unique and good, and that's not trendy these days."
Again, these sentiments continue to echo with an even greater resonance today…as do words penned for the liner notes of McDermott's self-titled album by Stephen King.  "Michael came along at a good time for me; a vital time…the way someone always does when you're feeling dark and not much like dancing anymore… and, for me…music has always been about upping the emotional ante until it hurts and heals in equal measure… Michael McDermott [has] added lyrical depth and texture that is startling in this minimalist age."
While it may, indeed, be a "minimalist age" in terms of music industry support for true artists, it seems McDermott is once more eschewing trends by carving for himself a new era of fullness and increasing opportunities. Turning tragedy to triumph following "The Year It All Went Wrong,"  in 2008 he toured Italy for the first time, where he was so warmly embraced he returned twice in 2009, and more recently has expanded the pauper community (as McDermott's devoted fan base has long been known) throughout other European countries, including England, Ireland and France.  Also, in 2009 he married Heather Horton (an accomplished songwriter/musician in her own right), who's been a member of McDermott's band since 2005.  And, the longtime lover of literature is at last trying his hand at penning his first novel.
"I think the biggest problem in society…" McDermott once said, "is discernment, in terms of what is right and what is wrong, and what is good for you…It's really important that you're aware of what you're doing…I think.
"It's not like a movie where one day you're suddenly healed," he continues. "It's a process, and sometimes it's not easy and sometimes it's ugly.
"A little faith goes a long way."