by Mil Scott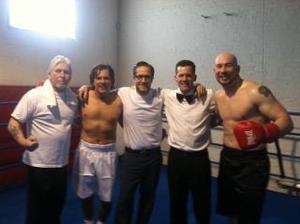 While it's been over 20 years since singer/songwriter Michael McDermott launched his recording debut with 620 West Surf,  it might be said his 2012 release, Hit Me Back, represents the work of a new artist.  For the first time, McDermott is now a father, a philanthropic entrepreneur, and has experienced the loss of an adored parent — major life changes which have, like the myriad highs, lows, and rock bottoms of the past two decades, found (often achingly) honest expression in his songs.  At the same time, his latest collection exudes McDermott's trademark embrace of faith and hope in the face of adversity, shared via his fluid vocal instrument and uniquely evocative lyrics. In "Scars From Another Life," for example, McDermott explores unwise choices from the past, ultimately making the decision to not ignore these dark corners of his soul, yet refusing to be enveloped by them.  Similarly, on the hauntingly anthemic "Ever After," he offers the listener palpable insight into the jarring confusion and doubt felt in the days that followed his mother's passing (in Oct. 2011), and on the wryly observed title track, he puts a new spin on fighting a long time nemesis.
In another first that builds on history, for the making of his newest album, McDermott turned to his devoted core of fans and supporters through the website, Kickstarter, which allows an artist to set a financial goal and lets contributors monitor its progress over a three month period.  Not surprisingly, it took under two weeks for McDermott to fully meet (and well exceed) his target amount, and by Jan. 2012, he and wife, Heather Horton (a gifted musician/vocalist in her own right) along with producer CJ Eiriksson (producer of albums for U2 and Matchbox 20, as well as engineer on McDermott's 2007 album Noise From Words), were in the studio to record Hit Me Back in a whirlwind mere 8 days.
Influenced by such musical giants as Bob Dylan and Van Morrison, McDermott by his late teens already exhibited a prodigious talent for mature and lyrically dense songwriting that soon caught the eye — and ear — of then talent scout Brian Koppelman, who immediately signed him to Giant Records.  As described by David Porter, the resulting album contained an "urgent, spiritual music, and while the single 'A Wall I Must Climb' charted on the Billboard Hot 100, McDermott found himself adrift in an era of grunge, jam bands and Achtung Baby."  Though McDermott continued to write (an astounding prolifery) of introspective, character driven songs that soon won him an enduring band of appreciative followers, neither his sophomore effort, Gethemane, nor its self titled follow up managed to garner wide enough sales to weather the recording industry shakeup that marked the mid 1990's.  As a result, McDermott found himself without a contract, and awash in debt and self-doubt.  "Throughout the years, I had continued to feel like I was on a mission, of sorts, singing spiritual songs," he once said, but never really feeling good about the other elements of my life."  Ever the fighter, however, McDermott battled back, releasing 5 more albums in the next decade, some with label distribution, others independently.  He also continued playing live shows, and riding a personal rollercoaster of addiction, recovery and sometimes misplaced ambition.  As noted in a 2007 interview, finally he realized, "There's something to be said for staying out of the way of things. I've been trying to be a rock star for so long. Forget it. I'm a folk singer"… an "Irish storyteller. Why not stick with that?"
Having at last become a bit more comfortable in his own skin, McDermott has in recent years begun to make more life affirming choices that have led to a place of both greater personal and artistic satisfaction than, it may be argued, he's ever before known.  It might also be said he's come closer to his early ambitions of becoming a Catholic priest, by way of serving others.  Through a partnership with Feeding America, McDermott has launched his own coffee line, with sales from each bag of his two signature blends providing meals for seven children.  And, of course, he's found positive inspiration for all aspects of his life in both Heather (who he married during a tour stop in Italy in May 2009) and the birth of their daughter, Rain (in July 2010).  And, in what might be called coming full circle, he's also once more a signed artist, having recently reached an agreement for release of Hit Me Back through New Jersey label, Rock Ridge Music.
Of course, that doesn't mean he's forgotten his tumultuous past or that he no longer faces present struggles.  But, at last, McDermott's longtime "Dreams About Trains" may be leading to a light at the end of the tunnel.  In yet another first, McDermott recently stepped into the new world of live internet concerts hosted by stageit.com, and concluded an all piano show from his living room with "I Shall Be Healed."  Ruefully noting that although the visit to the altar that inspired this song didn't produce the immediate solace he'd expected, it was clear the communion of music shared with fans from around the world and the distance he's traveled in the intervening years have yielded great progress in this direction.  And, for McDermott, these artist/audience connections, along with his uncanny ability to communicate universal truths through his own personal experiences, are steadily helping fade the many "Scars From Another Life" that continue to fuel his art.