As this was the first McDermott show I've been to in far too long, I felt compelled at its conclusion to express my appreciation to Michael.  Running through my head were all manner of wholly truthful compliments and appropriate words (such as appropriate words exist) to let him know what a privilege it had been to be among those sharing in this incredible event.  Despite being a Nervous Nelly when it comes to crowds (or small gatherings… or one-on-one meetings…), I wended my way through those likewise wishing to speak with him, and finally secured his full attention for a few seconds — which I used to give him a brief hug and mutter the profound… "Good to see ya!" (to which he, mercifully, did not reply) before I slunk away in horror and shame.  Not "thanks for draining your soul onto the stage so completely that waders were needed to cross the moat around it" or anything that might hint at my true sentiments.  Nope. Just "Good to see ya!"  (This wasn't a first meeting, I must add, so its outcome may have been far less surprising to him than it was even to me… not that this helps…) In any case, that, in a nutshell (emphasis on nut) is why I far more commonly express myself from the much safer distance (for others as well as myself) of the written page… the manner in which I will herein attempt to offer you a more coherent recap/review of this fantastic night than I gave to Michael.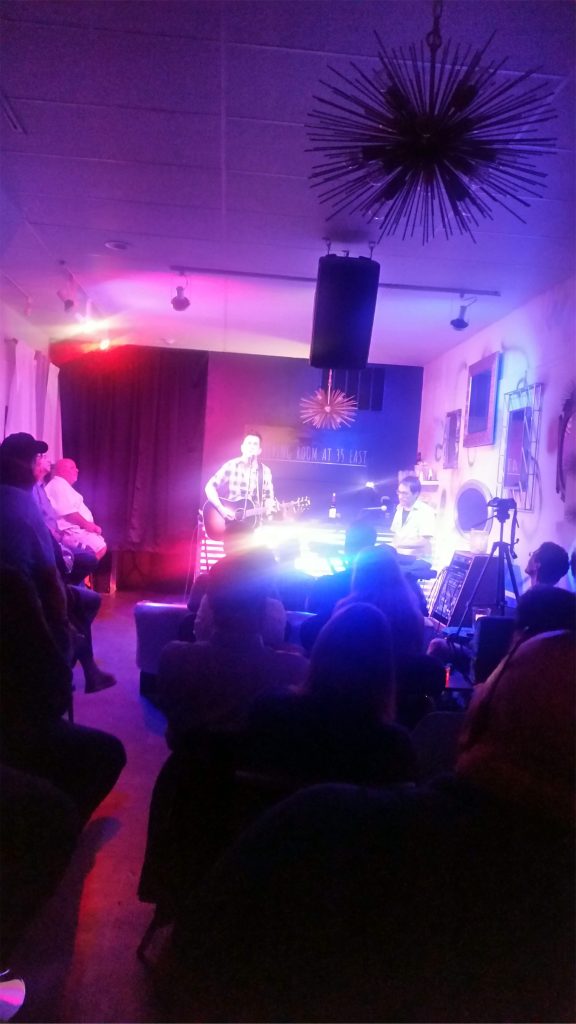 Having prefaced this piece with one embarrassing confession, I'll begin it with another: in comparison to many of Michael's other albums, I didn't really like Out From Under all that much.  But, upon experiencing Michael perform several of its tracks in this live setting, "I was," like  Pip in Charles Dickens's Great Expectations,  "enlightened by the reflection, that perhaps the inaptitude had never been in him at all, but had been in me."  For, before my eyes, using only strong, fluid vocals and his guitar (plus the accompaniment of musician extraordinaire "East Coast Eddie" [aka Ed Fritz]), Michael poured into them a whole new life.  While I'd already thought "This World Will Break Your Heart" a standout  from the disc, hearing its delicate strains float through the mesmerized hush of the packed house made it even more moving, and his raw and ragged rendition of "Knocked Down" clearly illustrated to any doubters that Michael is, artistically speaking, the "toughest thing goin' baby, pound for pound."
This power, however, was not reserved merely for promoting his current release.  The mix of older songs and brand new compositions that filled the remainder of the set proved equally engaging and evocative.  When my husband and I arrived (late — having missed the first two songs thanks to the "misguided companion" of a phone GPS that kept us wandering around on the opposite end of the correct street), Michael was recounting the tale of his efforts to help a friend caught in the throes of addiction, and who was vowing to commit suicide – a task for which Michael, approaching five years into sobriety following twenty years of "hard time" battling these demons himself, is imminently qualified.   Thankfully, this story had a happy ending… unlike that of the song it introduced, the haunting "Butterfly."
"In the dark, it's not always easy to see the light."
Yet, somehow, darkness continually illuminates through Michael's clear insights, such as those that characterize the stream-of-consciousness "Sideways," and the response to his father's passing that is "Shadow in the Window" — a song that in recorded form instantly took its place among my all-time favorite McDermott compositions. Its power in live performance, however, proved truly staggering — as evidenced in the video of it posted to The Living Room's Facebook page on the day after this show (which you can view at the bottom of this page).
Given the set had been dominated by such somber subject matter to this point, Michael joked that the next song was "about my dog that committed suicide" before launching into (the far from cheery) "These Last Few Days," which was followed by the aforementioned powerhouse of against-all-odds determination, "Knocked Down."
"Nobody's callin this fight
I'll decide when
There's still time to make it right"

The air thick with intensity at this point, Michael next lifted the mood a bit with "Blue-Eyed Barmaid, a character-study song so new he noted it had not even made it onto yet another new album he announced is scheduled for an early 2019 release.  Indeed slated for inclusion, however, is the song that follwed — the beautiful piano ballad, "If it's the Last Thing I Ever Do."
Michael then shared the humorous background to a lyric in the song "Aces and Eights."  Noting Halloween is not that far off, he said that as a child he thought he had the greatest costume ever:  a broomstick which he carried to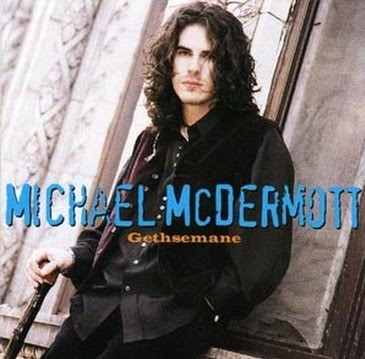 convey that he was Moses.  "My Messianic complex started early," he quipped, going on to explain that it was this broomstick that evolved into his carrying an Irish walking stick during his later youth (as seen in the photos and "Just West of Eden" video from Gethsemane).  Having decided he could, like Moses, turn a staff into a rattlesnake, he recounted a tale of convincing about thirty people in a bar that he was about to showcase this feat."That's how deluded I was," he said.  As they crowded around to watch, he cast the "staff" down the sidewalk, where it eventually skittered to a most anticlimactic halt — along with his delusions.  Thankfully, he was at least able to put the experience, like so many of his others, to good use in musical form.
As so many of even the most familiar songs had at this point, an urgent and rousing rendition of longtime staple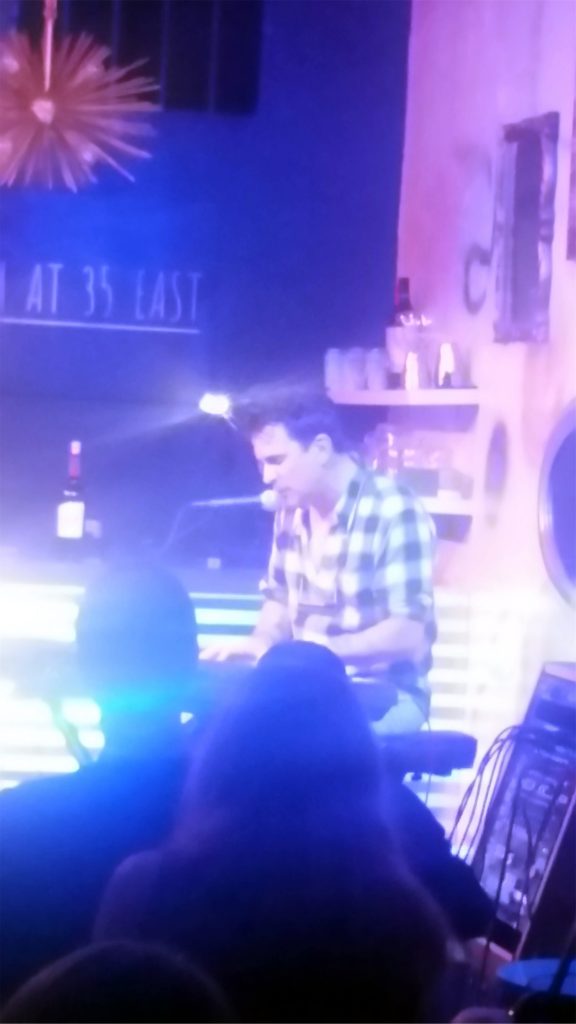 "So Am I" likewise took on a whole new life — one that demanded attention and commanded respect.  The smoky musical echoes of "Dreams About Trains" next transported listeners to a world of riding the rails, following Michael as he confided that "I Know A Place" to which all most willingly followed.  As the journey eased toward its final stop, we were reminded anew that "This World Will Break Your Heart," and brought full circle to Michael's musical beginnings as he sung of the "Wall I Must Climb," even these many years after his first attempt at scaling it.
Thankfully, the enthusiastic request for an encore was granted, for which he also revisited 620 West Surf, and the memories of his mom linked to train #49.
"Music plays in small cafes,
and I think of Marlon Brando in his younger days"
Sadly, the music in this small venue was fading to its final strains, concluding with the aptly titled "If Today Were My Last."
While this evening had to end, however, surely its echoes will continue to be heard for a very long time to come — and already I can't wait for a reprise in the form of Michael's next trip east.  In the meantime, thanks to Michael, "East Coast Eddie," and the proprietor of The Living Room for such a powerful and passionate night of music.
One could even say it was "Good to see (and hear) ya!"  (But I wouldn't recommend it.)
Mil
—————
Full setlist:
Out From Under
Paris
Butterfly
Sideways
Shadow in the Window
These Last Few Days
Knocked Down
Blue-Eyed Barmaid
If It's the Last Thing I Ever Do
Aces and Eights
So Am I
Dreams About Trains
I Know A Place
This World Will Break Your Heart
A Wall I Must Climb
(Encore):
#49
What If Today Were My Last
Video of Shadow In the Window from the show: