The  New York Daily News:

Read  Love,By a Whisker!
 ———————————————————————————————
The Express Times
Shortly after the first issue of the The Rodent Reader Quarterly was released, I received a call from a newspaper features editor, requesting an interview and a meeting with our rats.  She and a photographer/videographer subsequently spent an afternoon with us, and the following full-page article was the result!   Click Here to read it in its entirety!  (Note: The viewpoint regarding rats and reptiles expressed by the veterinarian is his alone and does not reflect that of The Rodent Reader Quarterly.)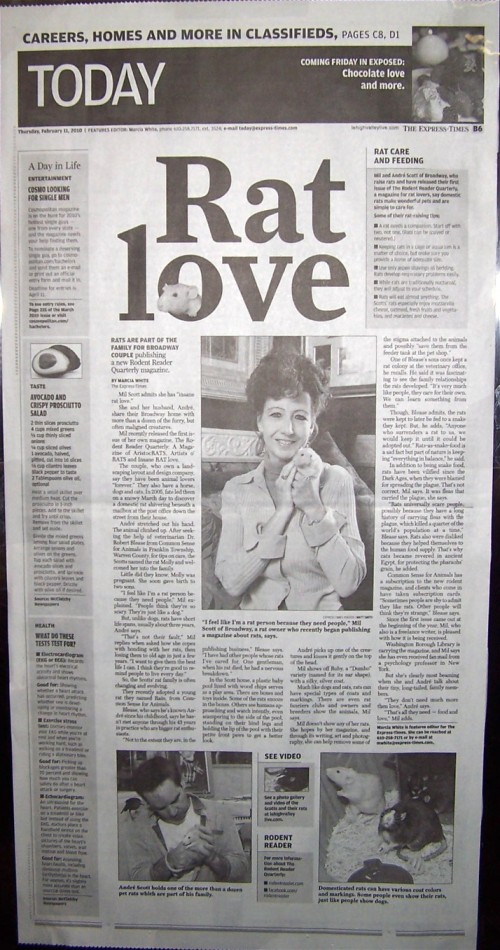 And, Click Here for a blog by the editor (NOTE: Though I'm not acquainted with any hamsters myself, I know of many people who will attest to their intelligence and sweetness as pets.  The comments in this post therefore do not reflect opinions of The Rodent Reader Quarterly.)

Photos, too!
                —————————————————————————————
Washington DC City Paper (Arts Desk) – an article about artist Manon Cleary, in which The Rodent Reader Quarterly is mentioned…
Manon Cleary's Long History with the Patron Saint of Adams Morgan—Rats
————————————————————–