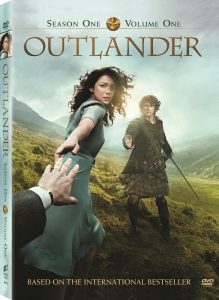 Outlander   (2014-Present)
"What am I to do? Now that I know this exists. I'm not sure I will find my own way back to my life."  So stated a fan in an online review of this Starz network series that debuted in 2014.  Having myself begun watching it over only the last few weeks, however, these words could easily be mine (and my husband's…and those of a couple close friends).  For, now that I'm here, I must confess the truly impressive progress I'd been making on the latest Rodent Reader  issue, income tax preparation, and various other more pressing pursuits, has fallen quite hopelessly along the wayside as I digest all that's occurred in the latest episode… and work to prepare my heart for the heights — and depths — to which I've learned it's likely to be taken in the next.
That said, before delving into its details, I must add that I'd actually heard of Outlander shortly after its debut — and since this was from a literary friend whose taste I often share, I have no idea why I didn't look into it immediately.  But then, perhaps it was all a matter of timing… an appropriate cause, if so, since time (and the opportunities it provides — and precludes} is the central concept around which the show revolves.
The series begins at the close of WWII, which finds British combat nurse, Claire (Caitriona Balfe), reunited with her army intelligence husband, Frank (Tobias Menzies). The two are vacationing in Scotland, in the hope of restoring a connection between them that has frayed during five years apart.  Their respective newfound interests in botany and genealogy lead them on a tour of Scottish landmarks, sprinkled with exploration of the region's folklore.  While the ancient tales lend an air of slightly dark fantasy to their adventures, neither views the blending of superstition and everyday life that characterizes the region as more than a charming backdrop to the typical tourist experience.  But, when Claire indulges her curiosity about an unusual flower by returning to the "standing stones" outside Inverness (while Frank is off pursuing a genealogical lead), she finds herself inexplicably transported from the Scotland of 1945 to that of 1743.  Unable to wrap her mind around this seemingly impossible occurrence, its reality is soon forced upon her — quite literally — when she's assaulted by a British (Redcoat) officer… from whom she's "rescued" by a Scottish highlander, and introduced to other members of his clan.  One of these is an injured man named Jamie (Sam Heughan), and when the limited medical skills of the others threaten to cause him more harm than good, Claire can't resist stepping in to help.   While they all appreciate this application of her skills, Claire's lack of era-appropriate clothing, her British accent and the sketchy bits of information she provides about her sudden appearance, leave the men (particularly their leader, Dougal) with many unanswered questions  —  and spark (in all but Jamie) a host of unpleasant suspicions.
Naturally, Claire hopes this bizarre foray into the past will be short lived, and repeatedly hatches schemes to find her way back to life with Frank in the 20th century.  But, as suspicions deepen and complications arise, she instead becomes increasingly drawn into the personal intrigues of the MacKenzie family, and the tenuous political balance of the time. And, when her presence (as a British woman with an otherwise all male Scottish traveling party) threatens to tip this balance against the entire MacKenzie clan — and Claire as well, she finds herself bound to them in a way she never imagined.  Soon, however, this act of survival leads to a union with Jamie that goes far beyond Scottish law, and she finds herself more and more deeply mired in the murky mix of forces battling within herself.
Based on a series of books by Diana Gabaldon, Outlander deftly mixes heart pounding adventure and heart stopping romantic commitment, set against the backdrop of a history that's well known, yet which investment in these characters convinces us might well be changed.  The acting, including that of the supporting cast, is superb — and the arc of truest love and tautest tension that form the relationship of Jamie (who a friend and fellow fan has described as "a huge heart, walking around") and Claire (who at times seems the antagonist,  but when the stakes are highest, often ups Jamie's "crazy" by matching his "brave") alternately inspires tears of madness and sobs of joy.
One note I must add here is that some of the material is both sexually explicit and graphically violent, and on more than one occasion both at once.  For sensitive viewers (and yes, I'm one of those), there will surely be scenes you'll either want to fast-forward through or look elsewhere during.  However, I urge you not to let this deprive you of the hugely satisfying experience the series overall provides. Then again, if you have any deadlines looming, you might want to delay the gratification of embarking on its journey until they're completed.  For, while travel "through the stones" may or may not prove a one-way trip for Claire, I dare you to find your own way back to your life once you reach her destination.
———-
To avoid spoilers for newcomers to the series, the above provides merely an overall impression.  Separate discussions of each season will follow, and be linked here upon completion  — as may be a bit of… hmm… technically "fan fiction," but something I prefer to call "creative criticism" (as it deals with the portion of the series I found least consistent, and least satisfying).  What I'm contemplating (strictly for my own amusement and that of my Outlander loving friends — and which I realize may prove my insanity once and for all), would offer an alternate possibility for Season 3 — a "what if" scenario on the order of that presented in the 1998 movie Sliding Doors — or in this case, Sliding Stones…  As I recently told a friend in MN (who's now also hopelessly hooked, after I sent her DVD's of the the series as a birthday gift last month), "You know, something to do in all my spare time (LOL).  We'll see."
March 2021 Update:  Pebble 3 has now been added — visit the link below to check it out!
July 2020 Update:  Yes, I did it!  Introducing Sliding Stones!  Click Here to begin your journey!