8/27/18 UPDATE:  See the completed project by Clicking Here!!!
Sometimes to go forward you have to go back…
From 2002 to 2008, the pauper community came together each year to present a unique and special birthday gift to Michael.  And, while each of these projects had a unique theme and design, the intent remained constant — to express our collective appreciation for Michael's music, and what it means to each of us individually.  The first year we came together to "Paint Michael A Song," the second we traveled down "The Pauper Road," then burned the house down with "Ashes to Ashes," found surrender in "The Broken Record," dressed for success in "The Album Jacket," crossed "The Birthday Bridge" and finally rolled the dice on "McDermottOpoly."
Because these efforts wrapped up on a certain landmark birthday 10 years ago — meaning another such landmark birthday is coming around again this year, I thought it appropriate to bring the concept out of retirement — and get the band back together, so to speak — for one special appearance to celebrate this occasion.
That said, pasted below is (an only slightly modified version of) the exact web page that kicked off the very first McDermott birthday celebration way back in 2002.  Although the finished product will, of course, be very different this year, the raw materials of construction needed from the pauper community remain exactly the same as they've always been.  And, while the whole project already has a fully fleshed out plan, details will be kept sketchy to keep the birthday boy from peeking under the wrapping before the gift arrives.
SO — here we go, back to the future…
As many of you know, on Aug. 24th, Michael McDermott will celebrate another birthday.  And because "it's more blessed to give than to receive," I was thinking that this event might provide the perfect occasion for all of us touched throughout the year by the gift that is his music to find a way in which we might use this very gift itself to give something back to him.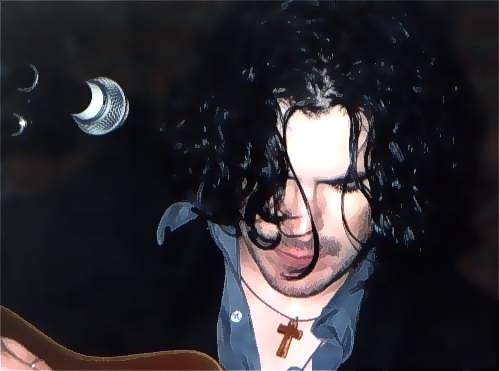 Here's how it works:
1.  Each person chooses a favorite Michael McDermott line (if you're like me you probably have several, with these changing from day to day and new ones constantly being added (!)…but for the sake of this project, you need to choose just one, and that pretty fast, as time is clearly of the essence in this case).  
2.  Decorate the line you've chosen on a small piece of paper in any way you wish ("small" is the operative word here since we'll be combining everyone's efforts in another phase of the project so it's important that there's room for everyone's contributions…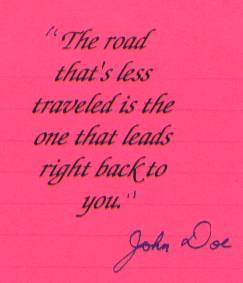 I would say that the paper should be no larger than, maybe, 3″ square or 2″ x 6″ long, something to that effect).  You can use colored construction paper, plain white copy stock, ruled notebook sheets, post-it notes, a ticket stub, a photograph…pretty much anything your heart desires as long as it's a flat piece of paper.  As for the decoration, again, pretty much anything goes….calligraphic writing with formal pens, brush strokes with kids' watercolors, plain printing with an ordinary ballpoint…whatever you wish (…the illustration shown here offers just one ultra simple example). 
3.  Under the McDermott line you've created, sign your name.  After all, art is a reflection of the individual "artist," and we want Michael to know who his work has inspired to be a part of this project.
4. Make or purchase a birthday card for Michael (and/or very small gift – keep in mind this all has to be mailed in one big package).  And, since Heather's birthday is only two days after Michael's, you're encouraged to send cards/small gifts for her as well.  These will be gathered into their own bundle and shipped together with the McDermott surprise creation. 
5. Mail your finished, decorated McDermott line, along with your birthday card(s), to the following address:
The 2018 McDermott Birthday Surprise
c/o Mil Scott
P.O. Box 22
Broadway, NJ  08808
NOTE:  If you live outside the U.S., you can save both mailing time and postage by emailing an image of your submission to be printed out on my end and incorporated into the project.  
All submissions must be received (not merely postmarked) no later than Aug. 16….which brings me to…
I will use all submissions to form a very special gift that will be sent out on Aug. 20th for Michael to open on his birthday, Aug. 24th.    
6.  Before sending the finished creation, I will photograph it and subsequently post the photo of it here on artistinsane.com so everyone who has participated can see the completed gift he'll be opening on Aug. 24th. (Obviously, keep in mind I can't actually post the photo until after the 24th…just to make sure a certain someone doesn't see it before that!!!)
If you have any questions, comments, etc. please e-mail me right away.  Otherwise, what are you waiting for?!?!  Remember, time is of the essence, so go start working on your line for the (2018 edition of  the)  McDermott Birthday Surprise!!!