Brian Fitzpatrick
w/Ed Fritze
4/19/03
Jesting a bit about the two-night residency of which this show was a part, Brian opened with the comment that "last night was the first night of our tour...tonight's the last night"...
...before getting down to business with that oft-declared fave of mine, "Forgotten Sounds"...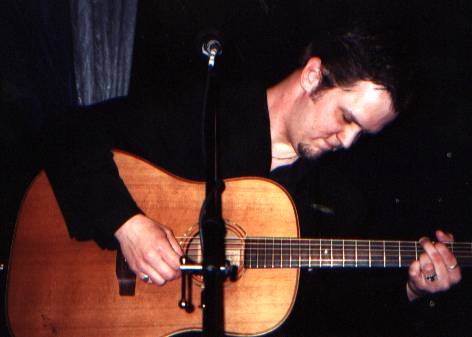 "She said,
'Brian, can
you help
me;
I've been
standing
here all
day...
'See, there's
a lonely
bluebird on
that fence
and he
never looks
my way..."
After this, Brian called to the stage his loyal comrade, Ed Fritze, about whom he noted, "We've been together six years -- well, not sexually..." Hmm, I'm sure that's good news to Brian's girlfriend!
In any case, together Brian and Ed next embarked on that song about a much less healthy relationship than (either of those) referenced above, "C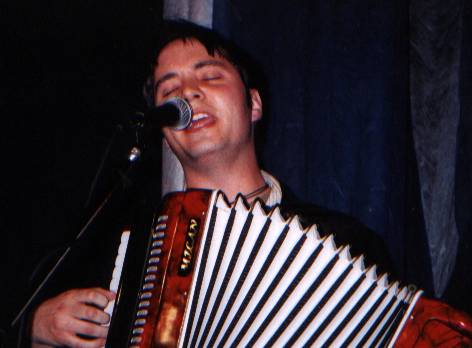 "I know you're
the hurting
kind,
But I ain't
left you
yet.
But one of
these
days..."
The pair then shared a tune Brian said is "off a record I did that I never put out", adding ruefully, "it was that good..." Well, if the song, "Faith" is any indication it was pretty good indeed!
"I lost my faith; but I never lost faith in you"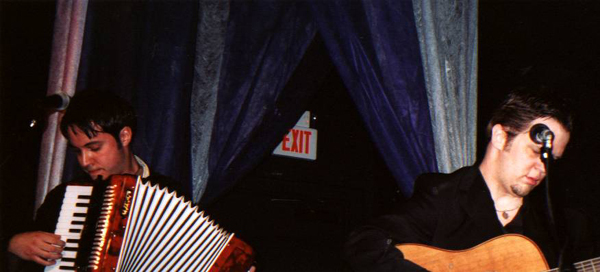 Brian next explained that he'd attended a songwriter's circle a few months back, and that as part of the group's process, each participant drew names out of a hat, with instructions to have a song of that title written and ready to perform the following week. He picked "Drunk In Vegas" -- a particular irony for a guy who doesn't drink(!) -- and while it ended up taking a bit longer than a week, Brian nonetheless proved himself more than up to the challenge by debuting the very appropriately raw and edgy result for the Luna Stage audience...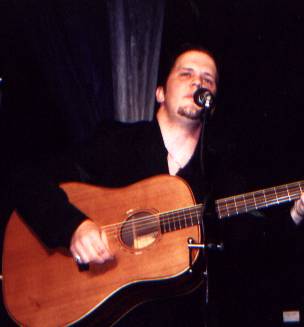 "The machine, it was
a loser,
But I kept pulling the lever;
Thought if I one once,
I might keep winning forever...
I'm drunk in Vegas
And you don't love me anymore."
Another of my faves, a much older song from Brian's first release, followed... "I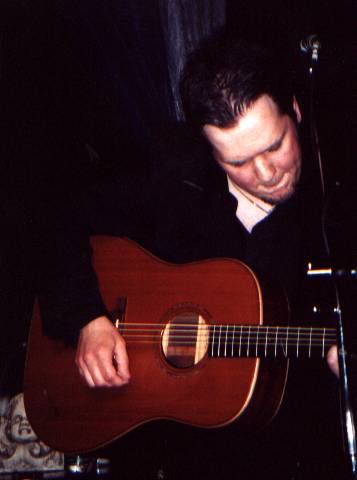 "Man, it's getting cold
outside...
I don't wanna leave,
I know I've got to take
you home...
It's not that I mind
being on my own;
I've been alone before --
So many times, seems
all my life..."
...after which came another of his newest songs -- one he announced he'd just recorded a couple weeks prior to this show. And, based on "Far From Thee", it sounds like Brian Fitzpatrick fans can look forward to a truly fantastic new album in the not-too-distant future...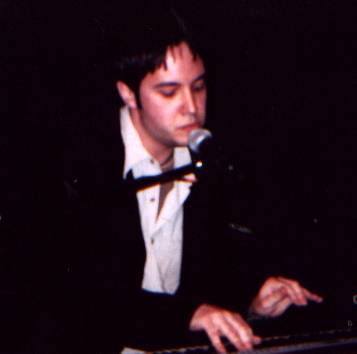 "Oh, no, don't say it's so...
Oh, Lord, don't let me falter...
Oh, Lord, don't let me be
deceived...
Oh, Lord, in the darkness
of my night,
Don't let me stray too
far from Thee...
Next, Brian dedicated "Incidental", a tune from the most recent album, State of Grace, to Frank, a good friend he said had been "a really big influence on my life when I was a kid"...
"I went out looking for a prophet to maybe
find some deeper meaning,
maybe find something redeeming..."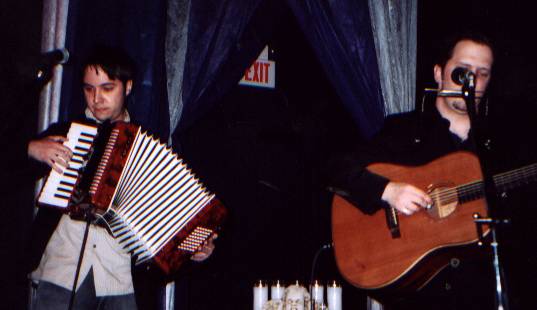 ...and recalled the memory of another old friend, one who unfortunately passed on much too soon, to be feasted by the gods at the mythical place of peace and beauty, "Valhalla"...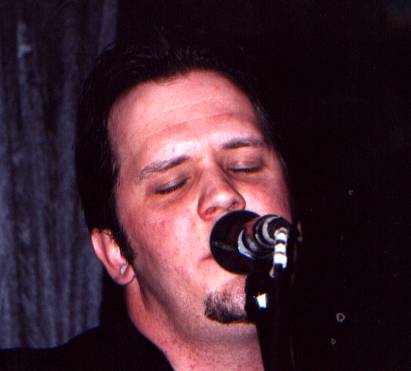 "Time's gone by
and days collide
and love and life
explode...

I know now that
you're never
coming home...
I understand you're
never coming
home."

And, continuing for a bit this musical visitation to acquaintances from his past, Brian then introduced a song he "likes to say" is "about someone long ago in a galaxy far, far away"...one I think it's safe to assume from that statement he'd rather not encounter a little "Further Down The Line"...
"I was halfway up my
jaunty hill,

I was reeling from
the climb..."
...which was followed by the more fondly reflective "Thinking"...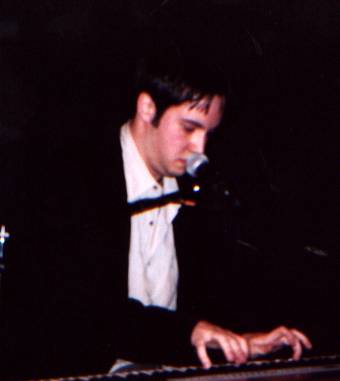 "I heard myself talkin',
Walkin' in the rain
Past rows of broken
houses...
I found myself thinking,
Thinking of you."
Leaving the darkness for a bit, next came another track from his first release, Other Side...a beautiful, and characteristically Brian Fitzpatrick-like tune... meaning that despite its title, "Cliche Love Song", one that sounds pretty distinctive (and most certainly non-cliched) to me...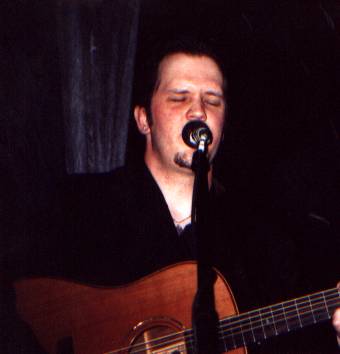 "At the risk of sounding cliche,
And saying what you'd
expect me to say...
I'll say it anyway;
I'm in love with you."
And, adding a bit of likewise characteristic Brian-Fitzpatrick-like tongue-in-cheek humor, he offered the mock self-compliment, "You all want me to marry your daughters now, right? Aww, he's so sweet!" (Uh, well, that may be true, actually...BUT, I would remind you this is the same guy who penned the line, "I'm balancing on a dime, but I ain't killed you yet"...not that I'm implying anything by that, mind you... I'm KIDDING, Brian!!!)
Anyway, after this the set began to wind down with a couple more songs from State of Grace..."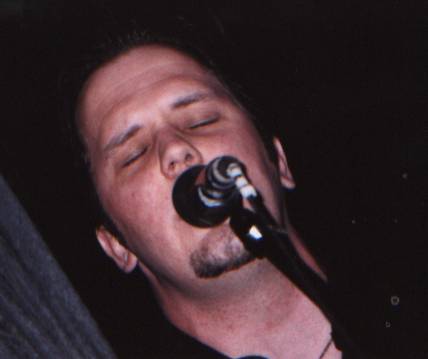 "I know your heart's
been bleeding;
I'm still believing
in the sparkle
in your eye...
My heaven's in
your smile..."

...plus the terrific new character study,"
Ah, ah...no fighting onstage now, boys!!!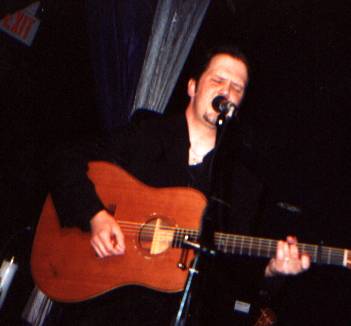 "Don't waste a thought
stripped down on the
decay...
May God be on your
side along the way..."
In any case, with the above lyrics providing a perfect segue into the set's conclusion, the evening concluded with yet another selection from Other Side, the "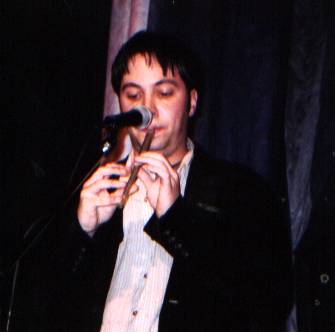 "See, through tired eyes
and desperate tears,
All time for fear has
disappeared...
Jah make everything
alright."
Needless to say, the crowd was hardly watching/listening to this show "through tired eyes", but rather made it clear their only "fear" was that it might end too soon...and "desperate" to prevent this, their thunderous applause soon brought Brian back to the stage for the first of two encores.
Prefacing the song he was about to play by dedicating it to his girlfriend, Melissa, he noted that not only had he never played it live before, but that Melissa "doesn't even know I wrote it for her". Well, she does now! And, I'm sure all who know her agree she's well deserving of this honor...
"Free falling disaster,
Saved by your embrace;
I want to stay forever
In this state of grace..."
And, while surely the crowd would have loved to stay forever, listening to Brian's music, at last Ed joined him one more time for what would truly prove the final number for the evening...a rollicking cover called "Key To My Heart"...
"Give back my TV...it don't mean that much to me;
And while you're giving back my things...
Give back the key to my heart."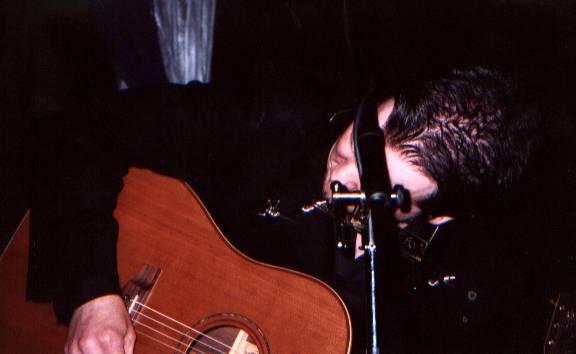 And, on that far from tired note, so ended another fantastic evening...such a wonderfully complete night that all I can possibly think to add is...
...thanks much, Bri and Ed!
And, of course...
See you next time!