(Press Release for the May 2008 album, Worse For Wear...written by Mil Scott)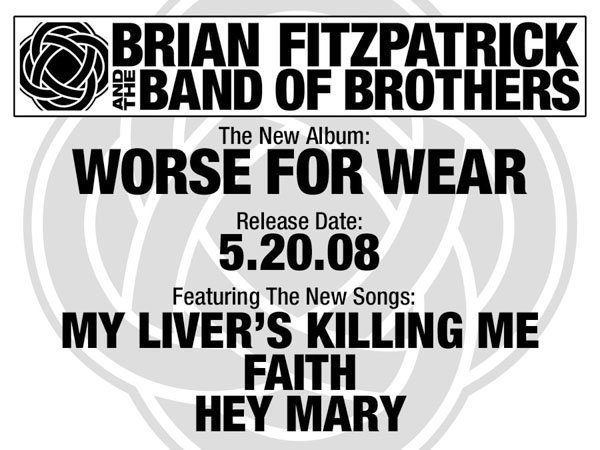 It's long been said, "Good things come in small packages" – and seldom has there been a finer example of this adage than Brian Fitzpatrick's latest release, Worse For Wear. Comprised of just 9 songs, the longest of these barely in excess of 3 minutes, this musical "novella", of sorts, offers a succinct glimpse into personal insights, friendships and a tale or two of love gone wrong. What's more, each "chapter" proves surprisingly complete, a feat rarely achieved in such short compositions.
One thing the album is by no means "short" on, however, is creativity. Featuring imaginative arrangements and accomplished instrumentation, each song takes the listener on a journey all its own, one that might even be argued to encompass time-travel via the vintage feel of "Laughing Out Loud" – a song that somehow manages to sound fresh and innovative while recalling vivid images of a bygone era. The same could be said for the campfire sing-along "Hey Mary", and "Jesus Is a Friend of Mine", a spirited homage to "old-time gospel". Of course, those familiar with prior Fitzpatrick works will also recognize his uniquely intelligent songwriting – epitomized here on the multi-layered "My Liver's Killing Me", as well as his own signature sound on the jaunty lead-off track, the delicate ballad, "Too", and longtime live show staple, "Faith" – a song first recorded in the mid-nineties, at last here immortalized on disc more than a decade later.
As with his last two albums, Worse For Wear was recorded at legendary Big Blue Meenie studios in Jersey City, NJ and mixed by sound engineer extraordinaire Tim Gilles. An audiophile famed for his pursuit of sonic purity, Gilles and Big Blue have become key collaborators in bringing Fitzpatrick's visionary sound to fruition. And never has the union proved more successful in capturing a warm and appealing musical experience.
Also joining Fitzpatrick this time around is a band configuration that includes newcomers Scott Minafri on drums/percussion, Fred Machetto on bass guitar and Gene Quintin on violin, plus long time members Matty Z. on mandolin and Ed Fritz on keyboards/accordion. Fritz, in fact, has been a major "player" on every Fitzpatrick album, from the introspective 1998 debut, Otherside to its slightlier edgier 2000 follow-up When I Bleed, 2002 breakthrough State of Grace and, most recently, the 2004 standout Further Down The Line.
Prior to emerging as a solo artist, Fitzpatrick spent his early twenties touring Europe and the U.S. with several prominent bands. Although this endeavor proved highly successful – during these years Fitzpatrick played every major European festival and received many prestigious accolades – the experience left him ultimately feeling empty, and a bit confused. One thing he wasn't confused about was the need to end this portion of his career, despite the fact he had yet to tailor a plan for what might come next. He abruptly changed musical directions in 1997; the rest, as they say, is history.
Thankfully for Fitzpatrick's now well established fan base that history continues to be written – and re-written – as he challenges both himself and listeners by stretching his artistic borders and exploring uncharted musical waters. "I don't want to make the same record over again," Fitzpatrick said during a 2006 appearance. "I'm anxious to make a new album soon, but it has to be something I've never done before." That said, this record indeed represents something "different" as an entry in the Fitzpatrick catalog. Yet, the fact remains it's likewise evidence this artist has stayed ever the same: a fine singer/songwriter who consistently releases inventive and listener-friendly works. And, that's a quality no one – and everyone – is about to characterize as, indeed…Worse for Wear.