"Great spirits have always encountered violent opposition from mediocre minds." Albert Einstein
I know that artists frequently question why they persist in the uphill battle to make their way in the world, if you will...why they endure the stares of puzzlement from those with more "realistic" or "grounded" or "serious" ambitions...why they put up with the frustrations of the "business" end of art...why indeed they would ever consider venturing forth on a freezing winter night to bring an hour and a half of music to the masses...or the only one...who show(s) up to receive the gift that is their work.
And, surely, this is an even greater mystery to those not plagued with the voices in their heads that provide evidence of their insanity to the aforementioned "realists" (and, at times, themselves), those not plagued with the nagging "need" to actually listen to those voices in order to retain sanity... those to whom the last two statements add up to a paradox that proves beyond the shadow of any doubt that these creatures known as artists make no sense.
They're right.
Artists don't make sense. Instead, they awake sense -- or, rather, the senses, of those willing to listen to them. They offer food for thought about relationships, explore philosophies of life, expose oft-hidden injustices and make observations about the world around (and inside) them.
And, it is in this process, then, that sometimes they awaken as well a new understanding of life, or self or some other concept that their listeners, or even a single listener on a particular night, has struggled with, or is struggling with at that very moment. And, maybe, unbeknownst to even the artist himself or herself or the artistic group collectively, by answering the inexplicable call to engage in this activity that makes no sense, by embracing the insanity that is art, to that one listener, sense has perhaps not been created, or even arrived at, but can of a sudden be perceived. And while sense of this kind may never even in its fullest form add up to dollars, yet it remains a portion of the currency that is humanity freely shared, the profits from which are unlikely to be equaled by any of the more "grounded" pursuits of the "realists" who continually, determinedly (and arguably to their own detriment) declare artists insane.

The Underpass
1/18/02
The show began with the great new song "Shoot The Moon"...
"No faith in what the world perceives,
No faith in what the fool believes...
Leaves are falling from the trees today..."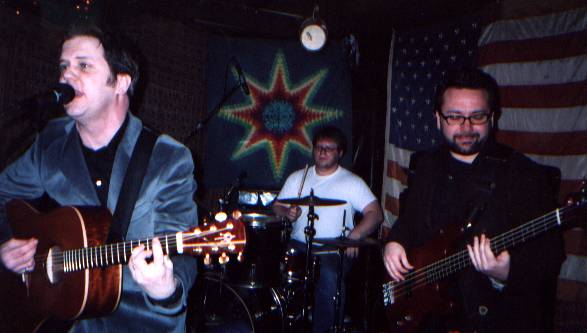 ...upon the conclusion of which Brian welcomed the crowd by saying, 'It's nice to be here on this cold night!" (And, given it was literally maybe 10 degrees outside, that was far more than just a bit of idle chat about the weather!). Be that as it may, a song about a relationship that would surely have made anyone involved "hot under the collar", shall we say, quickly warmed things up a bit...that song, of course, being the murderous "Cross That Line"...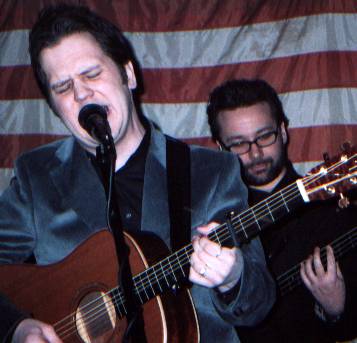 "I spend my nights playing
at these backstreet bars
While you're out with him,
Laughing under stars...
I know you're the hurting
kind,
But I ain't left you yet..."
After this Brian announced that in late Feb. he'll be playing a series of shows with "some friends of mine"...in Hoboken with The Fiendz, as well as in NYC and Vienna, VA with Michael McDermott (who is also appearing at the aforementioned Hoboken gig). The latter of these also happens to be the author of a cover tune that has truly become the band's own, and is currently a staple at nearly every Brian Fitzpatrick (full band) show, "Kung Fu Videos"...a song particularly popular with not only the audience, but apparently the band itself as Rich could not only be heard offering his accustomed excellent drum work, but could also be seen enthusiastically singing along as well!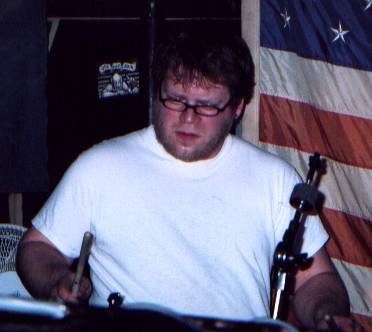 "Ashtrays, bottles,
banter and booze,
I've got dust in my eyes,
blood on my shoes...
We both know we've got
little left to lose, babe..."
Next came another song on which Rich's contributions were particularly noticeable in the most positive way (especially the brief drum roll after the line "I ain't no superman"!), one of my longtime favorites, "I Can't Be Your Savior...
Hmm...looks like Eddie didn't like Rich being singled out for praise. Geez, great artists can be temperamental (and yet, obviously, not all of them...Jay at least seems to take his own excellence -- and that of his bandmates -- pretty much in stride). I'm kidding, Eddie!!! How could I not be? Surely, no one in this group need have any insecurities with regard to their (truly, always top-notch) contributions!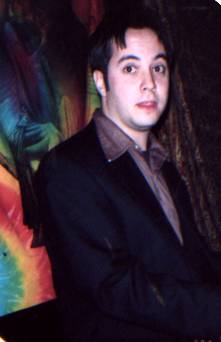 "I ain't no hero,

And I ain't no superman...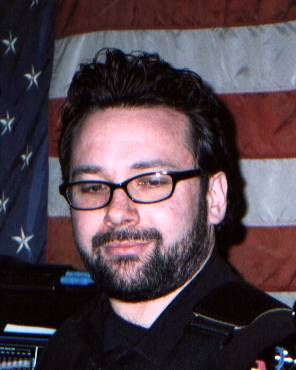 I can't be your savior,
I am what I am."

And, of course, they all once more came together to exemplify this on "Caroline", a song about two people viewing the same relationship from different perspectives, or perhaps more accurately, different levels of maturity...
"She's trying to find the meaning to this life;
What she's looking for she's leaving behind..."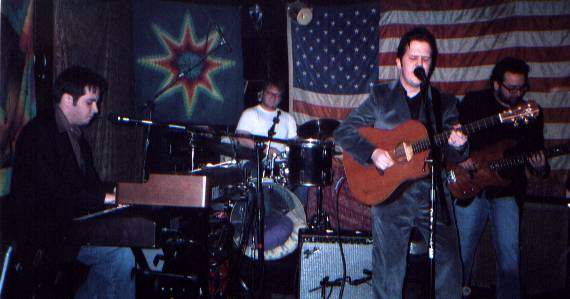 ...which was followed by another tale of a relationship lost, though in this case one that might yet someday be regained -- a little "Further Down The Line"...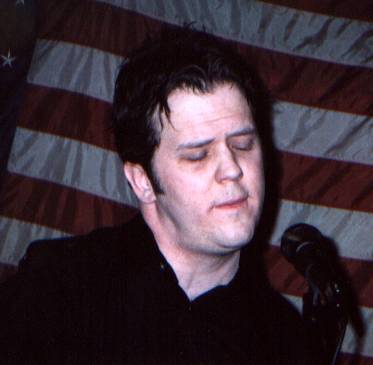 "I was gonna be
your Celtic poet,
You would be my
rock-n-roll (?)
queen..."
At the close of this song, the band left the stage for a short break, during which Brian offered a solo performance of a song he explained was written by one of his musical heroes (Pete Townshend), and which, though often mistaken as a romantic love song, is in fact, about the relationship God wishes each of us to experience with him...the lyrics to which are an imagined view of the words with which God himself might implore us to... "Let My Love Open The Door"...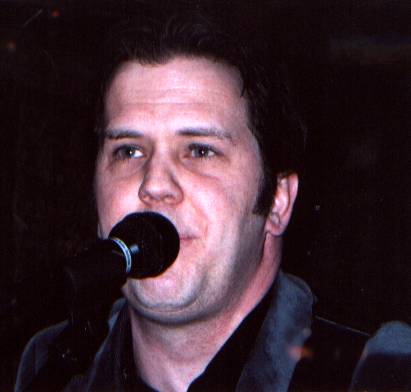 "I have the only key
to your heart;
I can stop you
falling apart.
Try today, you'll
find this way;
Come on and give
me the chance
to say
Let my love open
the door..."
Next came the tale of a young girl caught in what must have seemed an unending Godless night, the victim of unjust imprisonment in an abusive drug treatment center. As for the song's title, "Valhalla" is a mythical banquet hall where the Norse god Odin eternally feasts the spirits of fallen heroes. And, based on the beautiful and gracious spirit those who knew her attest she retained despite all this young girl endured, it's easy to imagine, and surely wish, her among those Odin continues to honor in this way...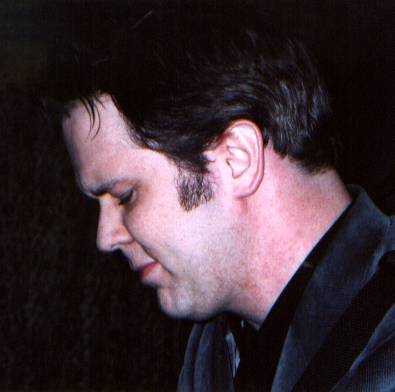 "Won't let your
story go untold...
I hope you found
Valhalla at the
end of your
troubled road..."
On a brighter note, as Ed once more joined him onstage, Brian announced that the next song would be one "off the last CD I put out, which is called State of Grace"...in response to which someone in the crowd yelled "Whooo!". Reacting with a bit of philosophical humor, Brian returned, "It's always better to hear 'whoo' than 'you suck'." No worries on that account, certainly. Although I credit myself with a pretty decent imagination, I definitely can't see Brian and/or his band ever being greeted with those words.
In any case, Brian quickly continued that "Incidental" is about "things my father told me when I was a kid...it's debatable whether they came true..."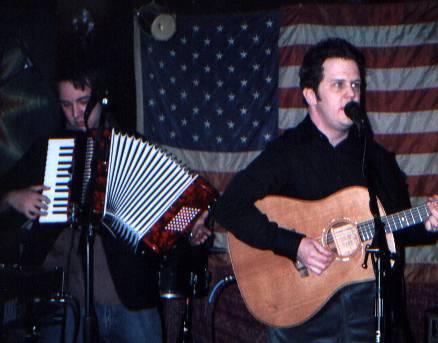 "I don't believe
in politicians,
Won't believe
in superstitions,
Never one to
front or fake,
I won't live life
by the news..."
The rest of the band returned for (the "Irish jig"), "Sweet Maria"...before which Ed proved turnabout's fair play by reversing Brian's comment from their 12/23 Bitter End show, "If you don't know the Irish jig, Brian'll teach ya!" To which Brian responded, "And I'll immediately refer you to Jay!" To which Jay replied -- well, he made no comment, actually -- a wise choice, if you ask me...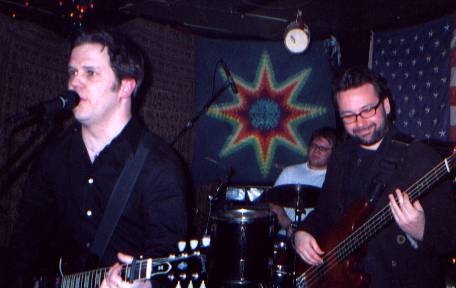 "Deep in the
night,
When I turn
out the light,
Her image, it
shines in
my mind..."

...after which Brian noted that he'd played this same venue a couple weeks back, an evening on which "it snowed; it was me, Joe Beets" (the wonderfully colorful personality who manages the Underpass) "and Subcommittee" (another band which frequently plays here). "I did a full version of 'Stairway to Heaven'!" Rather than embarking on a repeat performance as some might have expected in light of that comment, however, the beautiful "Thinking" followed this pronouncement...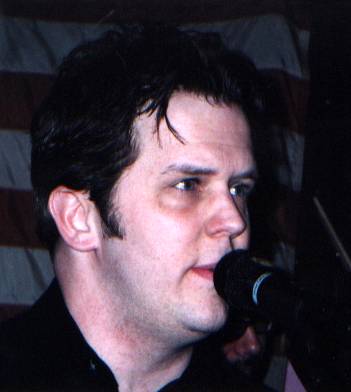 "Ain't it so sad,
About those days
so long ago,
All the frustration,
So much you'll
never know..."
Next, Brian told the crowd, "I'm gonna try a new song", then added, "I have to tune up a minute". To fill in the space, the rest of the band improvised a rather un-Brian Fitzpatrick-band-like interlude. And, just to enhance the mood of it all, Ed did a little extra improvising of his own...."Yeeahhhh", he intoned, "Jaaazzzz". (Needless to say, Brian tried his best to keep the break as brief as possible!) At last Brian announced that he was ready to go, and explained that "Madonna In Rags" is "about a girl I saw here one night". Just after beginning the tune, however, he stopped again. "Wrong key," he said, and resumed the re-tuning process, which prompted -- you guessed it -- "Back to the jazz" from Ed.
Trust me, the tune was worth the wait!!! A rocking number with a truly unique feel and characteristically insightful lyrics, this is sure to become an audience favorite in the days ahead...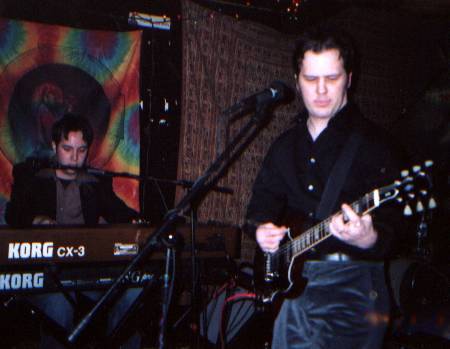 "Sitting on this
paint-chipped
bench,
I watched her
jump the
southern-
bound..
Caught the
dust from
the exhaust
fumes,
As those big
wheels
turned round."
As you've probably guessed, throughout this entire show there had been a pretty relaxed and homey vibe. In recognition of this, Ed suddenly declared, "I feel like I'm in somebody's living room"...to which the "Lone Monk" (the act who'd opened the evening's festivities) responded "you are!". And, once Joe Beets threw in, "Don't wake my parents!", it seemed more like everyone was at a summer beach party than braving one of January's coldest nights!
And, of course, what else could prove a more appropriate follow up to all this than "Northwoods"...which Brian announced "will be our last song...unless we do another song..."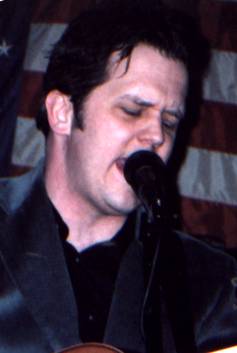 "And you could use
a helping hand,
my friend,
Well, a friend I am,
and forever
will be...
...and wouldn't you know, those words proved prophetic as the crowd, of course, requested "One More!!!"...a song by The Who, which Brian noted, "We always do as an encore", adding, "We never rehearse it and we never do it well." Maybe that's true, but it still sounded pretty good to me, even if for reasons that for whatever reason, "I Can't Explain" (although it's arguable Ed's positively insane piano playing, Rich's amazing drum work, Jay and Brian's likewise excellent musicianship, and the impromptu "light show" all contributed to this truly amazing moment!).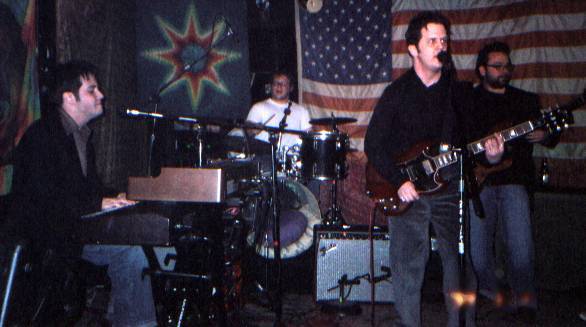 In any case, finally, on that note indeed the evening ended and everyone made their way back out into the frigid night...still warmed, thankfully, by the memory of another positively amazing show, and the spirit of camaraderie that can still be felt as I sit here writing (and, I hope, too, as you read!) this page...
For all of which I can only conclude,
...as always, thanks much Bri and band!
See you next time!
And, don't forget to check out...Brian-Fitzpatrick.com!!!