As I noted in my preface to the last Underpass review page, each of the July Brian Fitzpatrick shows we attended here just proved too reflective of a different night and time to explain them as a unit. In part that's because, as acting classes teach, every time a new character enters the scene, the dynamic shifts and a completely new situation is created. On this night, not only was Ed Fritze once again present to change the dynamic by virtue of his masterful piano, accordion and vocal accompaniment, but a surprise guest also appeared to return the favor of Brian and Ed sitting in on his New York City gig on Monday night. And that surprise guest was none other than Michael McDermott...who happens to likewise be the very person who introduced us to Brian and his work in the first place. Truly the world is indeed a very small place, and yet one unquestionably limitless in what it holds of talent, friendship -- indeed the very faith and love that are both the fuel and output of art itself. And on this night, on a tiny stage in a suburban NJ bar, all of these truths were once more proved to be self-evident.
The Underpass
7/25/02
"Mike sat at the bar; he was talking 'bout his car with Timmy..." Okay, so maybe those aren't exactly the lyrics to a certain Michael McDermott song as penned by the writer himself. But they certainly seem an appropriate caption for the following photo! (And lest anyone be unacquainted with the characters referred to in that line, the dark-haired one is Michael McDermott and the Tim he's talking to is Brian Fitzpatrick's eldest brother)...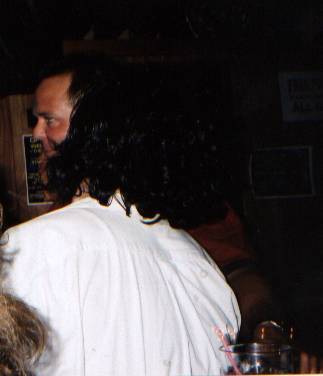 But as Brian and Ed took the stage, all chatter stopped and the audience, including Michael, offered the artists their full attention...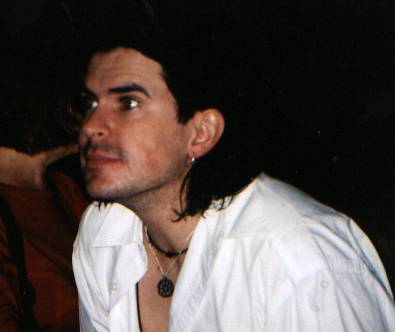 ...as they began their musical journey with a trip to the "North Woods"...
"Well, a friend I am and forever will be...
In the north woods is where you'll find me..."
And, then came that infamous (and awesome!) murder song, "Cross That Line"...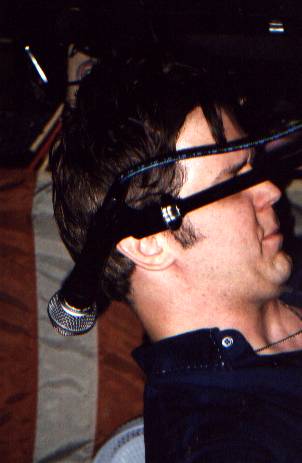 "Close the gate, I've
placed my bet.
I'll be the one that
you can never
forget
On that lonely landscape
of regret
Where you reside..."
...which was followed by the beautiful, "Thinking", a song (as noted on the review of Brian's June 8 show here) written in memory of Paul Gurriere, a former owner of The Underpass. One of Michael's favorite Brian Fitzpatrick songs, he (and the rest of the audience) listened to its haunting notes in a mood of sober reflection...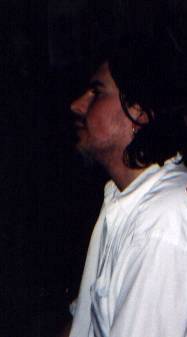 "Ain't it so sad,
About those
days so
long ago...
All the
frustration,
So much
you'll never
know..."
Unwilling to let the mood of the evening slip into a lasting melancholy, however, Brian and Ed followed this with the venue's favorite sing-a-long, an old country tune by Doug Sahm, "Give Back the Key to My Heart"...on which Ed never fails to really put his heart into the verses he lends his vocal ability!
"Give back the key to my heart...
Give back the key to my heart...
Let my love flow like a river
Straight into your heart, dear..."
And it was Ed as well who introduced what he termed "an Irish drinking song", "Sweet Maria"...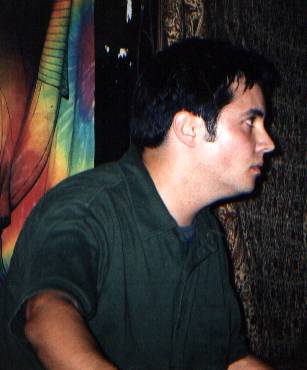 "She's got another,
A friend and a lover,
And with him I just
can't compete."
Next came the title track from Brian's second album, "When I Bleed", which he dedicated to his girlfriend, Melissa...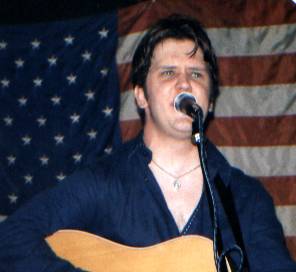 "I got lost trying to find
just what I needed
Only to find it was
right in front of me..."
Can you tell me, where
do I go when I bleed?"
After this Brian offered the tongue-in-cheek commentary, "I have a CD called State of Grace...I'm sure you've seen it advertised on MTV" before embarking on an even more tongue-in-cheek selection from that album, "Incidental"...
"I don't know what hurts me
less: my self-indulgence
or the IRS;
When it's viewed properly,
neither means a thing..."
On a more serious note, Brian then offered that incredible new tale of lost love he's shared with audiences at recent shows, "Further Down The Line"...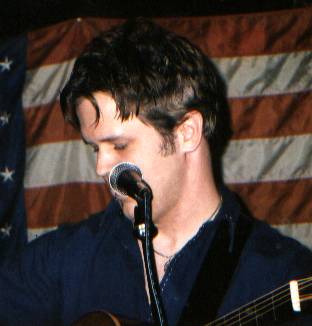 "When I heard those
voices in my head
And all those things
that you had said...
Like a prayer...
I remember every word..."
which was followed by another new song about a relationship's demise, "Crown King's Laundromat"...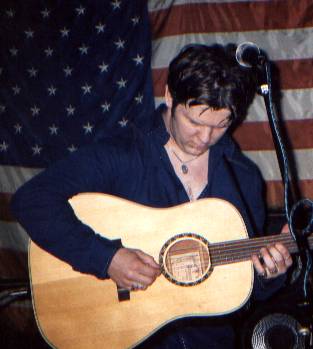 "Friday night at the
laundromat...
I'm standin' here
beneath this
neon sign....
You and me ain't
talkin'...
Then Brian invited Michael to join him onstage, introducing him with as a "dear friend and one of my biggest influences", a statement he enlarged on by adding, "it's Dylan, Neil... and him".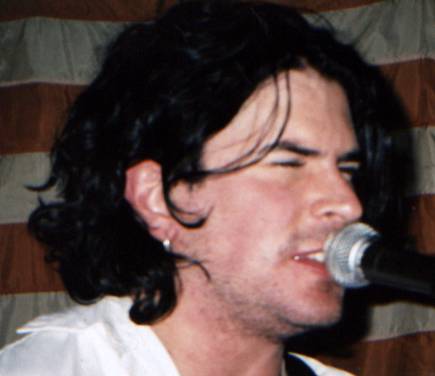 And, without further ado, together they embarked upon two of Michael's songs. The first, "20 Miles South of Nowhere" is soon to be featured in the film Knockaround Guys starring John Malkovich and Vin Diesel...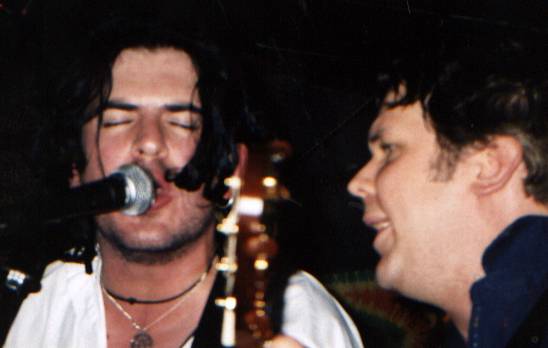 and it also happens to be the song referenced above the first picture on this page....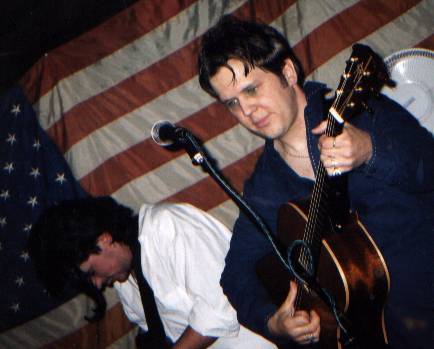 "Dan sat at the bar;
He was talkin' about his car with Alice..."
And, in addition to sharing terrific vocal harmonies...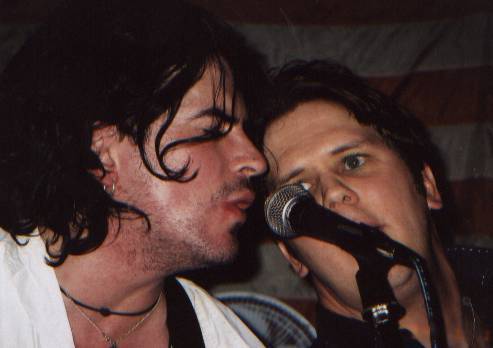 as always when they play this song, Brian and Michael jammed instrumentally as well...
Next came a song Michael had debuted at his Monday night NYC show, "Oh Baby, I"...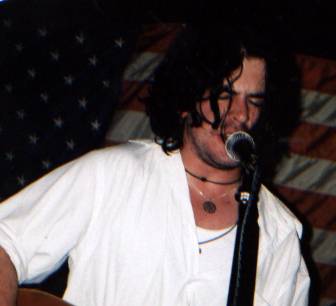 "Trust in me,
Trust in you...
I know we
Will make it
Through..."
...a tune for which Ed joined in as well with some outstanding piano accompaniment...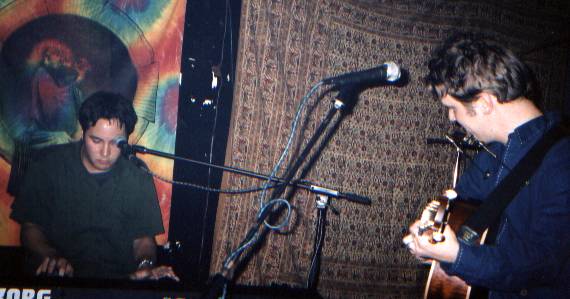 After this Michael left the stage...but soon returned, along with Carl, a truly amazing harmonica player, to back Brian and Ed on the final song of the night, "Down By The River...a cover by one of Brian's other greatest influences as noted above, Neil Young...and, coincidentally (?), another song about...murder (hmm, should I be nervous attending all these Brian Fitzpatrick shows?&*!?)...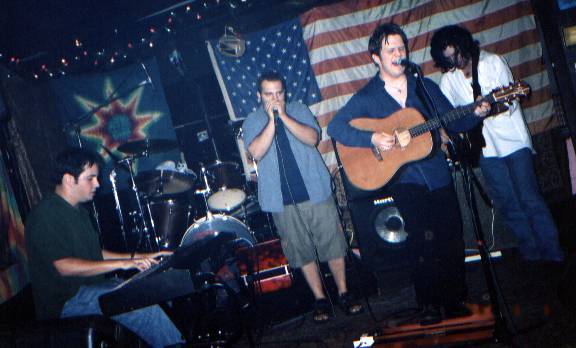 Actually, from the looks of things, maybe one has more reason to be afraid of that McDermott guy...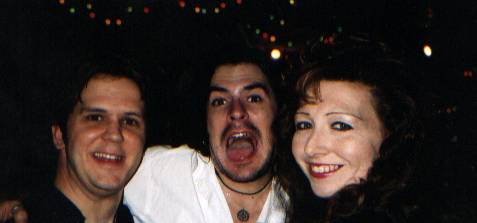 Nah...when you spend countless hours writing and performing as much serious material as Michael does, you've got to balance it out with a little time playing the clown! And what better place to do so than at a show by one of your closest friends...
And, a truly great show, at that!!! For which, of course, I have to add...
Thanks much, Bri and Ed (and Michael!)
See you next time!!!