"She turned to us and smiled, and called...a greeting. It wasn't so much her speaking that broke the silence, but her smile. Her smile was full and totally without cunning or fear. It was so incredibly open that for a moment I thought...I had landed on a foreign planet... She was as old and beautiful and weathered as the landscape she smiled from. She was the landscape in motion, and that biblical phrase, "dust to dust" suddenly made sense to me. It was as though she had been shaped out of the very dust, clay and rock that she walked in; and she was only a breath away from returning to it."
Spalding Gray,
Impossible Vacation
The words above are from a portion of a novel in which the character is in India (or rather, Tibet, on this particular day, actually), seeking a lasting satisfaction of which he is incapable by virtue of his own habitual (and self-imposed) mental state of dissatisfaction -- a long story that need not be recounted here. However, the point of the above quote is that some forces are so strong...so entirely inescapable...that they affect us in spite of ourselves...reach us in ways we never previously considered possible...arguably even fill voids that we never knew existed.
Such is the ability of, the wonder that is -- indeed the very purpose for...art.
More than its effect on the "audience", however (if one might call the person speaking in the above quote a single member of such a group), the quote's words also offer insight into the character of the subject he's viewing...the "artist", if you will -- and, indeed the verbal images it contains are, you'll notice, highly artistic in nature ("landscape" being a form of painting, "shaped" a reference to sculpting, "breath" to acting, song, etc.). And, the only way such an effect can be achieved is for the artist to, in a very real sense, take us by surprise...the key word in that assertion being "us". For, the "us" the artist in the quote showed to her audience was clearly a reflection of all creation ("shaped out of the dust, clay and rock that she walked in")...including, as he suddenly realized, a reflection of the character observing her -- minus the mental/emotional baggage that plagued him ("cunning and fear")...and whose ability to lose these impediments from her own life temporarily stripped them from his as well.
Truly, art allows us to, in an unexpected instant, both find and forget ourselves at the same time. It allows us to see those around us we might otherwise never notice, and actually somehow know them without ever having made their formal acquaintance. It turns abstract concepts into palpable reality. It defines mere words, and defies mere words. It is the silence and stillness of awe, and yet the sound of love and truth filling the silence' void. It is an individual understanding of collective experience.
Ironically, it's also something the character in the above quote had to leave his home in New York City to discover. But on the night this page commemorates, it was in this very "old and beautiful and weathered" town that the audience had assembled (and in some cases from halfway across the country traveled), and it was indeed there... watching, hearing, experiencing what one might indeed call the "landscape in motion" -- i.e. the stuff from which we all come lived briefly and intensely before us onstage -- that they discovered what he had missed.
Michael McDermott
with
Brian Fitzpatrick
at the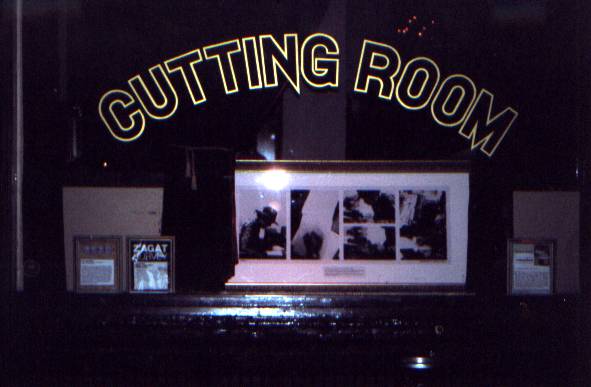 New York City
5-6-04
The evening opened with Brian Fitzpatrick and his band, who shared a number of selections from Brian's upcoming fourth album (scheduled for an October release). Included among these was "Across The Water", a song about a friend abused as a child, and who, as a result, proves unable to give herself fully to a relationship...
"She said, 'Babe, maybe I'm not the one for you...
My heart's just not what it once was..."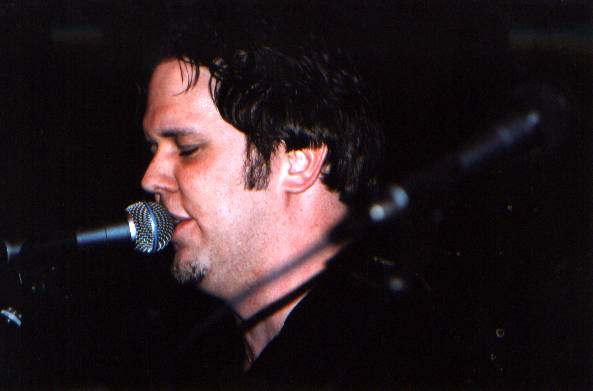 ...and "Far From Thee", a tune that features some fantastic keyboard work from Ed Fritz. -- or as he's known in the McD world (since playing a show in Illinois with Michael last summer), "East Coast Eddie"....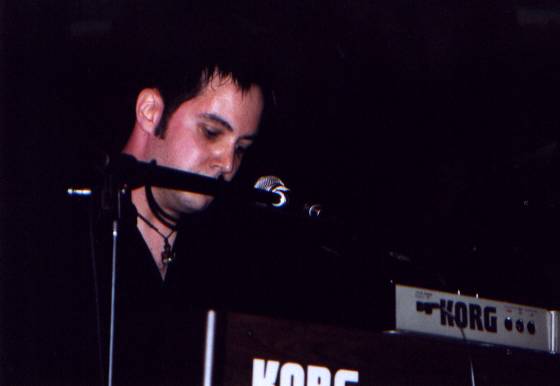 "Oh, Lord, don't
let me falter...
Oh, Lord, let me
not be
deceived..."
Oh, Lord, in the
darkness of
my life,
Don't let me
stray too far
from thee."
This was followed by "Sweet Maria"...a song Brian has described as "an Irish jig with Spanish lyrics, about an Italian girl" (incidentally, that's the multi-talented Rich DeCicco shown on drums below).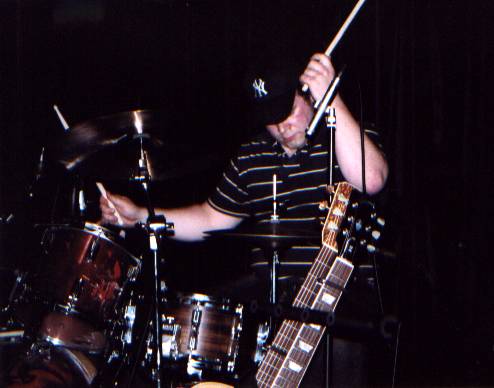 "She calls me a
dreamer,
A ruthless believer...
There's so much that
she doesn't see."

Sweet Maria's also a track (different versions of which appear) on both Brian's last album and the brand new one. Perhaps that in part explains his jesting comment about not being able to come up with a title for the latter...and in the meantime simply referring to it as State of Grace, Part 2 -- a plan that might work were it not for "Drunk In Vegas"...a tune both musically and lyrically like no other Fitzpatrick tune that's come before. But then, I guess that's to be expected since Brian's a non-drinker who has "only been to Vegas once -- and this has nothing to do with it!". Actually, it was written as the result of attending a songwriter's circle at which participants chose titles out of a hat, and were to have completed songs with these titles by the group's next meeting a week later. Although Brian said he actually didn't go back for about three months, the result proved the experiment a highly successful one. And, the experiment of offering the band's bass player, Jay Forsythe, lead guitar duties on the recorded version proved another. Great work, Jay!!!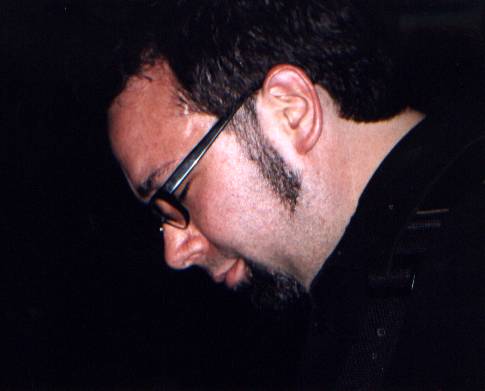 "I'm walking down this
one-way street and
I'm seeing double...
Past pawnshops
and all these fine
hotels...
The machine, it was a
loser, but I kept pulling the
lever...
I thought if I won once, I might
keep winning forever..."
"The Greeting", a song from Brian's sophomore album followed, before the set closed out with "Madonna In Rags", a tale based on one of those often unnoticed sorts the preface to this page speaks of. Inspired by a girl Brian saw playing pool one night at his "home" venue, The Underpass (in Elmwood Park, NJ), it's lyrics serve as one possible scenario that might describe her life. And, it's also the song that opens the upcoming new album...not to mention just one plain great rockin' tune!!!
"She walks like a gypsy, talks like a queen...
Floats round these barstools like some neon dream..."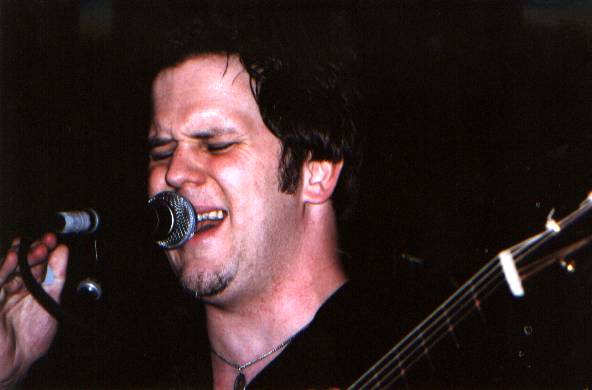 A brief intermission and a quick sound check followed...during which a few surprises were revealed, including one of those aforementioned "traveled halfway across the country" attendees...Chicago's finest bodhran player, Lance Northcutt...who at first looked a bit surprised himself...
"Geez, is there a bat in here?!?"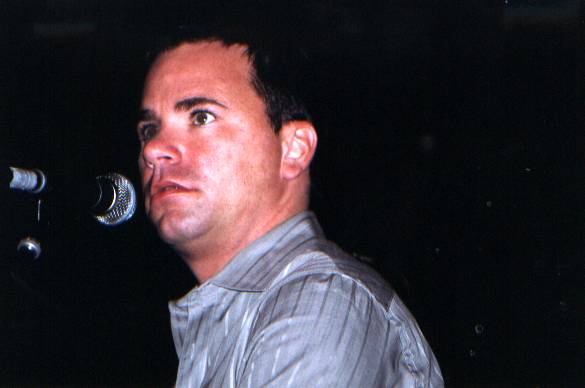 "Oh, never mind. It's only Jimmy." (the tour manager)...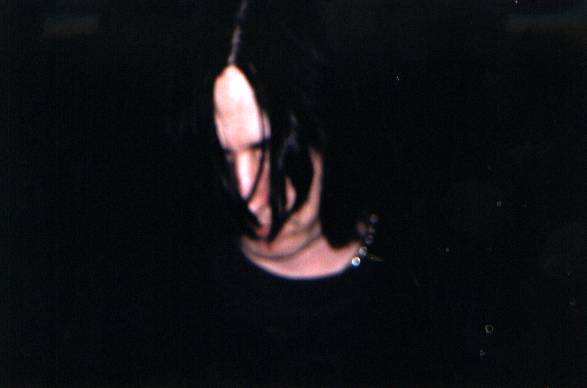 "Yeah, well, even so, I think I'm still gonna keep an eye on him!" (Only kidding, Jim and Lance.)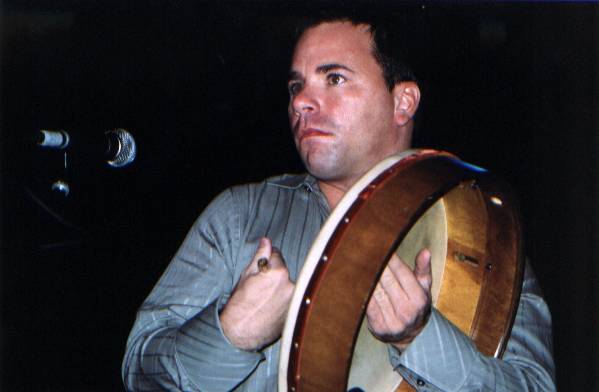 Unfortunately, sound check was the only onstage appearance by Lance all evening, as a mixup in the time allotment resulted in a much shorter than anticipated set. A disappointment to be sure, but one that ultimately served as a mixed blessing. With so many songs intended to be shared and so little time, the intensity level started high and increased with every song...making the "In My Time of Dying" intro that opened the performance seem like the hounds of Hell were already well on their way...
"In my time of dyin',
I don't want nobody to cry..."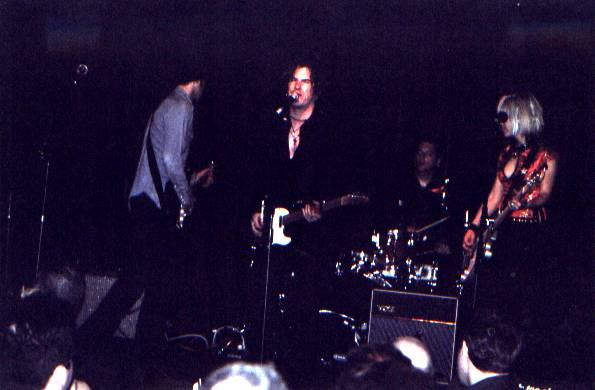 Not to be deterred, the band moved into "Arm Yourself"...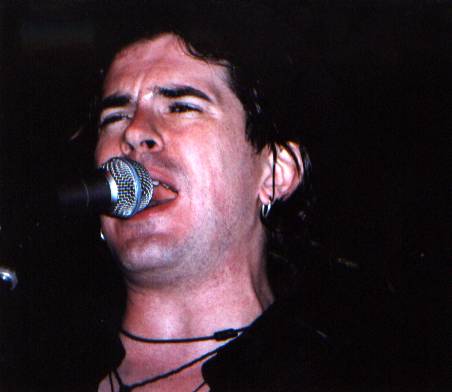 "Dim lit dreams dance in
darkened doorways...
While the scent lingers of
a crescent moon
goodbye..."

...and on to the beautiful "Hold Back A River"...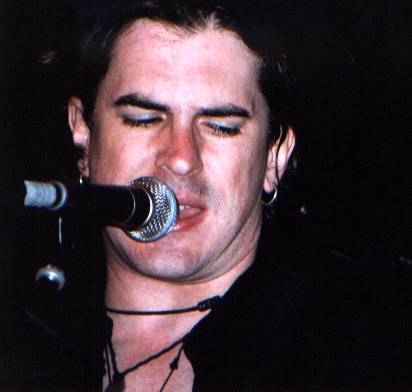 "You seem just a little crazy
sometimes...
In varying degrees..."
...before Rene's transition to Hellfire in the Holyland turned things up a notch...
...and Michael, Danny and Dominique likewise rallied to the ever rising level...
"With each loss the collective heart gets weaker all the more...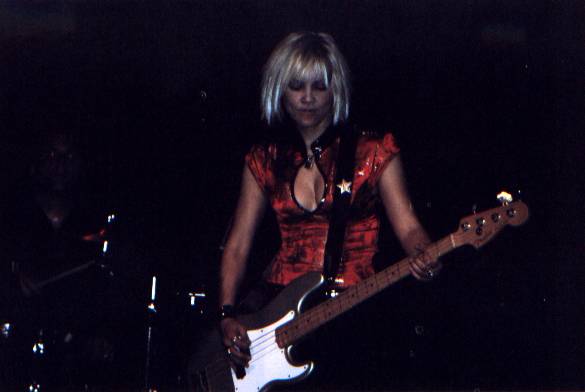 Pride's relentless stronghold...
...is banished by my Father's door.
Halle...Halle...Hallelujah!"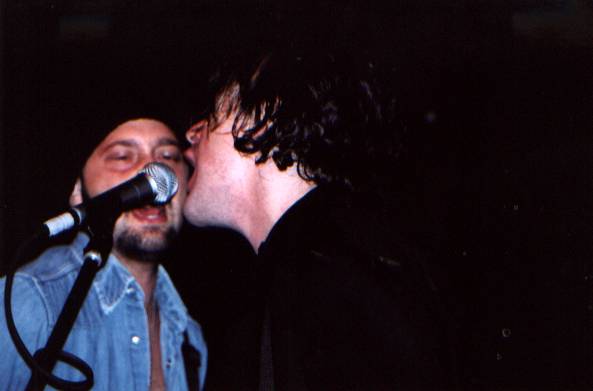 Easing ever so slightly for the unshakably catchy "Perfectly Imperfect"...

"You're perfectly
imperfect...
You're beauti-
fully such
a star...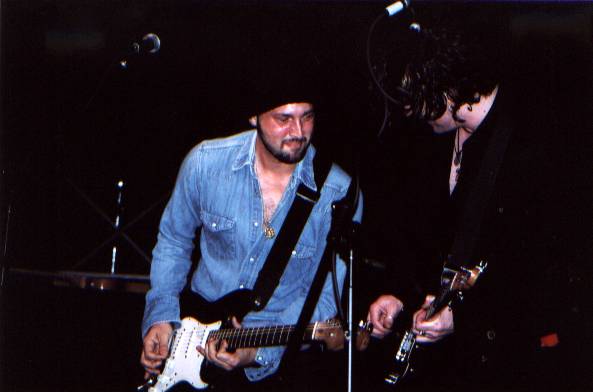 "When I listen
to you talk...
I swear I don't
know who
you are...
Yeah, you try
to act
normal...
Everybody
knows
you're so
bizarre...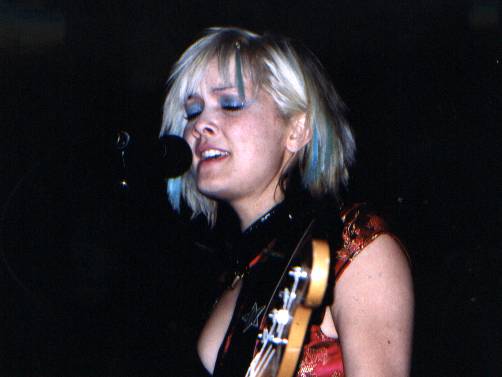 You're perfectly imperfect...
You're beautifully my star."
...the band next geared up again for the fever pitch of "Dance With Me"...
"Talk with me, lend me a smile...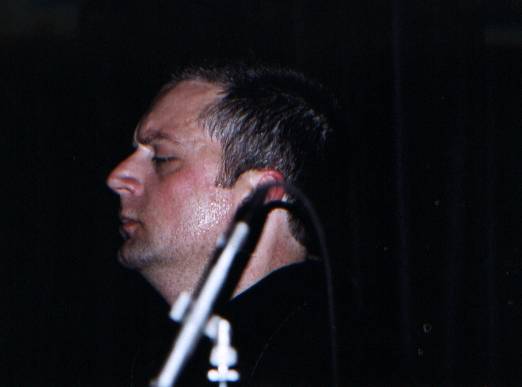 I've been twisting and turning a while...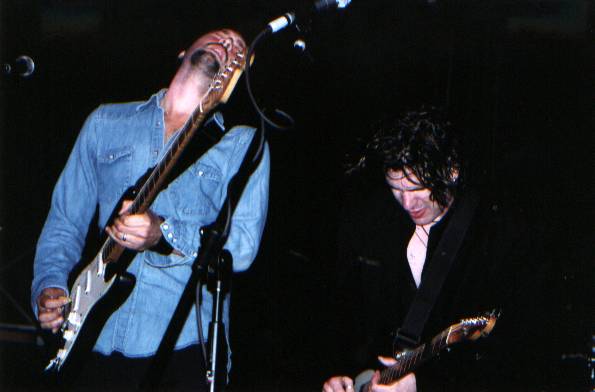 Been one long, lonely mile after mile...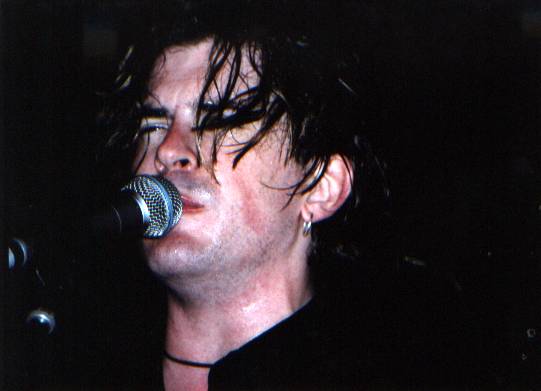 Will you dance with me?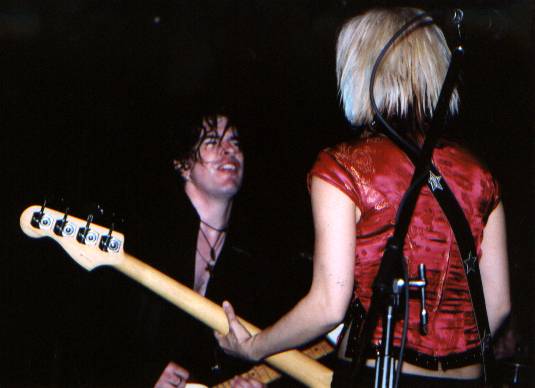 Come on, dance with me..."
"Dance with you? You're kiddin' me, right?!?"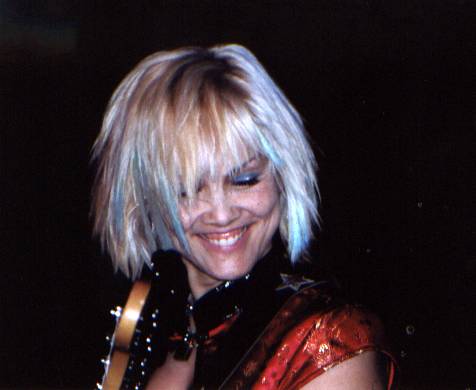 (I'm kidding about that response, of course...) Be that as it may, next came "Everything I Got" -- and as you can see, Michael definitely gave this song truly everything he had...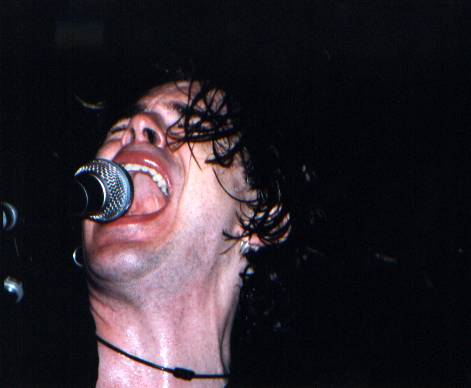 "I'm wand'ring the
graveyards of my mind...
Searchin' for
something true...
With each step I realize...
I'm not the man for you."


...as did Rene and Dominique on the one that followed...both truly getting into the "down and dirty" spirit of "Junkie Girl"...
"She's been with women and she's been with men...
Seen the gates of the kingdom from Lucifer's den..."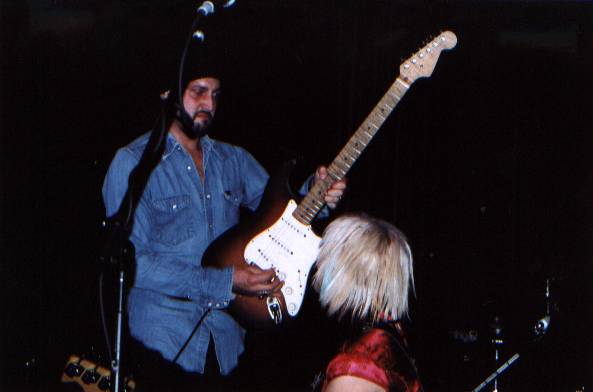 "Don't tell me it's all over yet!" both Rene and the crowd seemed to lament in unison...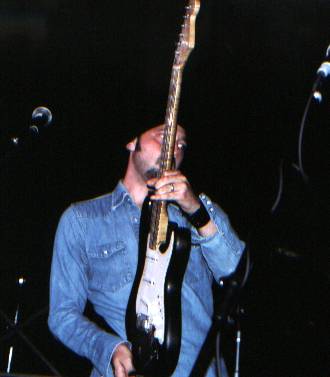 ...but alas, it was announced "20 Miles South of Nowhere" would indeed be the last song...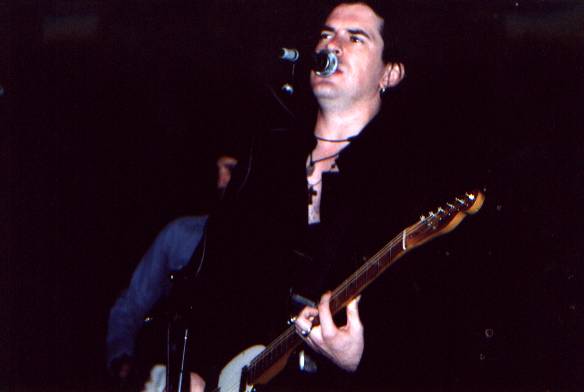 "Dan sat at
the bar...
He was talkin'
about his
car with Alice...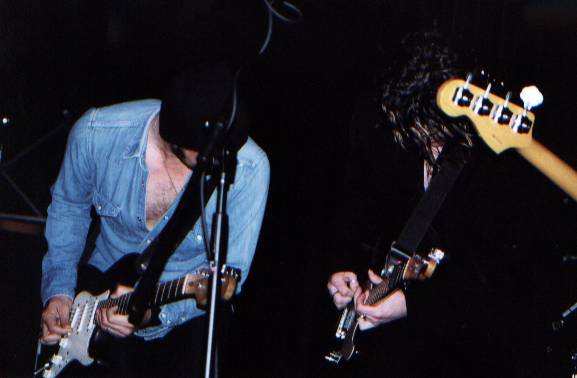 "She was
heading out
to Vegas...
Running from
her dark
days in
Dallas..."

But, as expected, Michael and the band made this tune such a great finish that the crowd wouldn't think of so soon allowing the show to end. Thus, in what surely proved prophetic for those in attendance, a solo acoustic encore of "Can't Sleep Tonight" served as the perfect denouement...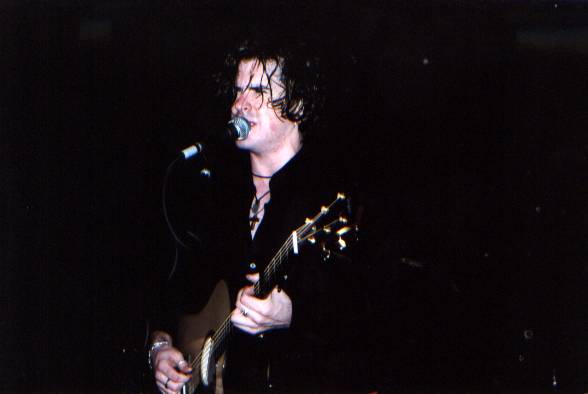 "There's a shiver
of silence
hanging over
this land...
I can't sleep
tonight...
How is it
anyone can?"
Be that as it may, the night was not quite over yet...as friends and fans gathered outside to marvel at the music and enjoy a few minutes in the company of Michael and each other...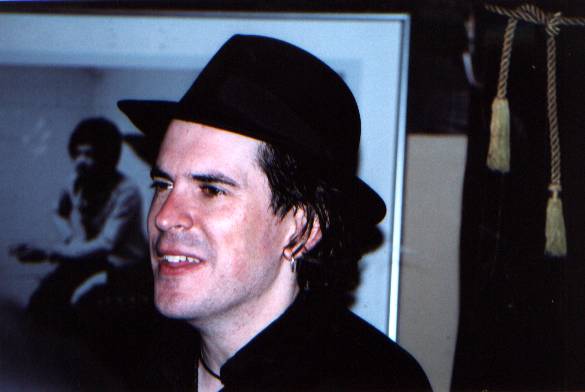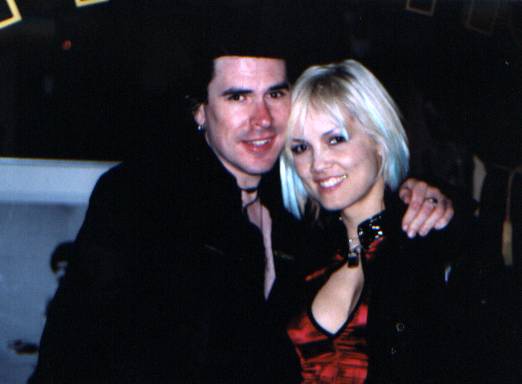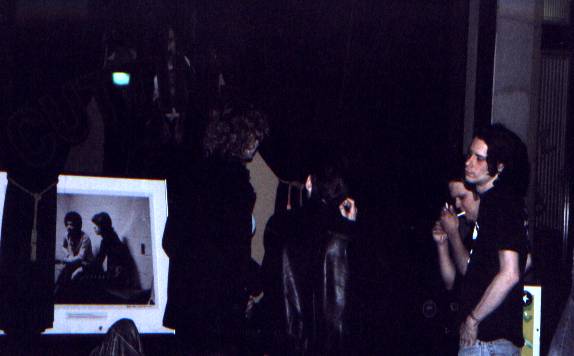 ...and in my case (as usual), seek out a bit of proof that this night was "really real"...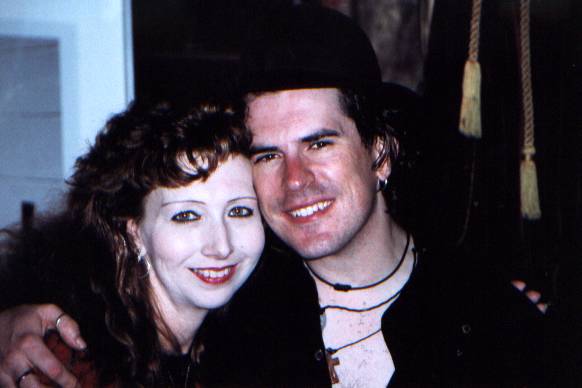 And, indeed it was!!!
Check back for photos and commentary from the North by Northwest show in Philadelphia the following night.
In the meantime...
As always,
Thank You, Michael, Brian and bands!
See you again soon!!!