"Always take advantage of new experiences...they enrich the mind."
Rhett Butler in Margaret Mitchell's
Gone With The Wind

Having experienced so many live performances of Michael McDermott's work, I can easily understand how it might sound ludicrous to still be finding anything new about these occurrences whatsoever. The event this page commemorates, however, is an easy one to separate. After all, I'd never even heard the term "house concert" before,

and it only stands to reason, then, that I was in for something wholly unexpected...or rather to which I brought few expectations as I had absolutely nothing on which to base them.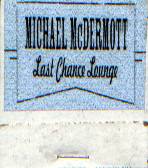 However, immediately upon arriving, it was clear that even had I showed up with the very highest of "great expectations", I'd have not been disappointed.
And, of course, above all, there was the always new experience of the work itself...the beauty of the dynamic life force that is art...that is music...that is...
Michael McDermott.

After a very warm introduction from the hostess of the event, Michael opened the show with the first of several songs I'd either never heard played live before, or which were newly rediscovered on this night... the normally up-tempo (and guitar-driven) "Sword of Damocles", slowed down and reworked into a moving piano ballad...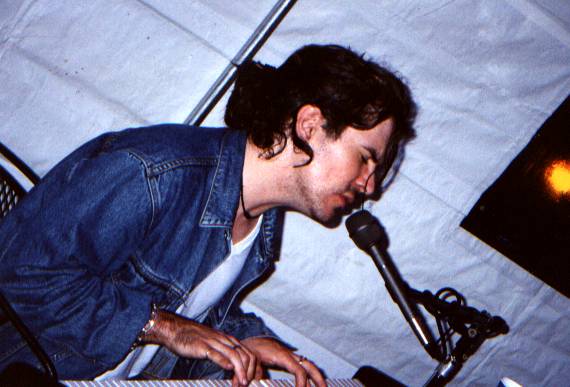 "Wake up to
the sound
of your
aching heart...
To see your
soul's
enemy
approach
your

...the likewise new to me "Saddest Girl", and the seldom performed live "Come Around Mary", the latter of which offers a sensitive look at the story of a troubled young woman he had met several years ago in New York City...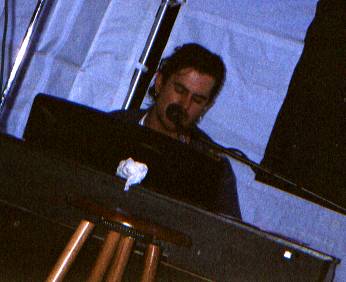 "She spoke of love's
lonesome witness
She talked to me
about going home..."
Next Michael played certainly the most appropriately titled song for such a lovely August evening, "Summer Days"...introduced simply with the words he'd "heard she likes this one" before dedicating it to (the aforementioned hostess of the evening) Becky...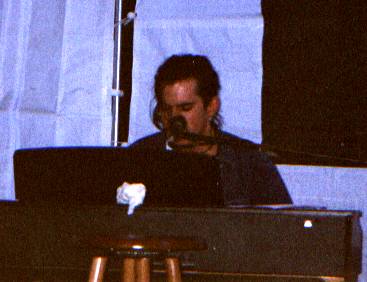 "She said, 'do you
remember those
summer days?
I'd go see every
lousy gig you
played...
I swear I hung on
every word you
ever sang , when
no one listened'."
...and then introduced an old Irish composition called "Kilkelly Ireland". Told in a series of letters from the "Old Country" to a family member in America over a 30 year period, the tale proved a very moving one, made more so, of course, by Michael's haunting performance of it...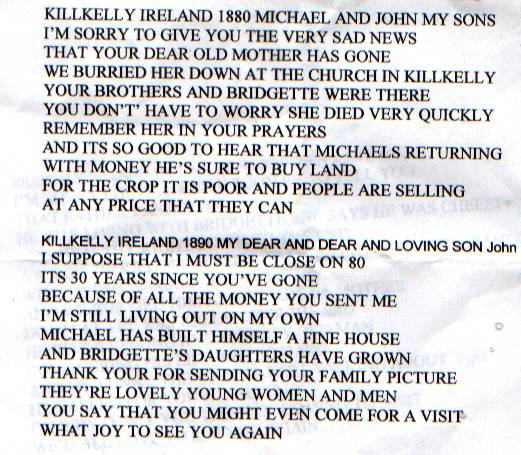 ...immediately after which Michael concluded this piano segment of the set by favoring the crowd with that beautiful tune he'd debuted last December (at the first of two amazing shows at Schubas reviewed separately on this site), "One Way To Go"...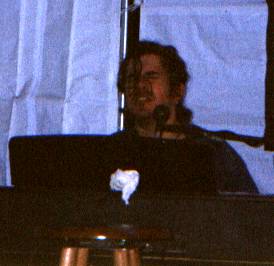 "You've been under a lot of
pressure,
You've been carrying a
mighty weight..."
Finally switching to guitar, Michael began that much-talked about intro ("In my time of dying..."), credit for writing which has often been ascribed to Bob Dylan. Setting the record straight, Michael has noted offstage that this is instead an old folk song/verse of unknown origins that Dylan (among others) has merely covered over the years. Be that as it may, the song it served as a preface for could surely never be mistaken as anything other than a genuine McDermott composition..."Arm Yourself"...
"Dim lit dreams dance in darkened doorways,
While the scent lingers of a crescent moon goodbye..."
This was followed by two amazing covers...Cyndi Lauper's "Time After Time" and the late, great Mike Jordan's "Hole In My Shoe", before Michael once more returned to another of his own great songs, "Grace of God"...to all of which the deeply appreciative audience listened with rapt attention...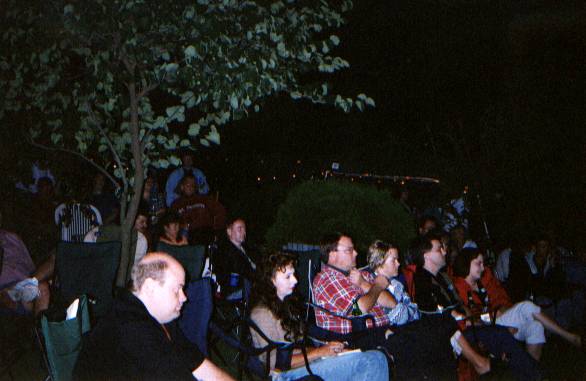 "Well, the sun came
up this morning
As I was laying
myself down..."
Next came the most famous of Michael's songs, "A Wall I Must Climb", which was followed by one of the more obscure. The latter of these he prefaced with an amusing tale of how he had once thrown out his television for a while, thinking he would subsequently write more songs...adding that his mood of self-imposed deprivation lasted only about two weeks! But, he concluded with a smile, "I got this song out of it."...that song being the richly complex, "Hand of the Hunter"...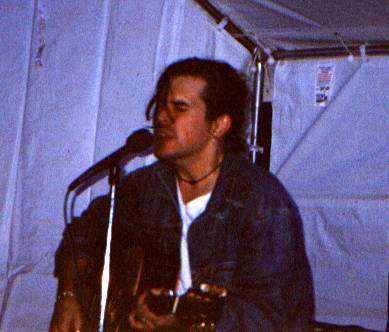 "Spilling like wine,
the healing was
landing,
Our only bastion
was our
understanding,
With my fist in
the air, the winds
I was commanding,
Free from the spell
I was under..."
And while it seems no McDermott show is complete without the familiar "20 Miles South of Nowhere", in retrospect I'm sure all present realize this one would have never been complete without the much less frequently played "Legendary"...a song the enthusiastic crowd was quick to make something of a litany by responding to Michael's repeated "Come on, love" with perfectly timed cheers (!) -- A spirit that continued to prevail as he moved on to "Junkie Girl", the wistful lift in his voice on the last choruses of which made it perhaps the most musically interesting (and truly excellent) performance of this song I've ever heard...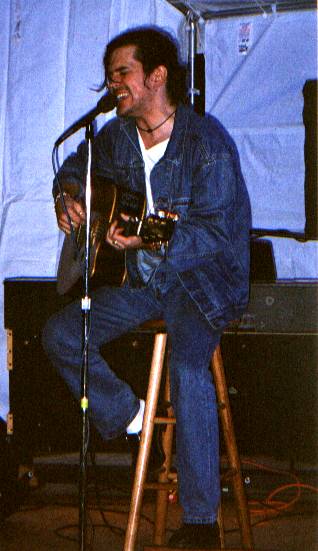 "She's my junkie girl...
She's my junkie girl...
She's my junkie girl..
I really do think that
I love her."
Finally, the set began to wind down with the last guitar selection of the evening, "Can't Sleep Tonight"...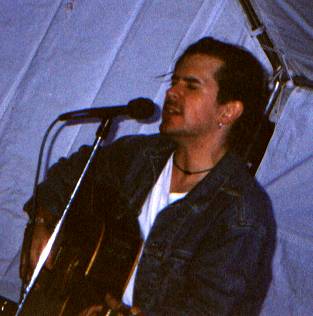 "I can't sleep tonight,
I wonder if it's because
I'm thinking 'bout
the person
I know I once was..."
...before Michael returned to the piano to offer the always beautiful "Bells"...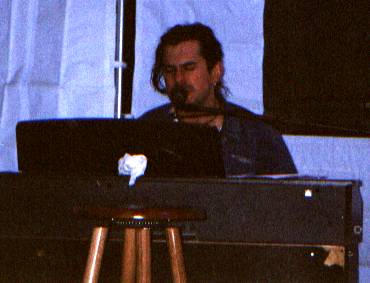 "Ringin' out for me,
Ringin out for you,
And all the things
that we've been
through..."
...and the traditional conclusion to nearly all McD acoustic shows, "Around The World"...
"I had to travel around the world
Just to find my way home."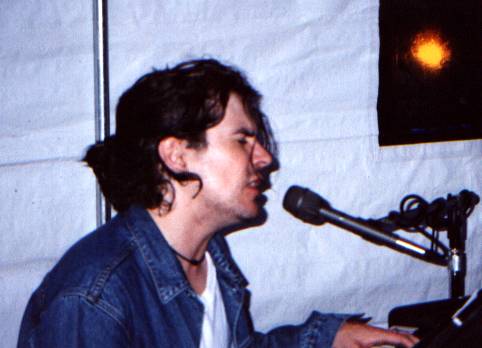 And, while indeed traveling (well, something like!) around the world had been required to be present on this night, it was at the same time merely an evening spent at home...with the familiar and welcome sound of Michael's music, and the warm company of those likewise appreciative of this gift.
To conclude then, I can only add...
To Bec and all who made this night possible, many thanks,
And, as always,
Thanks to Michael!
P.S. Check back soon for a page on the 8/10 Ravenswood Manor Park concert...yet another amazing show!!!