The Clown (by Mildred Scott)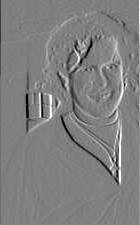 He used to call himself the clown, a term he meant as "fool"
And once thought himself deserving of both doubt and ridicule.
At last he realized he'd bought the "lie" within "believe",
And of self-deception's burden came to slowly be relieved.



But that didn't make him fit into a world where fools abound…
And I don't mean the sort of fools like this man called "the clown".

Odd, he'd chose this word, I thought, based on an actor friend,
Who'd become a clown -- by choice as well -- though toward a different end.
This actor joined the circus, studied clowning as an art,
But what he learned was not what he'd expected at the start…

The secret to a clown's success: commitment to a cause.
Oblivion to words like "can't" were what prompted applause:
The clown who'd stop at nothing to achieve a "hopeless" goal,
Something silly in our eyes that he'd chase with heart and soul.

Still that didn't make him fit into a world where fools abound…
And I don't mean the sort of fools like this man called "the clown".

I'd never put together these two stories in my head
'Til it all fell into place hearing words the first man said,
"Life really has no meaning beyond that which we apply",
A phrase which made it plain at last who this man was, and why.

Indeed he's been "the clown", though he'll never be a fool,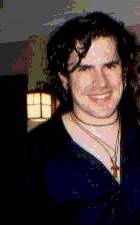 For he's fought against great odds, measured by a higher rule
Than any that the masses recognize from their own lives,
In which "the road less traveled" seems too risky and unwise.

Still, that doesn't make him fit into a world where fools abound…
And I don't mean the sort of fools like this man called "the clown".

Yes, this man, he is the clown; his music tells me so.
May I one day be so great a clown… and so much beauty show...
The Point
Bryn Mawr, PA 1/27/01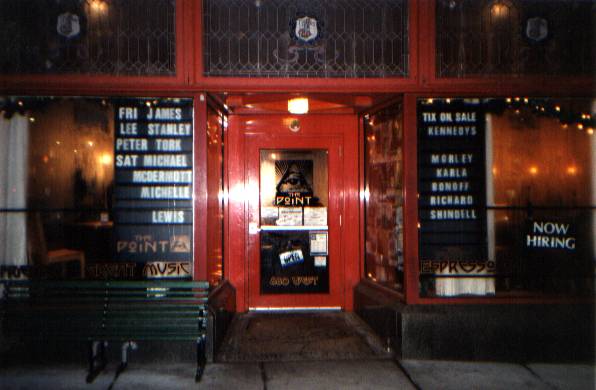 A highly anticipated -- and sold-out -- show...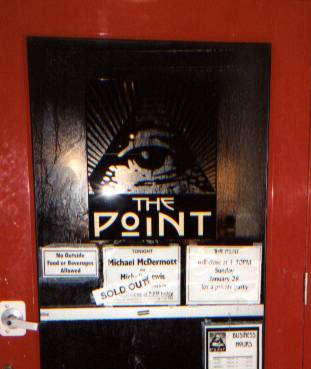 Michael opened with the ethereal Bourbon Blue on piano...
"captured, enraptured by her spirit, her word I couldn't hear it...
but what was I to do, I was feelin' like a fool..."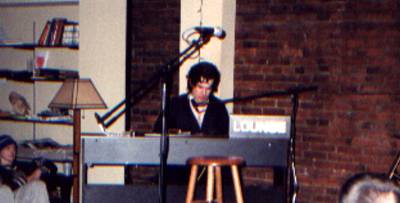 He then switched both instruments and mood to perform the edgy Cal-Sag-Road-Song, before again becoming more reflective on the recent debut, "Grace of God"...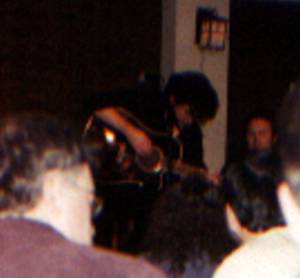 "there but for the grace of God go I..."
Michael then shared a song written in tribute to his father, which illustrates the growing understanding and appreciation on the part of a son for the totality of an individual, not merely the role one plays as a "dad"...

"Ma always told me stories of you,
Of the fountain on the day you met.
Tyrone Power had nothin' on you,
By the way you moved in that Stetson hat..."

This was followed by yet another new creation. "Ride On, Mighty River". and the recent single from Last Chance Lounge, "Junkie Girl". After these came one of my personal favorites, a track also featured on the album Last Chance Lounge...
"Annie and the Aztec Cross" tells the moving story of a young woman facing the darkness of aids, yet filled with the light of a triumphant spirit...
"...her words flowed just like a river, but her ghost hung like Spanish moss..
I dream of her dancing 'neath the Peruvian moon...rememb'ring...
Annie and the Aztec cross..."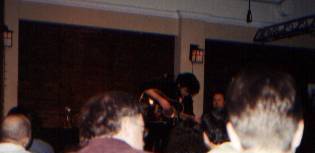 The latest single, "Unemployed" wrapped up this first guitar phase of the show, and included all of the energy and humor for which it is becoming so well-known...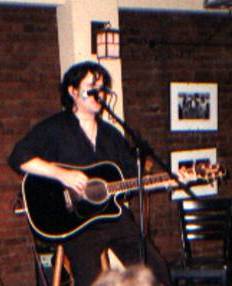 "sometimes I'm a hunter,
sometimes I'm a clown,
sometimes a matador
who's just moved to town..."
Back at the piano, Michael performed one of his newer songs, "Under the Undertow", a majestic ballad he introduced as the sequel to "Junkie Girl". This was followed by the almost eerily evocative, "Murder on Her Lips"..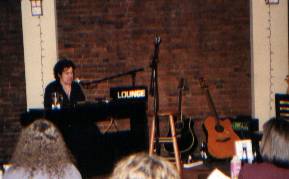 "she whispered in my ear without the slightest bit of fear; the words got my stomach doin' flips...she had love in her eyes...she had blood in her eyes, and murder on her lips."
Next came the spirited "20 Miles South of Nowhere". One of the most accurately -- and interestingly -- drawn cast of characters ever set to music inhabits this track, soon to be featured on the "Knockaround Guys" film soundtrack.
The McDermott staple, "A Wall I Must Climb" followed, its telling insights still fresh and vital several years after its debut...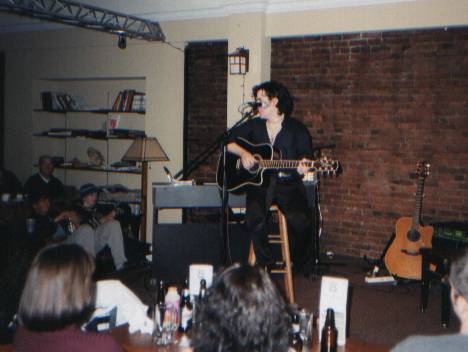 "Have you ever looked at your face so much
until it became askew?
Because the road that's less traveled is
the one that leads right back to you.
I'm frightened for I fear that my lack of life is
my crime...
I am a wall I must climb."

After expressing his sincere thanks to the crowd, Michael announced that his last song for the evening would be "Getting Off The Dime", an anthem of honesty and hope...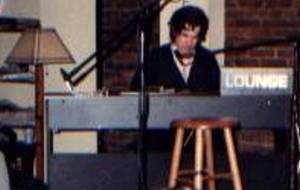 "The seeds of indecision are constantly in bloom;
we grow the flowers of regret in an empty, lowlit
room...blowin' through the pages of a burning book
I found that the beauty was revealed by design...
come on, babe, we're gettin' off the dime."
Naturally, after such a beautiful and rare experience as the entire show had been, the audience was most unwilling to let the night end. As a result, they unashamedly solicited an encore, which Michael generously obliged.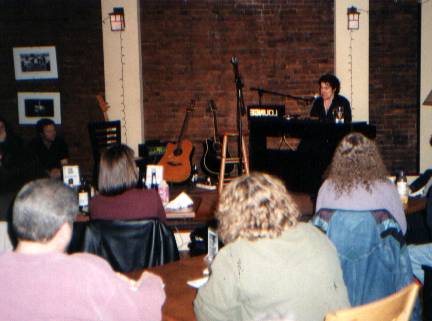 My husband won the battle for requests, prompting Michael to favor us with yet another of his latest -- and arguably most eloquent -- songs, "Around the World".


Lastly, a request for #49, from the album 620 West Surf was honored...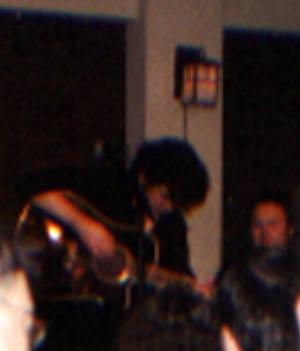 "Music plays in the small cafes; they converse
of Marlon Brando in his younger days...
The backroom manager's quoting
off-Broadway plays, because the feelings that
he feels are not real..."
Neither did the feelings of this wonderful night seem real, except, of course, for the fact that it must finally conclude. And, after what I can only imagine must have been an exhausting -- and astonishingly exhaustive -- set, at last the crowd offered its last round of applause as Michael once more left the stage.

Unfailingly gracious, Michael nonetheless obliged a fan's request for photos...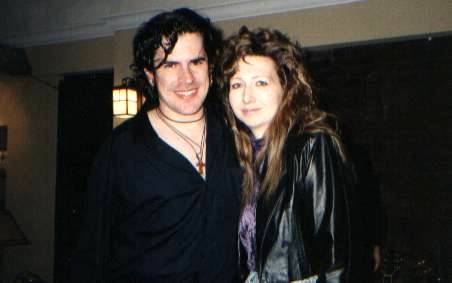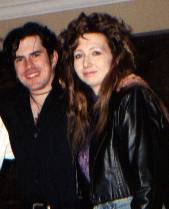 ...as did his bass player, T.J...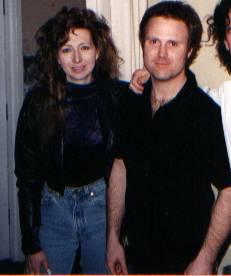 (my husband, who like me is a great fan of Michael's music, was also in both of these shots.. . however, he opted not to be included on this page as he was having a "bad hair day"... And they say women are vain!!!)
In any case, it was a tremendous night for everyone who attended, and we left The Point elated over what we had experienced and "amazed by what had transcended through [this evening's] pages of time....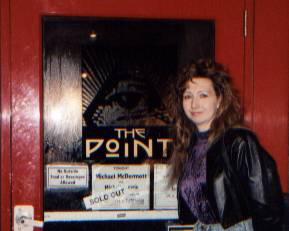 Thank you, Michael!!!

For more information or to order Michael's music, please visit michael-mcdermott.com