"Welcome to our humble madhouse...I trust you'll feel at home..."
From the motion picture, "Quills"

Home...a word that conjures images of warmth, comfort, family. A word that implies a sense of familiarity, trust, safety and belonging. And as a place that has long since come to be described and accepted as Michael McDermott's "home away from home", it seems appropriate to preface this recap of his 8th and latest show at The Point in Bryn Mawr, PA with a discussion that centers around this concept. Of course, just as insanity takes on an entirely new meaning (as described repeatedly throughout the various sections of this website) when applied to art, so it is arguable that the word home does as well. And, as you'll gather from the quote at the top of this page, when these two concepts are combined, well, that creates a whole different animal altogether. And what transpired on this beautiful spring night -- at this place to which so many in attendance have been drawn for the same reason so many times before -- was indeed a new creation, a fresh interpretation of familiarity, an experience sometimes foreign and disturbing, at others pleasurable and inviting. It was a night of the genuine and beautiful insanity that is art exhibited at its highest level...a dynamic state characterized by challenge, spontaneity, and experimentation. It was a night of friendship, compassion, camaraderie and communion as this "normally" solo artist was joined by fellow "madmen" Brian Fitzpatrick and Ed Fritz to together re-define not only the word home but the word "family" as well. In short, from the moment Michael McDermott (and later his cohorts) took the stage, it was clear that we had entered -- or more accurately been welcomed into -- a madhouse inhabited by only the very most incurably insane...and I'm proud to admit that in few other places have I ever felt so utterly, undeniably -- and thankful to be -- "at home"...

THE POINT, Bryn Mawr, PA
4/19/02
As he'd done in NYC the night before, Michael again opened with the Greek mythology indebted "Sword of Damocles"...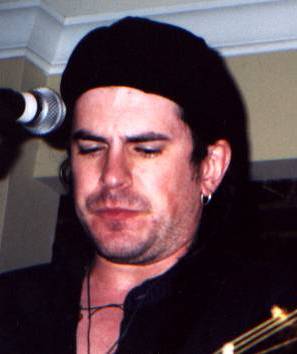 "Is your life the life you
want or one you're
settling for...
You gonna roll the
dice or double-lock
your door?
Is it your reflection
or just a disease
When you gaze
upon the sword
of Damocles?"

...before again moving into the brand new (and lyrically disturbing) "Can't Sleep Tonight"...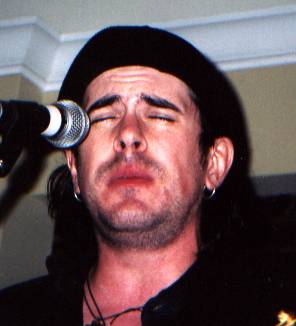 "I can't sleep tonight;
This must be a dream.
It feels any moment I
might start to scream...
I'm thinking about
the person I was;
Where is it he goes and
what is it he does
And once more this was followed by the (in light of current events) self-explanatory "Hellfire In The Holyland"...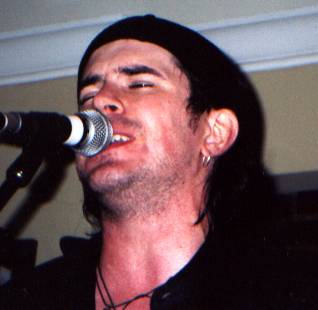 "Come tomorrow, one
unanswered prayer...
Come tomorrow, will
I find you there?
Turn a cheek and
offer up your hand,
'Cause there's hellfire
tonight in the Holyland."
Here Michael departed from the NYC setlist to share yet another brand new song. Entitled "Darkness", he explained this was written about a close friend's ongoing struggles with addiction...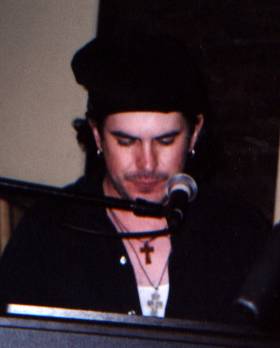 My heart has a hunger
that's insatiable...
I know it's never too late
to atone...
Man, this is a kind of
darkness that you've
never known."

After this Michael moved on to the more familiar "Summer Days"...
"I heard your last
record; yeah, I
thought it was
great....
I never heard
much about it,
but at least
you escaped..."
...and the never more exquisite "Bourbon Blue"...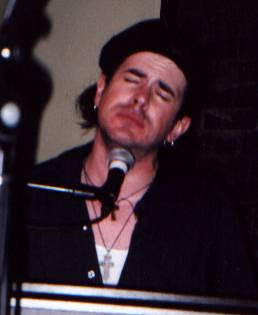 "she restored what I
had lost
With nails and the
cross..."
...before returning to still more new material, this time a song of hope, determination, and something close to desperation....which also (thanks to an unshakeable tune and excellent lines like "thought peace might find me by osmosis" and evocative imagery such as "a lawnmower in a garden full of roses") happens to be my current favorite of his newest creations -- "Riding On The Spare"...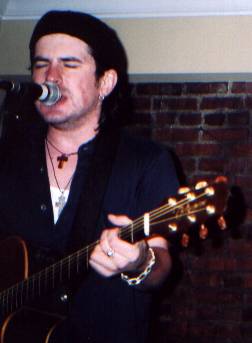 "No matter how long it takes,
Or how the day breaks,
I will be with you, I swear...
Though each hour the
weather gets worse,
The road more rough, and
the night more cursed...
And I'm already riding
on the spare."
Michael then asked a "great singer/songwriter, Brian Fitzpatrick" to join him onstage and took a seat at the piano as Brian played guitar and performed vocal duties for an excellent version of the always enjoyable "Kung Fu Videos"...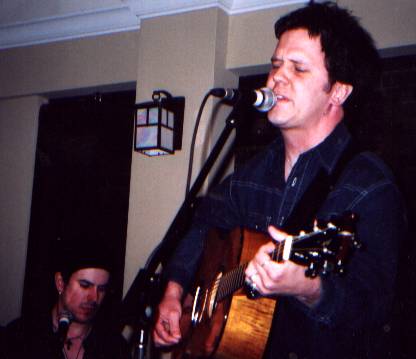 "Go on, make your
phone call, I said
with a grin.
Is your heart made of
steel or is it only tin?
Tell your mama you'll
be staying
At the palace of sin..."
And joining Michael and Brian (who both played guitar) for "A Wall I Must Climb" was the multi-talented Ed Fritz, who on this rare occasion played only one instrument (the accordion)...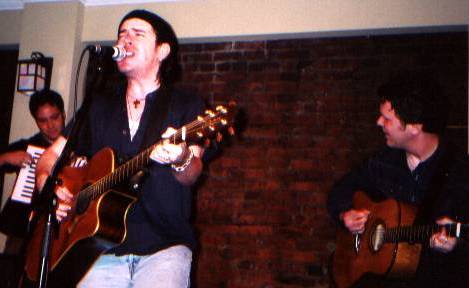 "The road that's less
traveled is the one
that leads right back
to you...
I am a wall I must climb."
Brian then left the stage (amidst very warm applause) so that Michael and Ed might favor us with the surprise treat of the almost-never-performed-live "Death In The Autumn Air"...
"Under the awning
A young man is
yawning,
Waiting for the
fearlessness
of a heart."
...after which Michael alone shared the beautiful, haunting tale of "Annie And The Aztec Cross"...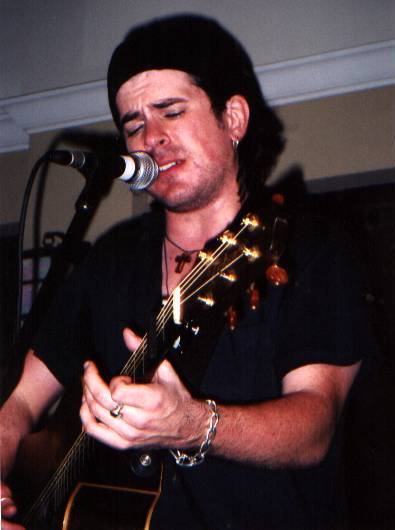 "Peacock feathers
blowin' around in
this room...
A raven beauty that
we have lost...
I dream of her dancing
'neath the Peruvian
moon...
...rememb'ring...
Annie and the Aztec
cross...."
Returning briefly to the piano, Michael then performed a song he'd first introduced to The Point audience on his last visit in December..."Feel Like We Belong"...
"Crowds of people
frighten me, yes,
they unnerve me so...
Every time I get
somewhere I feel
it's time to go.
And I fidget and falter
so foolishly, and I think
about a song
That talks about a place
to come where we feel
like we belong."
...before again summoning Brian back to the stage for the much more upbeat "20 Miles South of Nowhere". Of course, this tune was delayed slightly as Michael broke a string just before beginning, but with Brian's competent backing, no one would have ever known...and witnessing the fun they had jamming together and harmonizing on the choruses, even if they did, surely no one would have cared...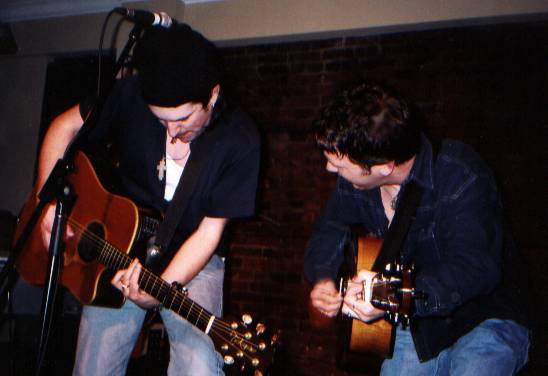 "Everything's been so
dull around this place,
But everything's been
done or at least been
tried, all right...
20 Miles South of
Nowhere,
With me and mine"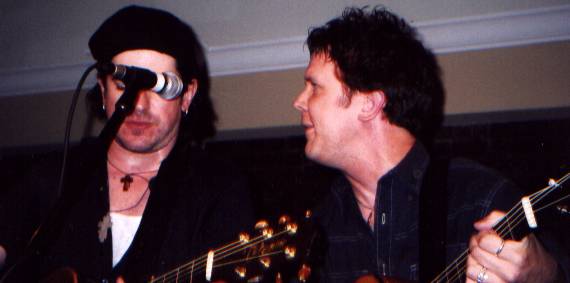 Needless to say, things up to this point had been far from dull for the audience, and although we would have gladly continued sharing in the company of Michael and his friends all night, as Brian left the stage once more and Michael again took his seat at the piano, he announced that this would be his last song before embarking on the now traditional -- yet never more fitting -- conclusion to each Point show..."Around the World"...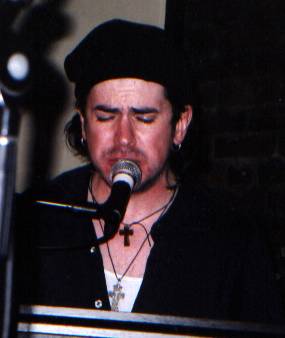 "I had to travel around
the world
Just to find my way home..."
Yet, as always, leaving "home" proved a difficult moment-- one which the crowd collectively attempted to delay as long as possible. As a result, they (very loudly!) called Michael back to the stage for the promise of "A Day Like Tomorrow"...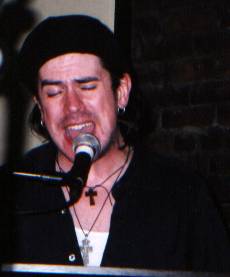 "I saw a sunset of sorrow
goin' down in your eyes...
On a day like tomorrow
we'll weave together
These pieces of our lives."



...and the hope of "Just A Closer Walk With Thee"...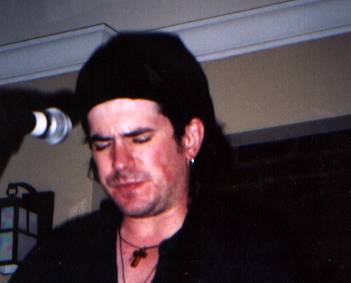 (for which, incidentally, Michael used
Brian's guitar, in light of the
aforementioned broken string on his
own...)
...a song of inspiration which not only sparked just that...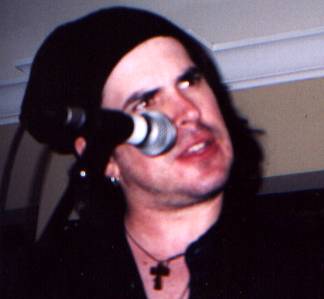 "I was weak but now I'm
strong...
Jesus, keep me from
all wrong.
I'll be satisfied as long
As I walk, dear Lord,
Close to thee..."
...but on which Michael acted quite literally...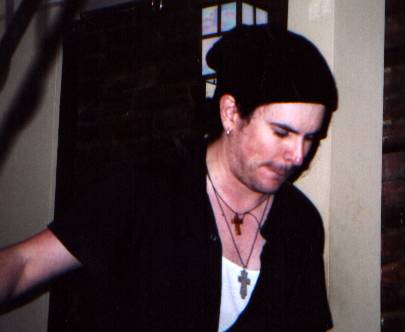 ...by indeed walking off the stage (still singing) to disappear once and for all amidst thunderous applause.
And while everyone was surely sad to see this amazing night conclude, still all left with the certainty that this home is one place to which we greatly look forward to eventually returning...
And with that in mind, I can only add...
As always, Thank You, Michael,
And again,
Please Come Back Soon!!!