While I always strive to offer some type of original perspective, some new "take", if you will, on each of the shows I review/recap/describe here on artistinsane.com, I feel compelled in this case to revisit a theme I've already used once for this purpose. And, when you see such evidence as the photo of the venue's sign...with not merely one of its letters (perhaps suddenly) burned out -- but only one of its letters NOT (it would seem long since) burned out -- and yet a venue where a triumph of art indeed took place inside its walls upon this night -- you'll most likely come to understand why I couldn't stop the words "perfectly imperfect" from persisting in my head.
That said, I must offer the disclaimer that I'm aware there is a McDermott song of that very title....one he briefly contemplated sharing at one point during this show. However, I am not referring to that composition in any way; in fact, I've never even heard it. And, besides, as I understand it, my (Schubas 12-28-02) preface centering around "the beauty of non-perfection" predated the song's writing by at least a good eight months...which means, of course, if anyone's in debt for using another writer's ideas in all of that, then it's Michael who stole mine! (I'm kidding, of course -- so rest assured, no lawsuits will be pending...).
Anyway, the point is if one were to hear a tape of this performance, it's very possible he or she might wonder how I could declare it "a triumph" of any kind. For, as the poor maintenance of the aforementioned letters might presage, there were indeed a few additional shortcomings to be revealed by the venue itself (most significantly, the fact it didn't feature the most stellar sound I've ever heard...to be quite frank, the first two acts might as well have been merely instrumental considering how out of balance were the vocals with the guitars...and at one point Michael himself was pointing so wildly back and forth between the sound man and his stomp box that it represented a triumph all its own that he was actually able to do this for what seemed like aeons without interrupting the song!). And, what's more, Michael's own primary "instrument" seemed to likewise be letting him down. He noted early on he'd been having problems with his voice...said that, in fact, he was unable to talk at all until two days prior to the show, and unfortunately he was still (to his frequently evident frustration) unable to hit many of the higher/more difficult notes his amazingly fluid vocal gift normally allows him to achieve.
But that's where the term "perfectly imperfect" comes so...well, perfectly into play. For, whatever may have been lacking in terms of technical merit on this occasion -- on anyone's part...still, the level of passion, the honest inner struggle conveyed in not merely visible or aural, but experiential communication between artist and audience added up to indeed a hundred percent of what any artistic creation is intended to accomplish. That being, of course, to remind us of our humanness, our individual and collective imperfections...and the both individual and collective human spirits that can make each of us...and all of us...so much more than any of us alone might ever imagine -- and much more, certainly, than we might ever otherwise become.
And, if that doesn't add up to a perfect -- or rather "perfectly imperfect" night, then I surely don't know what does.


Michael McDermott
at
Wheaton Grand Theater
2/28/04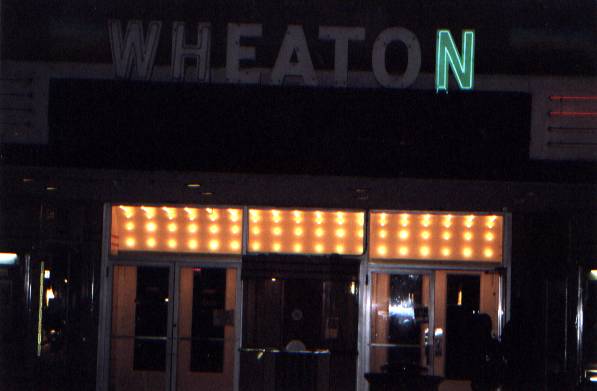 In keeping with a show whose preface centers around wordplay with opposites, what else could start the night more aptly than a beautiful tune called "Ugly"...
"Yeah, I'll be pleased to
meet me
Just as soon as I find out
where to go...
No one will ever see
just how ugly I am...
I don't want anyone to see
just how ugly I am."
...followed by a declaration recognizing that aforementioned greatness of the human spirit, "When It Comes To You" (prior to which Michael introduced TJ and Lance as they came onstage to accompany him)...
"Byron, Shelley, Shakespeare
and Keats
Driven off the page into
these streets...
Yeah, in miracles I still
believe
'Cause I think you've got
one up your sleeve.
There's something greater
than me
When it comes to you..."
Michael next switched to guitar for the recently resurrected "Never Goin' Down Again"...and from the ragged, almost frightening intensity with which he lived his determination to make this song a self-fulfilling prophecy, one could feel the darkness he'd clearly been engulfed by somewhere "In A Godless Night" (the collection of unreleased songs from which this title first became known)...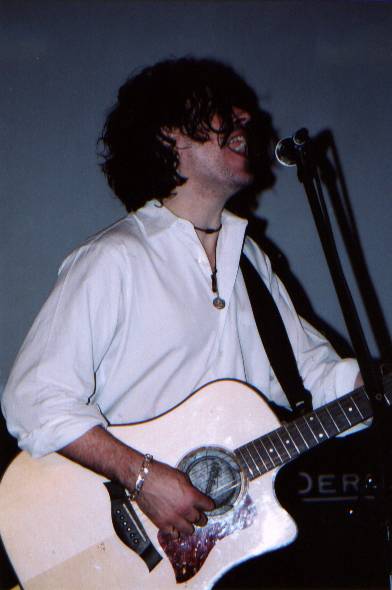 "I've stumbled on the
simplest words,
And I've stumbled on love...
I've stumbled on a sermon
That was sung from
high above...
Yeah, I've tried not to
care sometimes,
But this time I will ascend...
'Cause I swear I'm never
goin' down again...
Yeah, I swear I'm never
goin' down again."
Joined once more by TJ and Lance, the darkness was lifted briefly by a "Spark"...
"Some doors seem like they're always shut..."
...which served to ignite "Hellfire In The Holy Land"...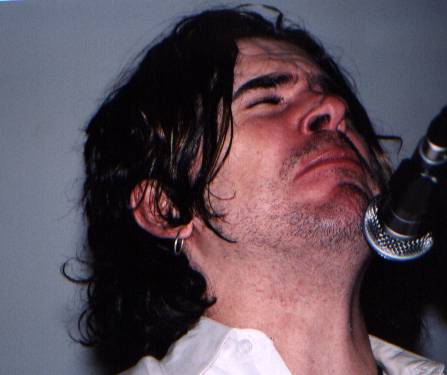 "He woke up near
Damascus' gate
With a widow's mite
sittin' in his hand...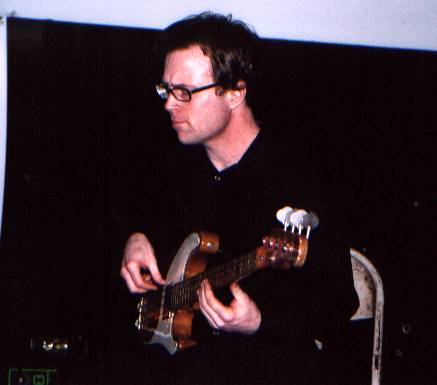 "He wasn't sure what'd
happened
It was something no one
else would
understand...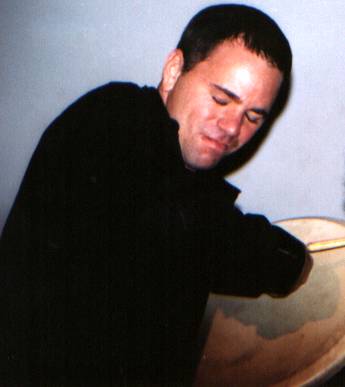 "All at once the world erupted
In a roar of light and shattered glass...
People were lying everywhere,
And others were just runnin' fast..."
Taking a seat at the piano once again, Michael then shared a story about a talk he'd had with a former manager back when he lived in NYC. And while things were unfortunately not going particularly well with Michael's career at the time -- the news the manager had come to the Stage Deli to reluctantly relay -- what Michael heard instead was the subtext this man was even more unwilling to discuss: the difficulties he himself was experiencing in his own life. So, in the language he knows best, Michael wrote the song "Stumblin'" to express his understanding, and offer a bit of comfort...or perhaps one might more accurately say "commiseration", based on the active bit of commentary by which he "punctuated" the line "there's always something knockin' me from behind" (abruptly stopping the song just long enough to forcefully punch the wall behind the piano). See what I mean about this show proving exemplary as an "experiential" form of art?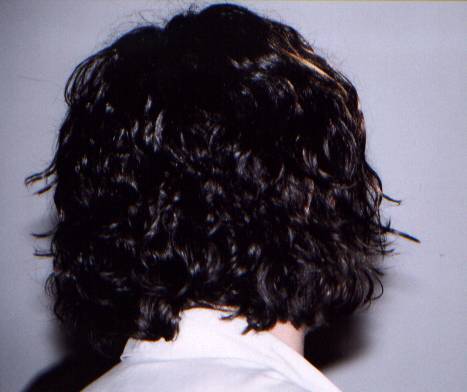 "Frustration breeds
what desperation
needs...
And tomorrow's promises
will lead you blind
every time...
I keep on stumblin..."
It seems what followed must have been a deviation from the previously agreed setlist, as upon completion of this song, Lance began returning to the stage...only to be unceremoniously banished with the jesting command, "Back to your hole!" A rather merciless act, I've gotta say, for one who then proceeded with the mercy-filled "Gettin' Off The Dime" -- and a rendition of this song, no less, that was delivered with what could be most accurately characterized as none other than "evangelistic" fervor...
"Blessed those who
hunger
(and they are!)...
Blessed those who
thirst
(and they are!)...
Blessed are the lost
and last
(and they are!)...
For they in turn will
be the first."
Next came a song that was written in recognition of a maturing son's appreciation for both the individual that is one of his parents, as well as the parts of that parent that are in fact himself. And, in this case I'm privileged to know firsthand that the particular characters Michael sings of in "My Father's Son" are indeed two particularly special people...
Uh, well, maybe the kind of "special" this photo arguably reflects isn't exactly what I meant by that... (I'm kidding, Michael!!!)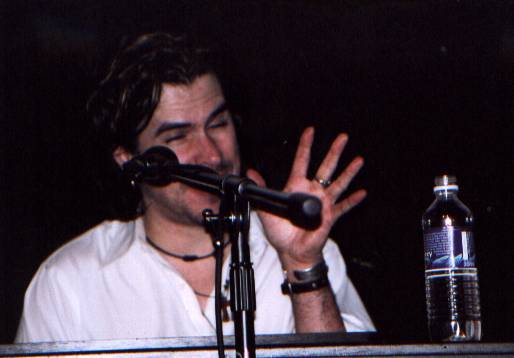 Okay, now this one is more like it....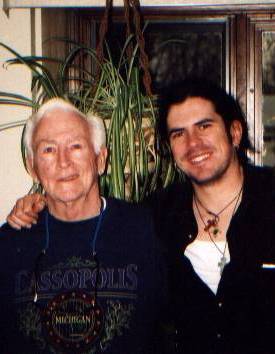 "He knows something
about everything...
There ain't nothing he ain't
seen or done...
Sometimes I look at him
and smile
Because I'm my father's son."
Returning to the guitar (and joined once again at last by Lance and TJ), Michael next offered an excellent performance of "Sword of Damocles", changed up a bit (in a very cool way!) by the use of his guitar as something of a both stringed and percussion instrument on some extended jamming near the end...
"I saw Dionysus in his usual booth;
he was never one who wanted to hear the truth..."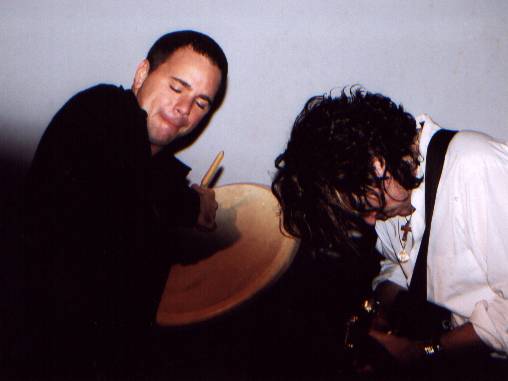 Michael then began the first notes of "Oh, Baby, I", before stopping...
...to announce he'd decided to do this "on piano instead"...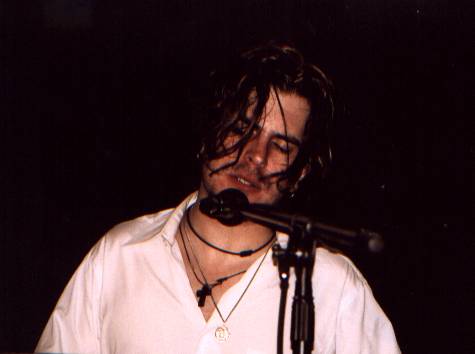 "Somewhere down
Division Street
There'll come a day,
my love, we'll meet...

Everywhere that I roam,
Know your heart still
is my home..."
Asking suddenly for requests -- words met with a host of enthusiastic suggestions -- Michael finally settled upon "Just West of Eden", for which he was yet again joined onstage by TJ and Lance. Before embarking (on what was arguably one of the most impassioned versions of this song ever performed), however, he paused to muse aloud a bit about having recently seen the film, The Passion of the Christ, and thoughts it provoked regarding a world that continues to live in often diametric opposition to Jesus' overwhelming message of love...appropriate musings, surely, to intro a song first released on an album entitled Gethsemane...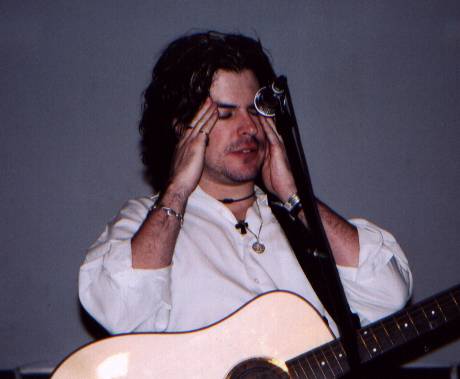 "Just west, just west of Eden,
Where Cain paved a pavement of sin...
Just west, just west of Eden,
The trumpets wailed, and the walls caved in.
Just west, just west of Eden."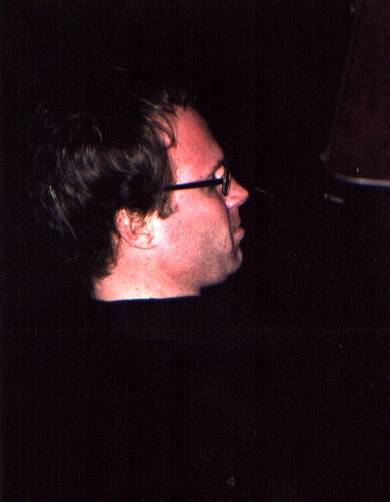 Next came that staple of every McD show, "A Wall I Must Climb"...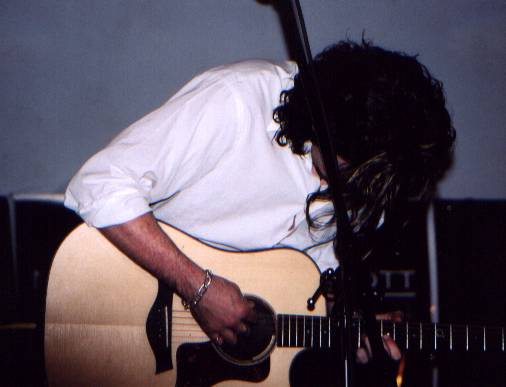 "In my world of
convergence,
I'm a prisoner
only unto me...
I wait for the
emergence
Of the form I
shall soon be..."
...and the intro from an old folk song that could only signal "Arm Yourself" would be very soon upcoming...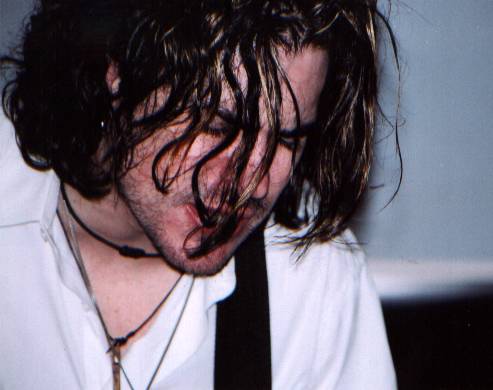 "My love, I ask of you
before the war...
Arm yourself with
my love,
Arm yourself with
my love,
Arm yourself with
my love
'Cause I've already
armed myself
with yours....
I've already armed
myself with yours."
...after which the crowd enjoyed a very special treat as Michael shared a brand new ballad on piano, entitled "Just A Little Blue"...
"I'm just a little blue,
My love, looking for you,
'Cause you're so far away..."
...which was followed by a tale about "The Darkest Night of All"...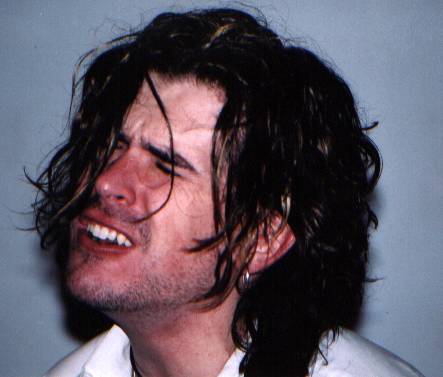 "Do you hear the
sound of angels?
Martha, for you I
will crawl...
Jesus, I can't seem
to find you here
In the darkest
night of all,
In the darkest
night of all."
Unfortunately, that note signaled the darkest point of any and all McDermott shows...the pronouncement that Michael had reached the final song of his set. So, after thanking those who had traveled from Minneapolis and other faraway regions to be present this night, he proceeded with a musical wish that he might achieve "A Closer Walk With Thee"...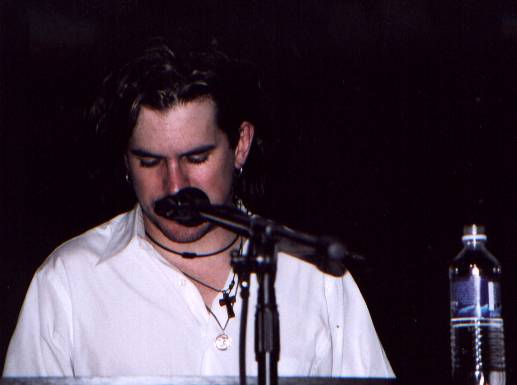 Unwilling to allow this experience to end so quickly, however, the crowd insistently drew Michael back to the stage -- which he promptly declared , "I didn't really want to leave" -- for an encore of the disappointment laden, "Morning Never Brings"...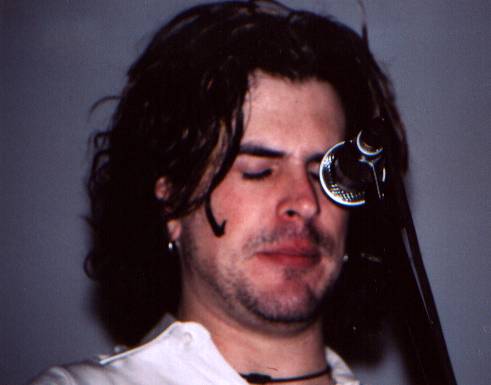 "There's seven sacred
winds that cry,
And they howl like
a ghost...
So painful are the
dreams, the ones
That pass you by
so close..."
...and then coaxed him back yet again for one final tune -- appropriately, one in which peace is made with regrets from the past, through the comforting sound of "Bells" (for which he was once more joined by Lance)...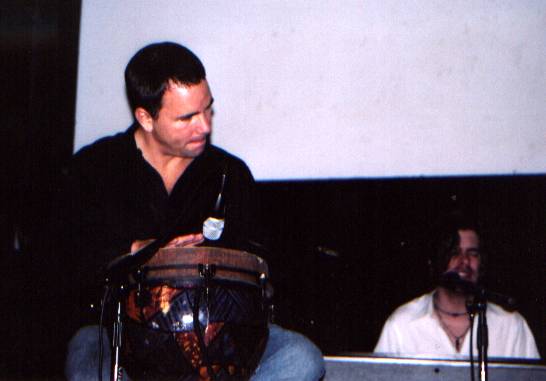 "Ringin' out for me,
Ringin' out for you,
And all the things
that we've been
through...
Sing with me...
hey la,
Hey la hey...
Just waitin' for
those bells
to ring."
And, indeed, all present left with the glorious sound of "Bells" and the host of other incredible songs that comprised this show still ringing in their ears, hearts and minds as they moved out of the theater into the chilly winter night...
...although not all could leave before taking time to capture a couple of those traditional mementos that such experiences have indeed truly been "experienced"...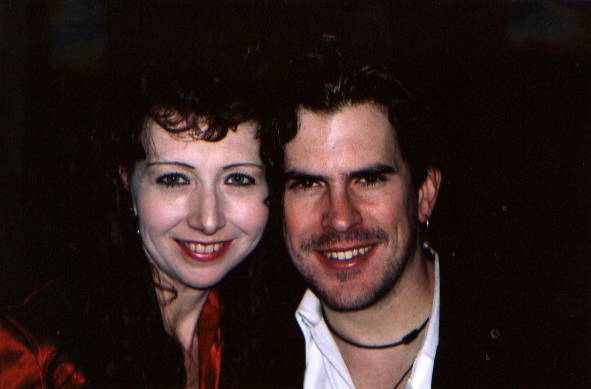 ...on which note I conclude, adding only...
As always, for everything,
Thank you, Michael (and Lance and TJ)...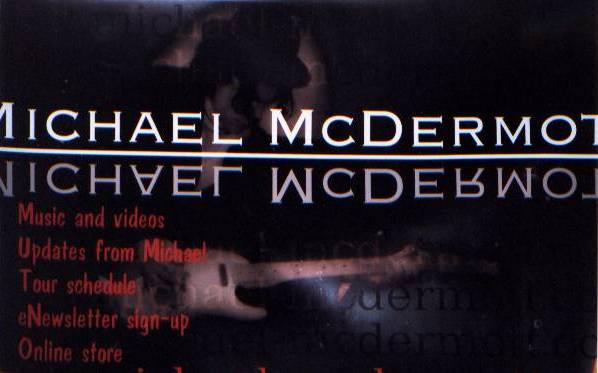 ...(And, yet again,
I warn you, Illinois...
I'll Be Back!!!)