Michael McDermott
at
Brownie's

New York City 8/16/01
Although surely to his fans, Michael needs no introduction, he nonetheless opted to serve as his own announcer...
"Onstage, from Chicago...Michael McDermott!"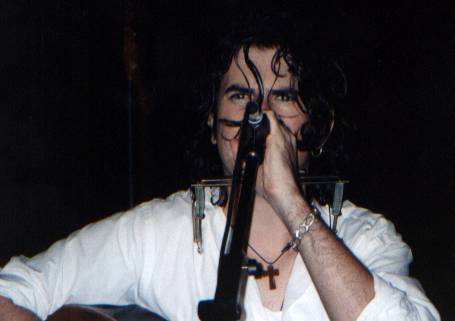 And without further ado, the show began with the beautiful new song, "The Silent Will Soon Be Singing"...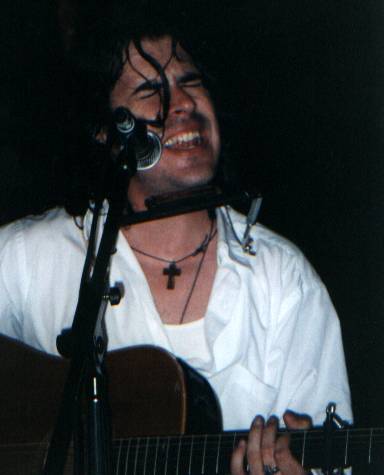 "Wearing a mask is a dubious
task,
And the words spark
electricity...
Lay down your sword
And listen to the Lord,

For the silent will soon
be singing..."
Because this show took place on the 24th anniversary of Elvis Presley's death, Michael chose to honor the memory of "the king" with a gorgeous cover of "Are You Lonesome Tonight?"...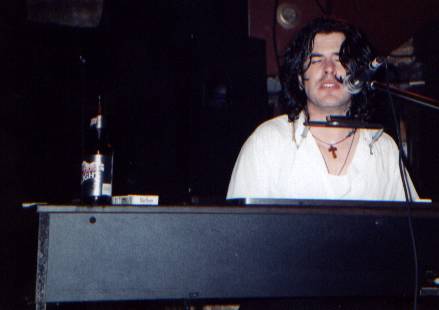 "Do the chairs in
your parlor seem
empty and bare?

Do you gaze at
your doorstep
and picture me
there?"

Still full of surprises, he then moved on to a song that honors another memory, that of Michael's ancestors and his Irish heritage. Citing that his grandfather helped build several of the bridges in and around Manhattan, Michael favored us with the lovely and seldom-played-live "When The Irish Were Kings Of New York"...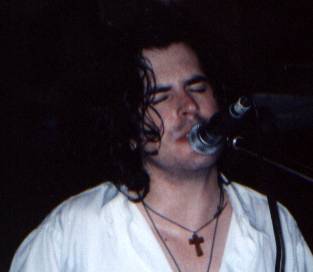 "The heroes that rose
from these city
streets

Became the ghosts
of our past..."
And, of course, he revisited some more recent and familiar ground in the form of "20 Miles South of Nowhere", a song he lightheartedly prefaced by saying, "This is gonna be in a picture show... oh, I was still back in the twenties. I guess you call those movies now..."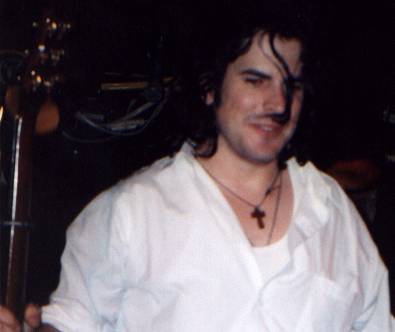 "Dan sat at the bar;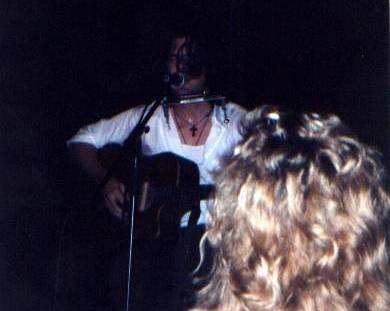 He was talking 'bout his car
with Alice..."
Due to some unfortunate technical difficulties with the sound throughout the show, Michael opted to spend most of the evening at the piano, where these conditions were less intrusive...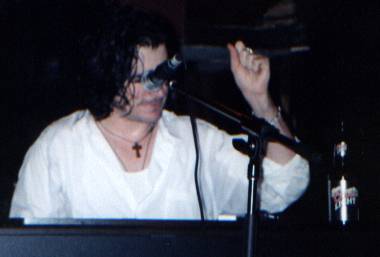 ...And soon launched into the always excellent "Getting Off The Dime"...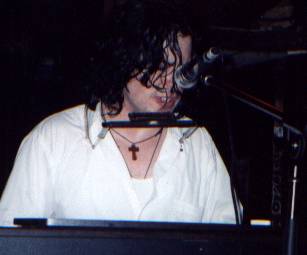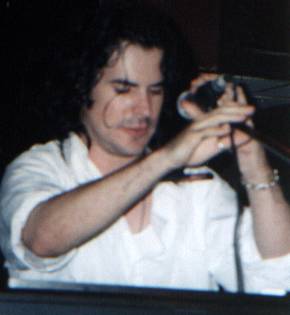 ...and one of my favorite of Michael's frequent covers, "Guilty"...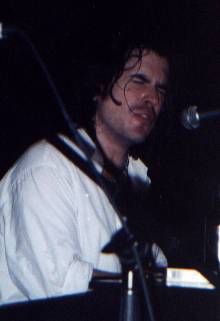 "How come I never do
what I'm 'sposed
to do...


And nothin' I try
to do ever
works out
right?"


Unwilling to abandon the guitar entirely for the remainder of the evening, Michael shared yet another new song, the gently sorrowful "Over Before It Even Began"...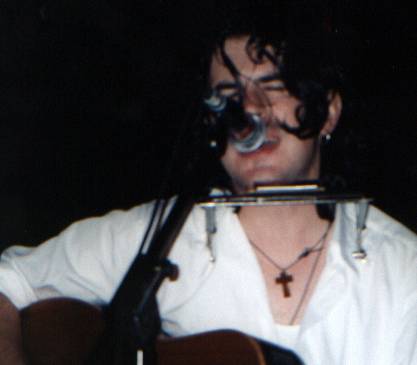 "Be careful of your footing,
'Cause your heart might
be wrong...
...you've got no place to land...
That's why it's over
before it even began..."
And, of course, no Michael McDermott show would seem complete without the musical reminder that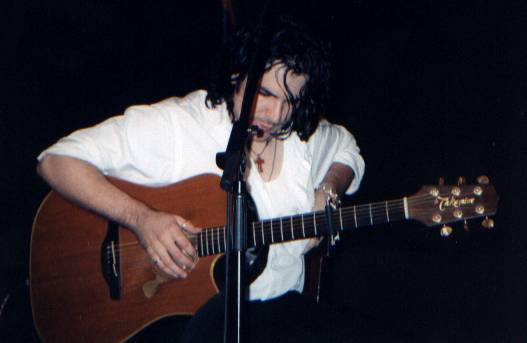 various forces of life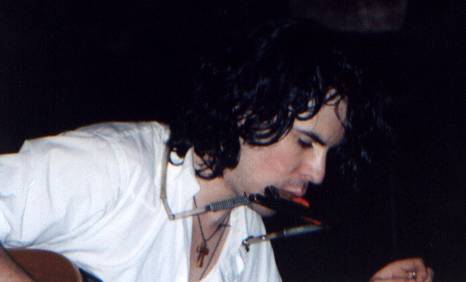 will continue to challenge us...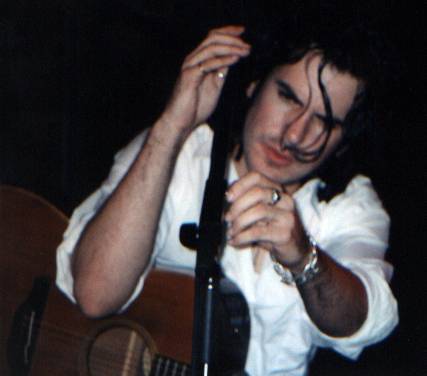 not the least of which is...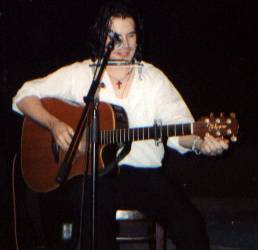 ourselves...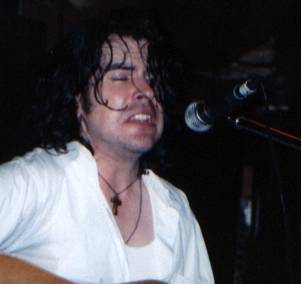 I am "A Wall I Must Climb"
And on that unceasingly powerful note, Michael announced that he would do one more song to conclude the show, the beautiful "Around The World"...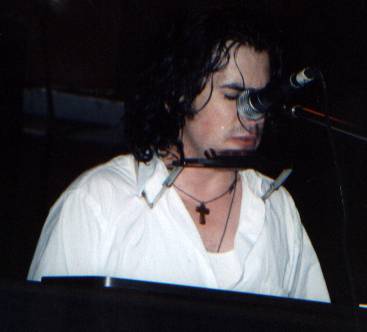 "I know that I have met
some prophets...

And I've befriended
the lowest of
the low...
I had to travel around the
world...just to find my
way home."

As usual at Michael's shows, no one was willing to go home so soon...or to let Michael leave the stage...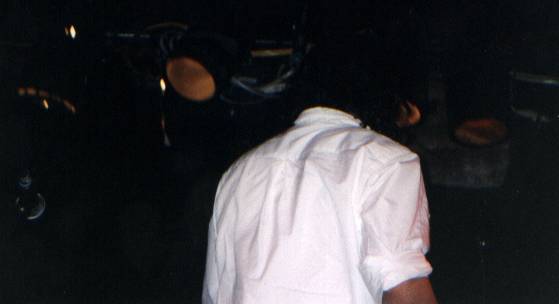 And so he returned to the piano for an encore. A song written in only 10 min. (in NYC) after learning a high school friend's mother had died, "Summer Days" takes a reminiscent look at dreams, reality -- and, of course, -- relationships...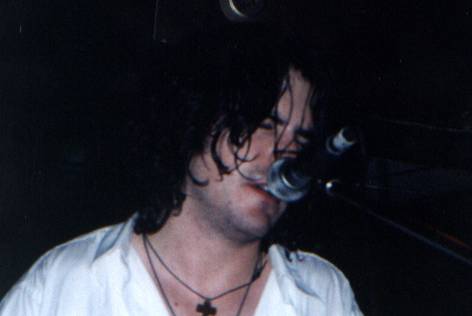 "Do you remember those
summer days?

I'd go to see every
lousy gig you played...

How I miss 'em...
And I miss you, too."

Well, I can't possibly imagine any gig of Michael's being "lousy", but I can certainly relate to missing this particular summer day -- or rather night -- of enjoying his great music...
And, of course, I left already looking forward to a summer day to come when I might relive the experience!