"I have no gift to bring…that's fit to give our king…shall I sing for him? Mary nodded. I sang for him…I sang my best for him. Then he smiled at me."
The Little Drummer Boy

It only stands to reason that a mid-December show by any artist would incorporate Christmas somehow into the event -- spoken references, inclusion of a holiday song -- something. Yet aside from a bit of lyric relating to the birth of Christ in a song debuted approximately halfway through the set, Michael McDermott's Dec. 14 show featured no such hint. In fact, once inside the venue, one could have easily been convinced it was actually April or August rather than December. And, once back outside, prompted by the reminder of brightly decorated homes and businesses dotting the ride home, this omission suddenly struck me as, well, a bit odd to be quite frank. And, I suppose, some might even construe it as disrespectful or, at worst, downright sacrilegious.
But upon further reflection, it at last dawned that quite the opposite is actually the case. For, while the masses crowd shopping malls in search of the perfect gifts for those they love, crowd churches in search of meaning and truth, and engage in other holiday-specific-behavior only at this time of year, true artists such as Michael McDermott are going about these sorts of activities every day: seeking meaning and truth, wrapping them in the most beautiful packaging of honesty and hope, then presenting the resulting gift, fresh and new, again and again -- yet always for the first time -- to both loved ones and strangers alike. But unlike those crowding the malls, whose family members and friends are as likely to express thanksgiving, indeed joy, over even items for which they have no conceivable need, use or want, the artist faces daily the possibility -- and too often the reality -- of his gifts being ignored, dismissed, or even utterly rejected. And yet he continues to seek, continues to create, continues to give his best.
With that in mind, I realized that Christmas had not been omitted at all from this evening of music. Rather, its spirit had shone forth in a way so rarely seen, in such a truly blinding fashion, that as one's eyes must adjust after a camera's flash goes off before the room again returns to focus, so it took a bit of time for me to focus clearly enough and fully grasp this auspicious occasion: my ninth and final night of Michael McDermott live in 2001.
And, what finally became clear from this analysis is that not only am I thankful for each one of these special events, but also that for both Michael and those everywhere privileged to receive the rich (and, thankfully, always useful) gifts he continually offers, I can only conclude -- for those who will allow it to be -- truly every day is Christmas.

The Point
Bryn Mawr, PA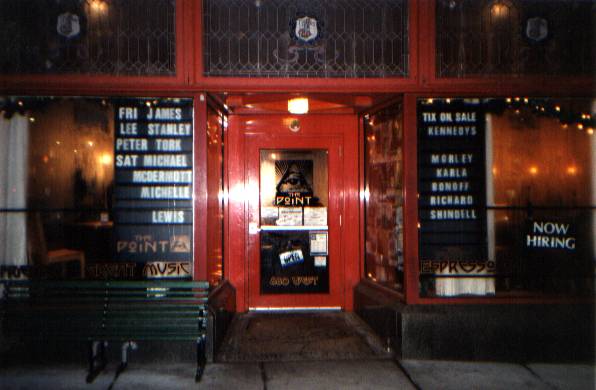 Perhaps it should be prefaced that Michael was forced to follow a very chatty (even kazoo-playing!) opener whose style -- quite obviously -- differs greatly from that of Michael himself. As a result, Michael chose to take a particularly all-business approach to his own set, one which allowed for little commentary...though, of course, still permitted an immense amount of passion...

So, after taking a seat at the piano and a moment to organize his thoughts...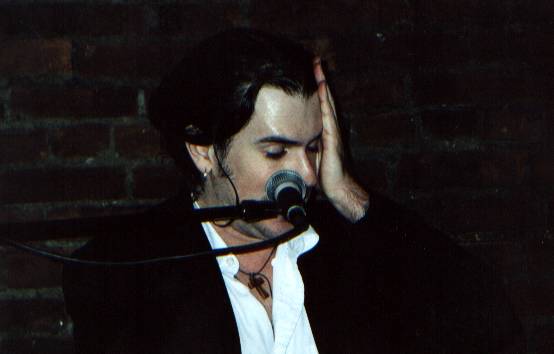 ...the show began with an immediately appealing -- and brand new -- song, "Feel Like We Belong"...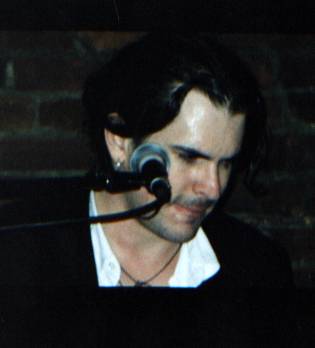 "I've written all my
prophecies before
you in the sand...


Without your love
I doubt that I could
stand..."
...before continuing with more traditional fare...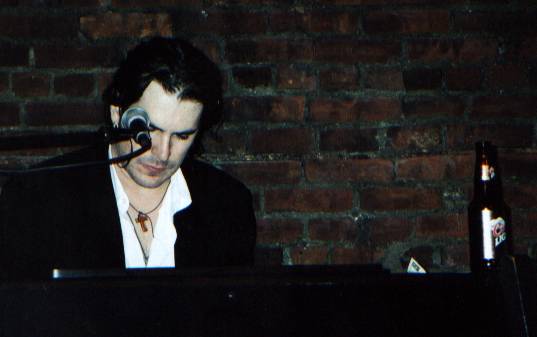 in the form of "Bourbon Blue"...
"it's a stupid way of thinking...
"but the clearness clouds my
drinking..."

...after which Michael switched to guitar to share a song I'd never before heard live, "Broken Down Fence"...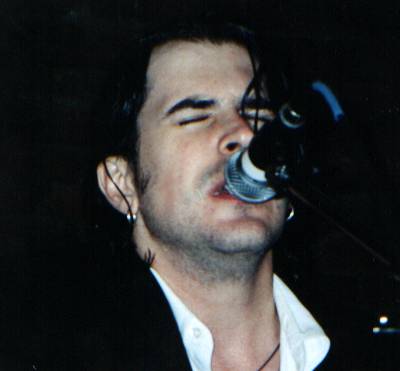 "Walking up Milwaukee
I'd seen the brothers
Grimm...
They were talking
trash and treason
and about the kind
of shape we're in..."

Continuing on guitar, he moved on to the vaguely eerie tale of "Murder In The First Degree"...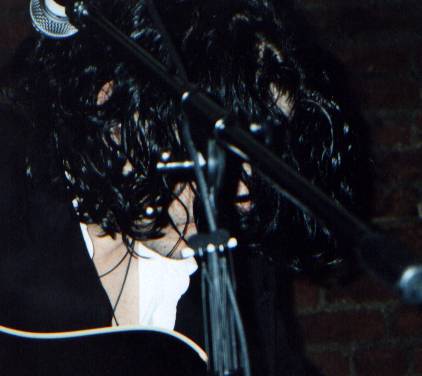 "But that struck me as
being a bit too predicable,

And, Lord, how I hate to
be read...


The bars around us were
too restrictable;
No matter what was spoken,
things were left unsaid..."



...and the -- debatably -- lighter, "Unemployed"...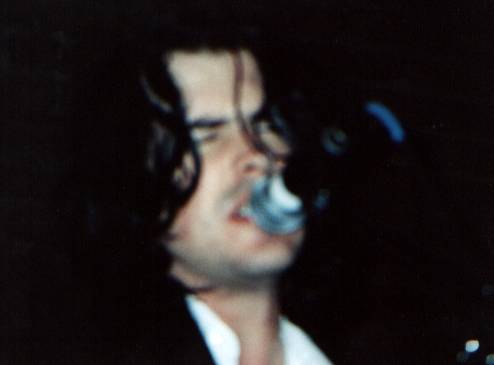 "I can take tragedy, loss and
defeat...

Choke your bitterness 'til
your blood turns sweet..."
This was followed by another beautiful new song, for which Michael returned to the piano...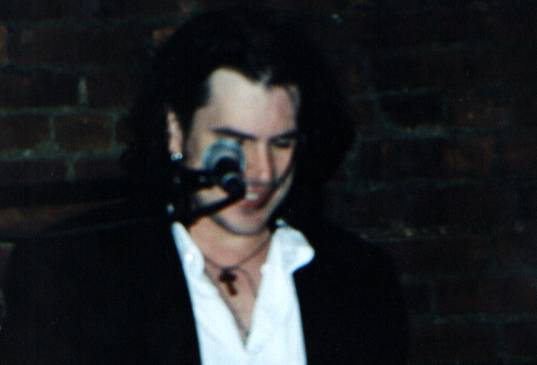 ...and explained that as a child, when he had trouble sleeping, his mother would tell him to "close [his] eyes 'cause there's angels inside". "So", he went on, "I wrote this for her"...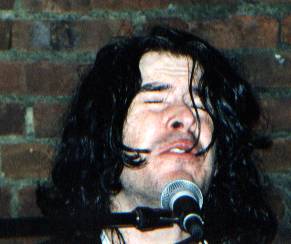 "Close your eyes,
she said,

You with the foolish
pride...

Close your eyes,
she said.

There's angels inside."
And from this he proceeded directly into another brand new creation, an up-tempo character exploration, the title of which refers to a legendary Greek character whose king seated him under a sword hanging by a hair to show him the perils of a ruler's life...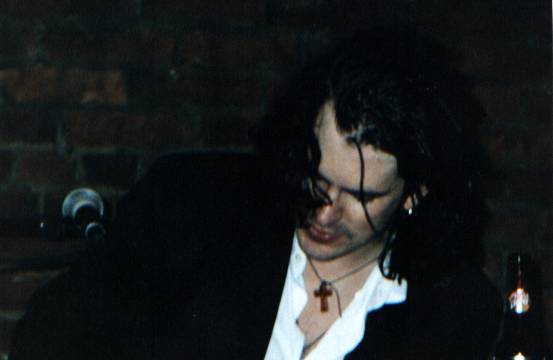 ...a song he approached with such verve that he eventually managed to shake the piano violently enough to send his hapless (and helpless!) beer bottle right over the edge -- an incident on which he commented at the song's conclusion with a brief grimace, "It's been just that kind of day..." Guess it's a good thing he was only figuratively seated beneath "The Sword of Damocles"!
After this, Michael solicited requests, which (to my great joy) someone near the back of the room immediately jumped on by shouting, "Wounded!". And, once more the room was filled with accusation, determination, and a beauty that never fails to inspire inexpressible emotion...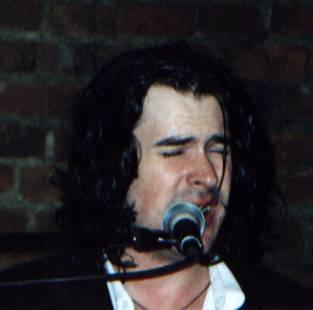 "Then, there at first,
well, it seemed just
like a curse --

I collapsed outside
your well, dying of
thirst...

Things couldn't have
seemed much worse
in any way."

Back at the guitar, Michael began tuning up for his next song -- emphasis on began, as he almost immediately broke a string. And again came that wry comment..."just that kind of day". Recovering quickly, however, Michael simply picked up his second Takamine and launched into "20 Miles" without further ado...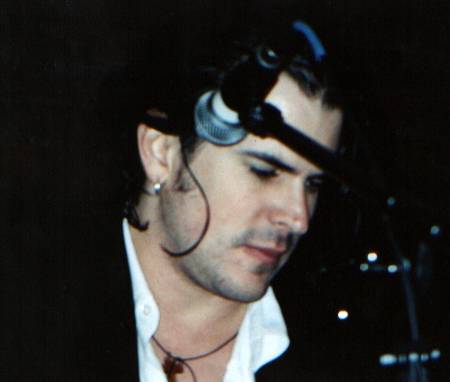 "20 miles south of
nowhere, with
pearls and swine,

20 miles south
of nowhere,
doin' my time..."

...then moved on to a song of (eventual) freedom, "Hand of the Hunter"...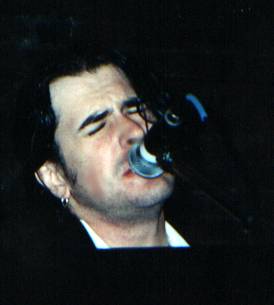 "...it's hard to fly when you're
chained to the ground...

anybody got some wings
I could borrow...

I'll be free from the hand
of the hunter."


Already incredibly intense throughout the entire set to this point, Michael became even moreso as he delivered yet another song he'd not before played at The Point, "Thinkin' About You"...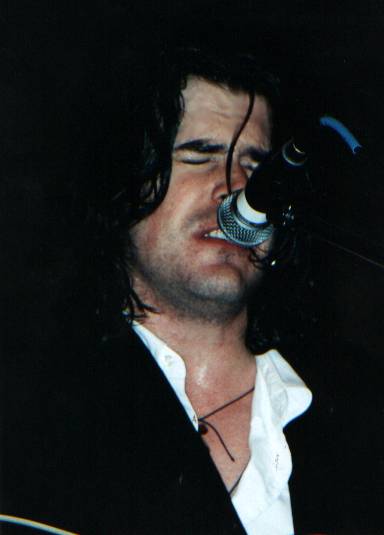 "Stumblin' way past
midnight,

Looking for healing
in the moon...


I'm driving myself
crazy,

Thinkin' about you."
...and remained so back at the piano, throughout the always fabulous Randy Newman cover, "Guilty"...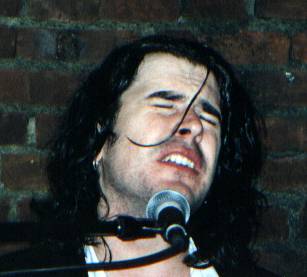 "But I had to keep moving,
darlin',
'Til I was back in your

arms again."
...which was followed by the incredibly moving -- and almost never performed live, "Deirdre Dances"...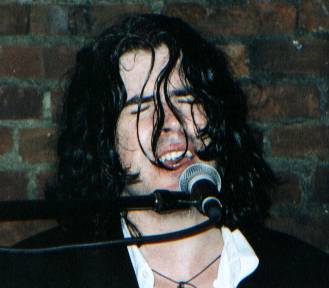 "I no longer know what I
want;

I no longer know what I
need...


I no longer know what
I'm doing here;


I no longer know what to
believe..."

After this, Michael broke his between-songs-silence briefly to explain the origins of "#49", a song which takes its name from the train on which it was composed...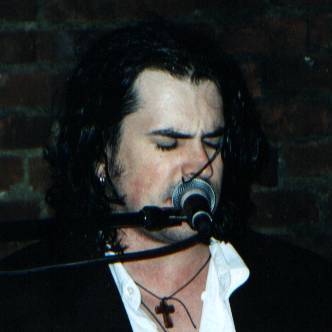 "Lifelessness cries from
from the fountain of
youth....


Lawyers debate
the meaning of
truth..."
...and to which Michael attached a portion of "Stumblin" as something of an epilogue, before announcing he would do just one more song...the always fitting conclusion, "Around The World"...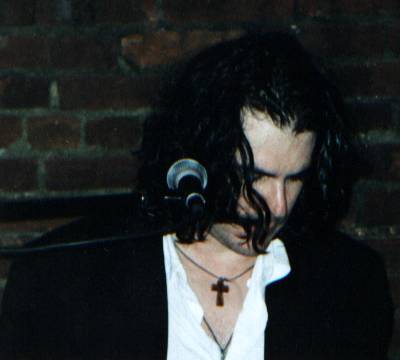 "I had to travel

around the world...

Just to find

my way home."

Yet his musical journey for this night was not yet over, as the crowd once again demanded an encore, for which he chose the lovely "Under The Undertow"...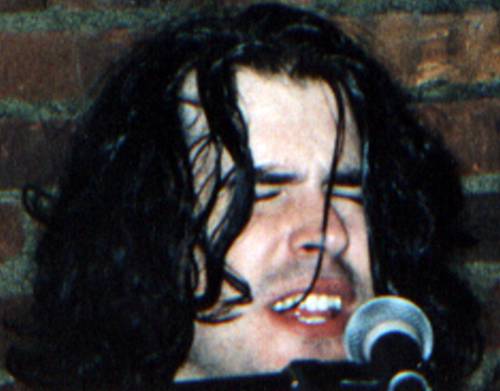 "In a rainbow night,

I held on tight
To her dirty coat..."


And, as always, wishing to myself hold on to each rainbow night of Michael's music presented live, I again sought out my usual photo reminder, which request Michael once more very graciously obliged...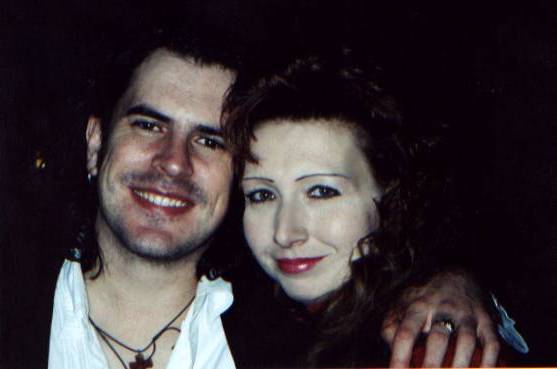 And, so for the final time in 2001... for everything,
Thank You, Michael...
and again,
Please Come Back Soon!