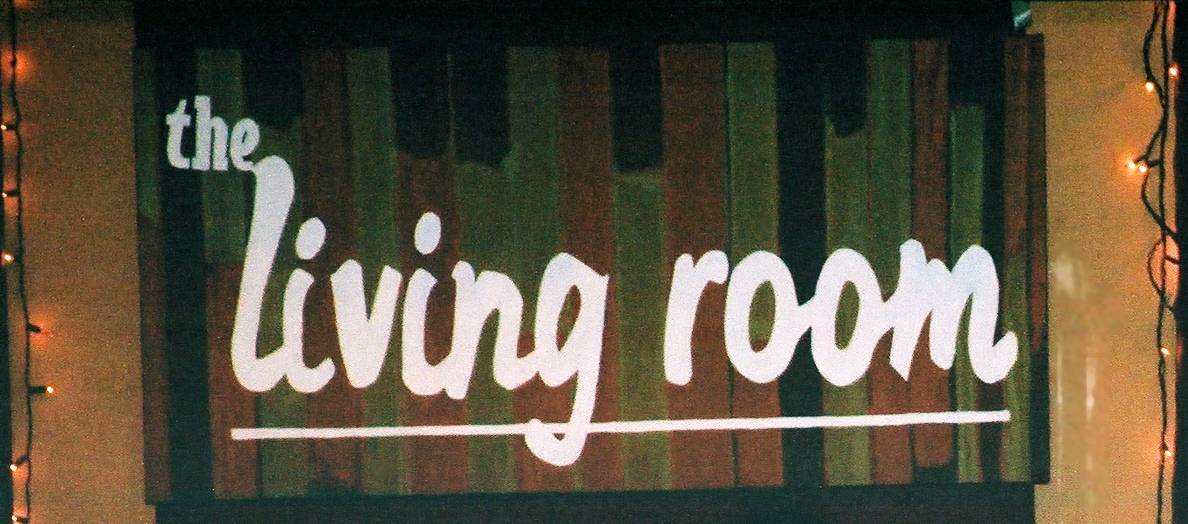 New York, NY
8/15/07
The set started with the pleasant surprise of a very early McDermott composition...about a neighborhood in Chicago where Michael once lived -- and the very colorful characters who inhabited the "Borderline" of that area...
"in the empty tavern tattered tales are being told
of the saints and the kings down the dusty streets of old..."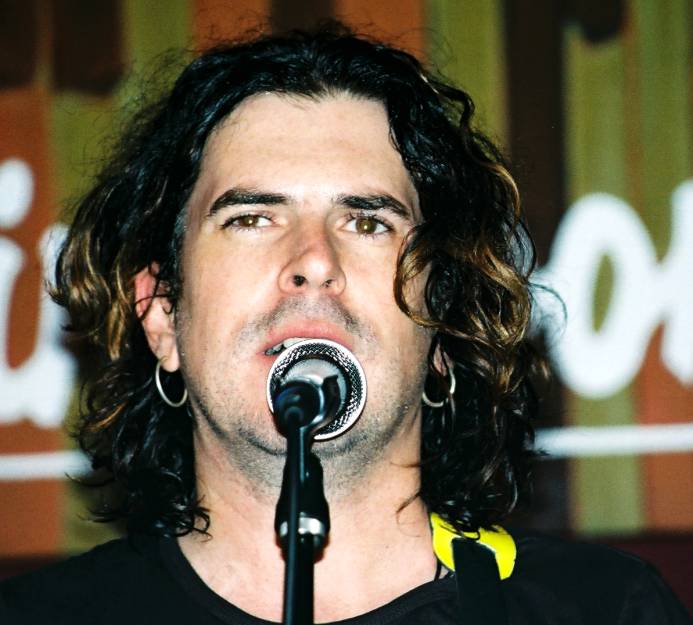 Michael then asked Ed Fritz and Courtney Kaiser to join him onstage for "Still Ain't Over You Yet"...which had also featured Courtney's vocals when he debuted the song at this venue in May '06...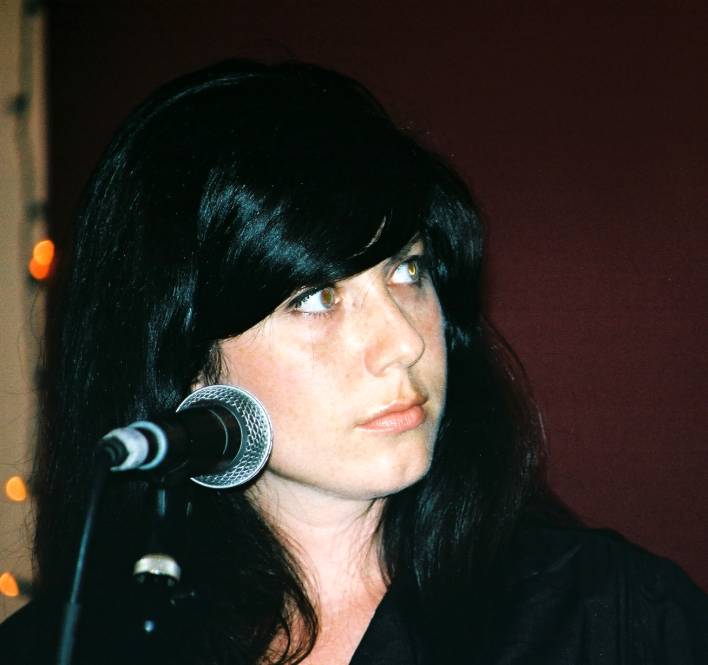 And, again she...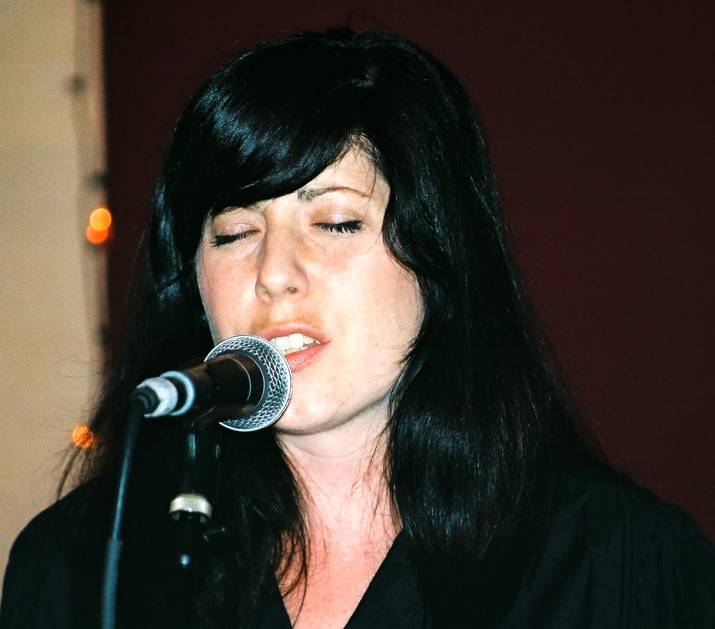 (and Ed, of course)...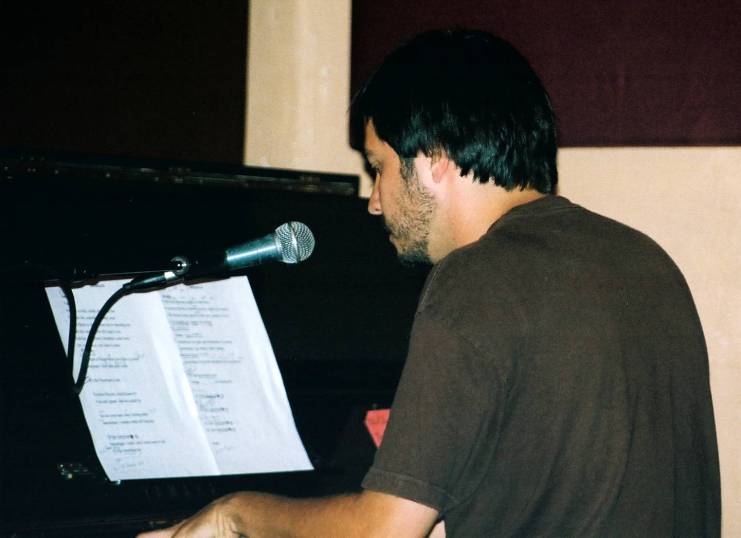 ...did a lovely job. And, oh yeah, that Michael guy wasn't all that "piss poor" himself...
"yeah, I'm wandering around as lost as I've ever been..."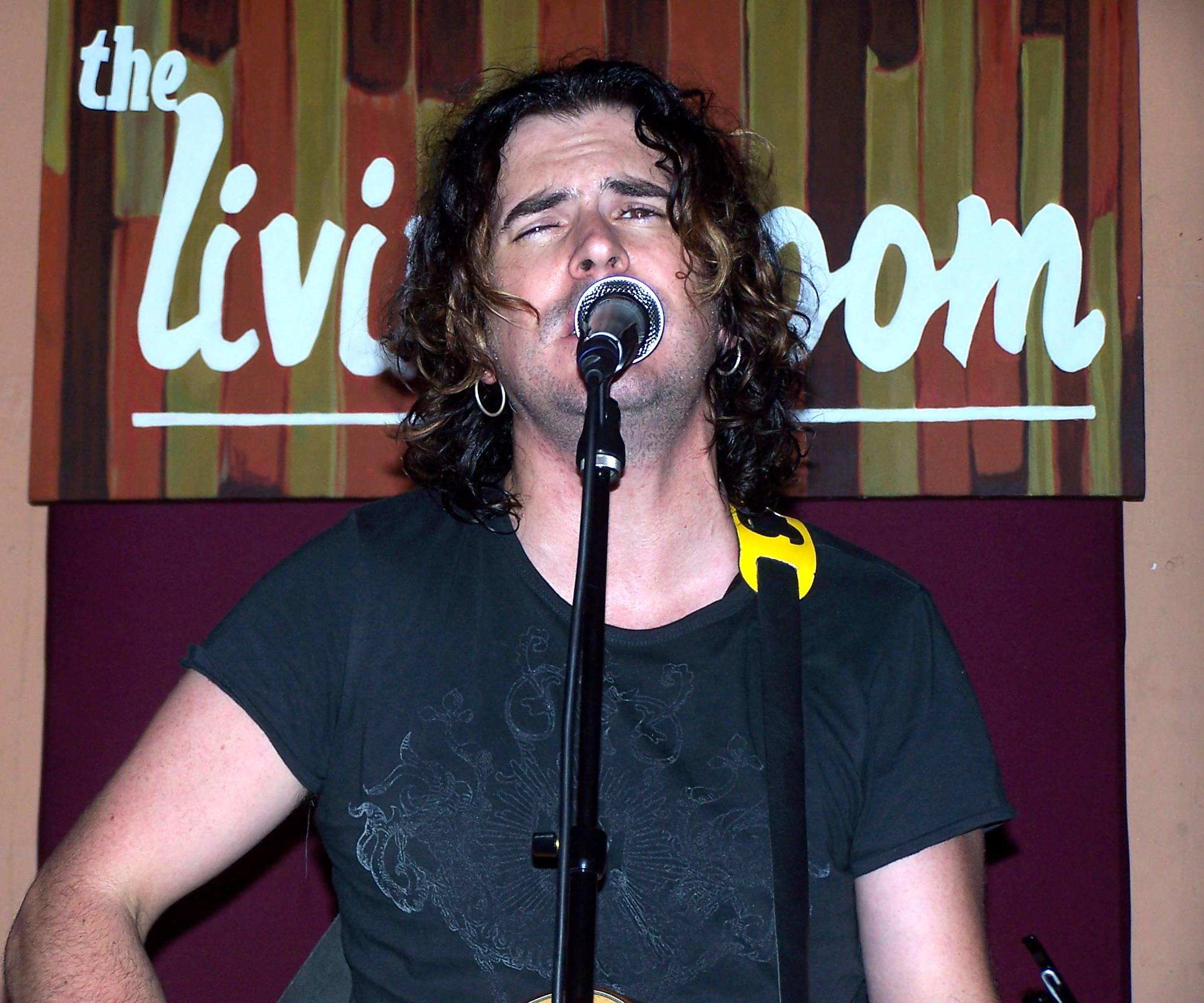 I'm kidding. With regard to the shape in which the relationship in question left him, however, it seems even without Dr. Phil present for the "confessional" that was his 8/1 show here Michael may have made a bit of progress in his music therapy. "Reciprocity is key to relationships" he noted, adding without it you "end up with either a broken heart or a broken hand"...going on to admit, "In the last year I've ended up with both."
On that note, it's good a birthday for him lay just around the corner, as I'm sure he joins me in the sentiment, "Here's to a NEW year!"
Speaking of new, next came a new song...at least from the perspective of hearing it in live performance. I had long awaited a chance to experience "Tread Lightly" up close and personal, and indeed on this occasion (augmented by Ed on accordion and backing vocals this time) it in no way disappointed. As you can see, it held the rest of the crowd's attention pretty easily as well...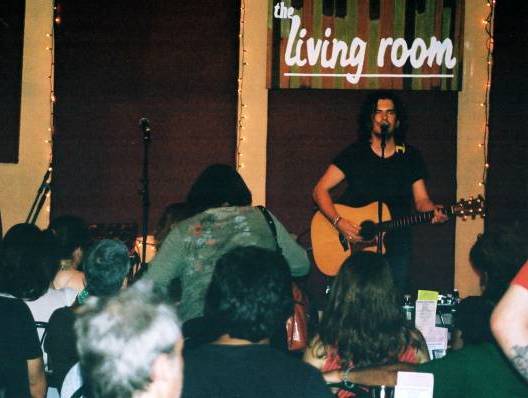 "and I'd be wiling to bet you...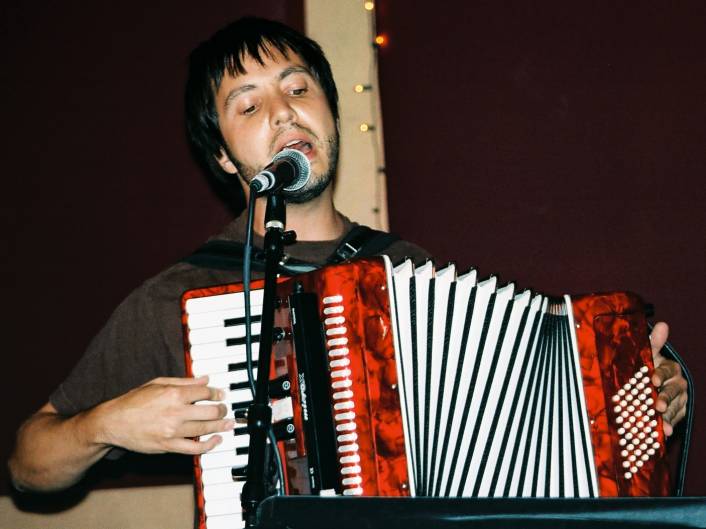 "but your money ain't enough..."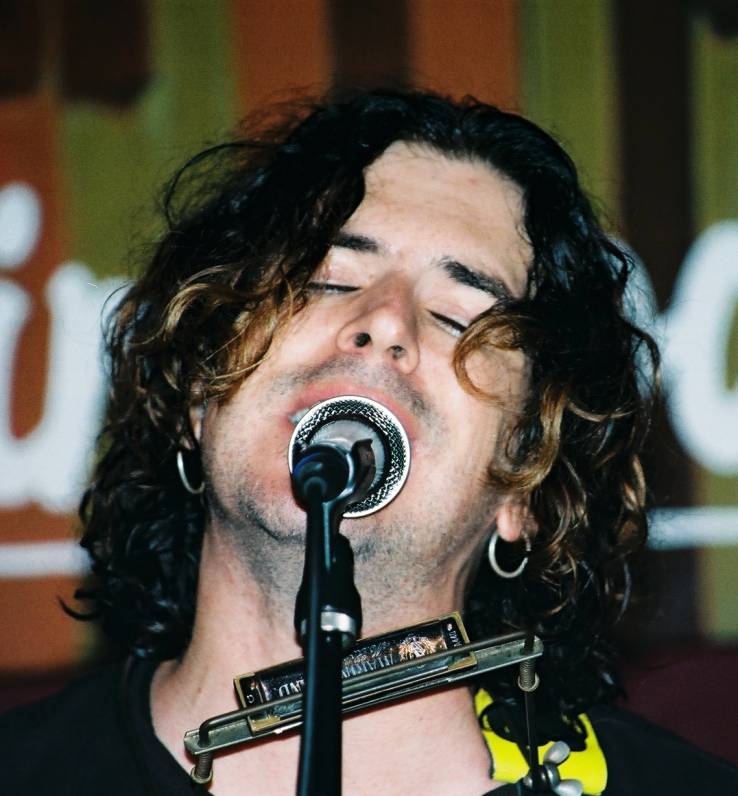 Before the next song, Michael informed the audience a review of the new album was soon forthcoming in an issue of Entertainment Weekly. It was rather typical of his slightly darker mood at this latest show that he added, "it's either gonna make for a very good day -- or a canceled subscription." Either way, I'm sure no one would cancel an order for Noise From Words upon hearing the fantastic rendition of the track from it that followed: "Long Way From Heaven"...
"danger dances in these half-lit rooms...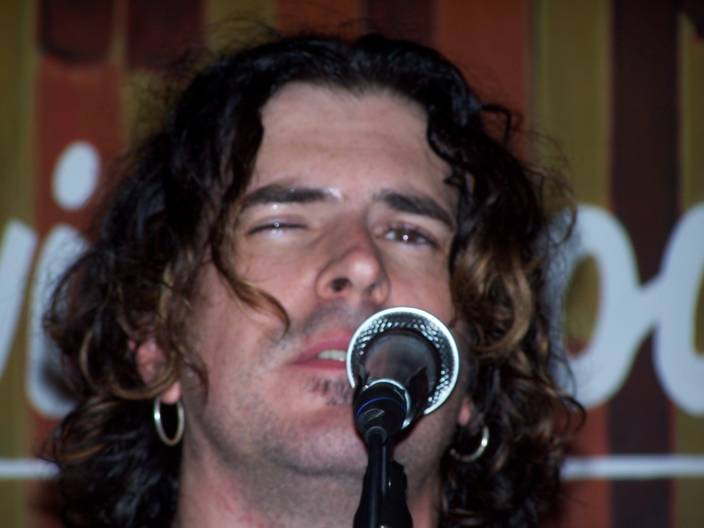 "confusion reeks in these saloons..."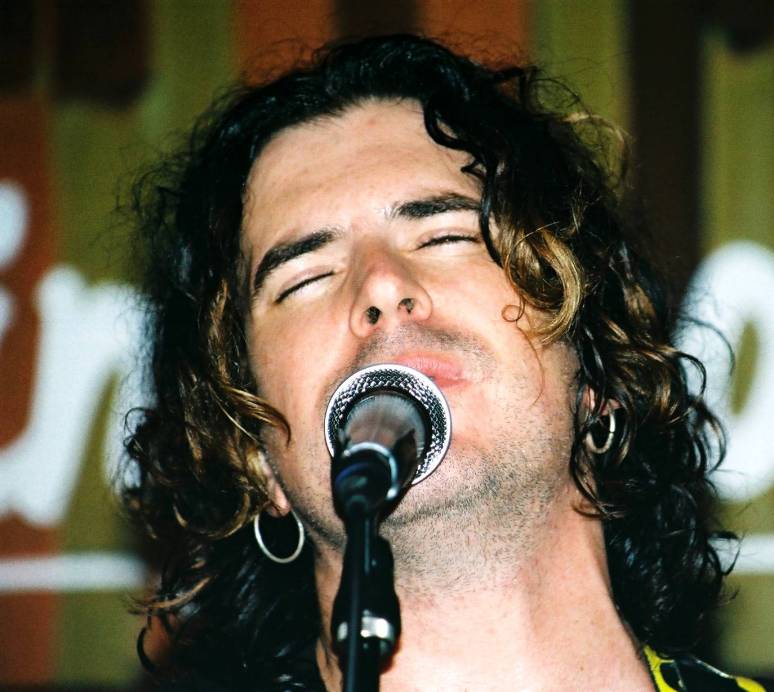 ...which, in my opinion, was the most enhanced of the evening by the addition of Ed on piano...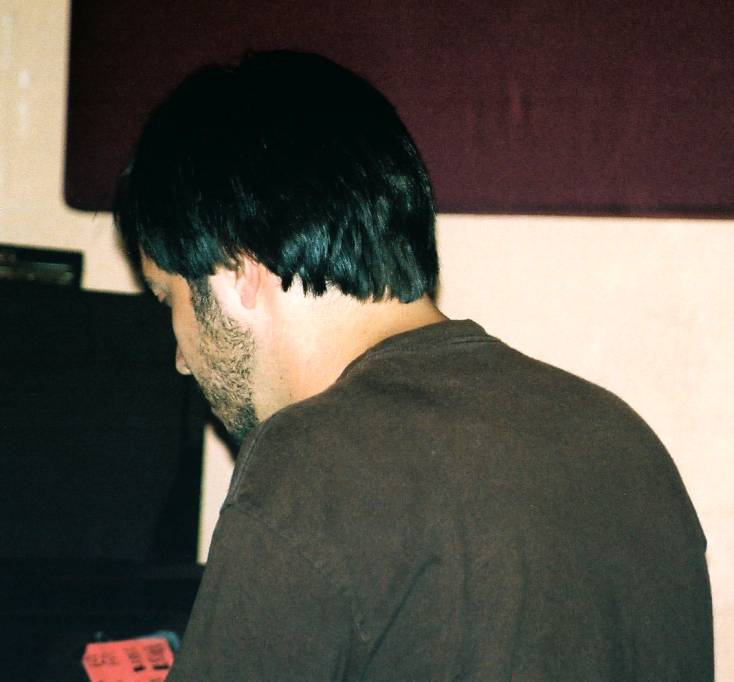 More commentary -- again indicative of the evening's mood -- prefaced the next song as well, this one dedicated to a special friend in the audience, Brian Koppelman...who Michael noted is "the only reason I keep coming back to New York." As the crowd applauded loudly to honor this gentleman, Michael responded with mock indignation... "Don't applaud for him -- this is my show."

On that note, I'd like to offer a little aside to all of this...summed up by a quote from a movie I saw recently..."The world worships success, not greatness." Oddly, it seems "greatness" makes the mistake of doing so as well. By that I mean... (NOTE: NO disrespect to Mr. Koppelman intended, I state here up front; after all, he proved himself pretty "great" long ago as the force behind Michael's first record deal. So read on with that clearly established.) ...it seems Michael never fails to get his acquaintance with Mr.Koppelman (and his writing partner, David Levien) into interviews, has them placed notably in the "top 8" of his myspace friends, etc. And, based on longtime acquaintance with Michael I firmly believe that mixed with the indeed genuine appreciation of their friendship is a certain feeling that association with their "success' somehow makes him "greater" than he often thinks himself to be. The thing is, though, while I have no doubt they have many lesser known evidences of their own "greatness", the reason for their "success" is having penned a number of entertaining movies (most recently the escapist fare of the Oceans [11, 12, & 13] series). Although I've only seen a couple of their works (and none of the Oceans ones) it's my opinion these accomplishments hardly add up to anything truly "great" in the more serious scope of life.
What Michael's music has achieved, by contrast, may never have generated the kind of money these gentlemen (I indeed hope) enjoy. And, as of this writing, it hasn't reached the mass numbers of people who attend their films If, however, you read/listen to the comments of those it has reached (just check out those in his website bio, for example...which I'd bet echo the thoughts of many who may have simply never found an opportunity to share its meaning in their lives with Michael himself), it's clear the less "successful" Michael is in no way surpassed by Mr. Koppelman -- or pretty much any other writer/musician/artist -- when it comes to "greatness".
And, one of the beauties of having one's own website is "ownership" of the space in which to share one's "own" opinions...both the sometimes controversial negative ones (aired only in a spirit of constructive criticism)...and the (far more common with regard to matters McD) sincerely positive ones like that I just expressed.
But, putting that "aside" aside...on with the show..
...which continued with "A Wall I Must Climb"...
"Have you ever looked at your face so much...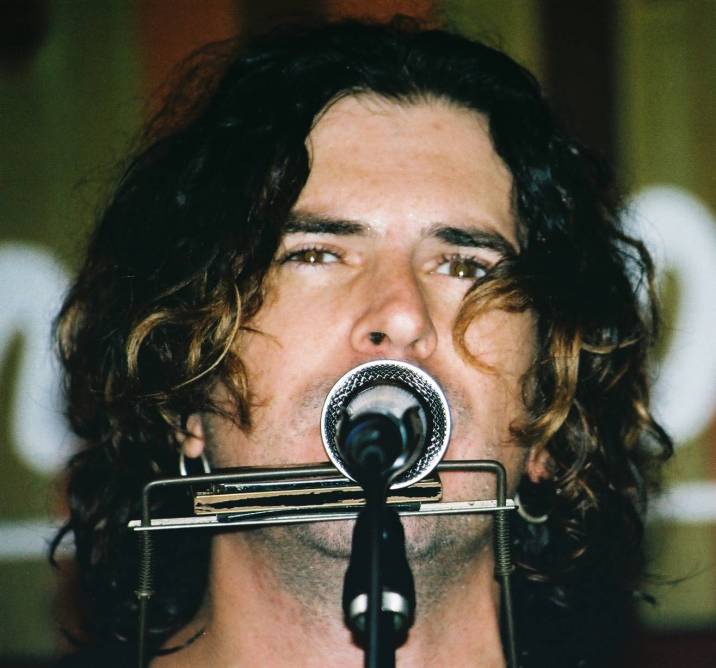 ...and once more featured Eddie on piano...
"until it became askew?"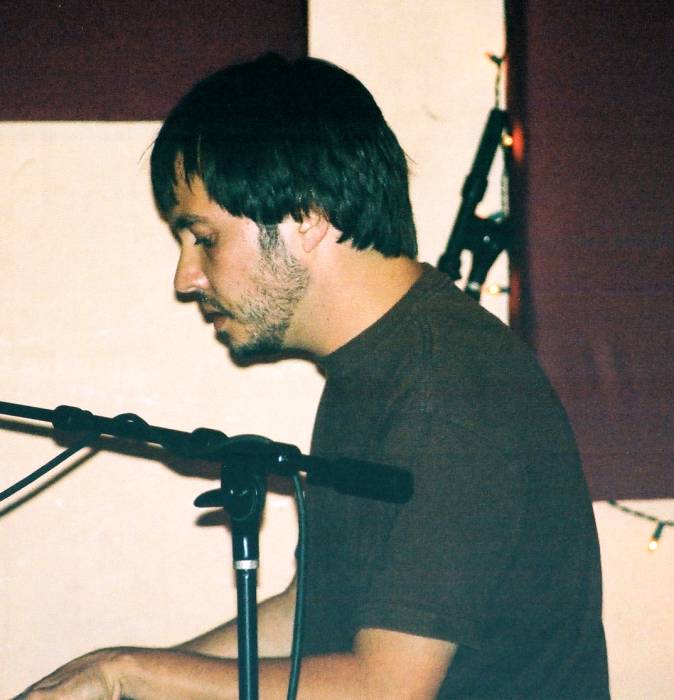 "The road that's less traveled...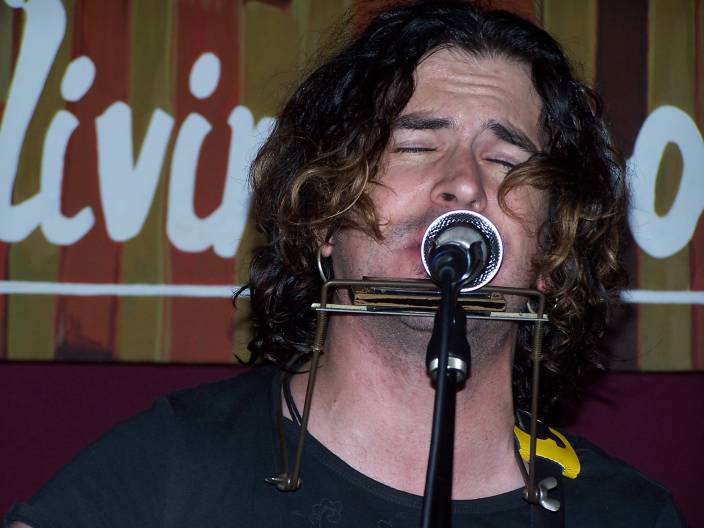 "is the one that leads right back to you..."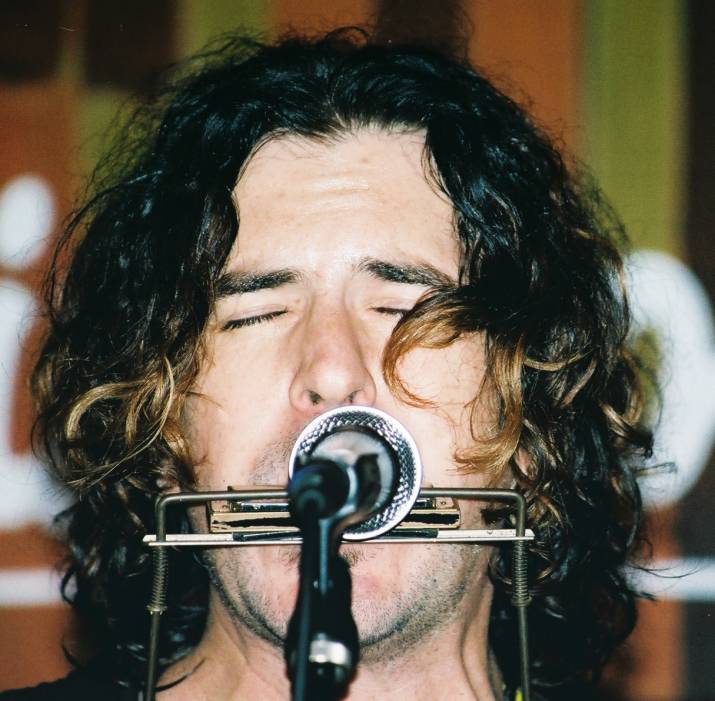 Having made the entire crowd except Mr. Koppelman feel a bit like chopped liver with that previous announcement about his sole reason for visiting New York -- while playing a show to a New York audience (not necessarily the best move, as the photo below might indicate he realized)...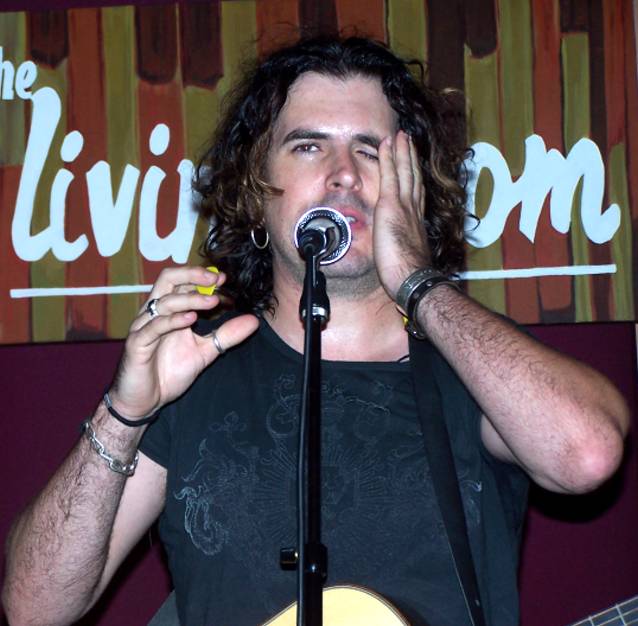 ...Michael elaborated a bit on a few other positive feelings about NYC..."I love coming back to New York," he said, "I spent a lot of time here a long time ago...New York has an amazing energy...you can't even explain..."
Okay, Michael, we forgive you for the prior faux pas...you didn't really make all that big a "Mess of Things" this time around. Neither did poor Eddie, however, who made the tiny error of taking a seat beside the stage as he awaited further instructions from Michael...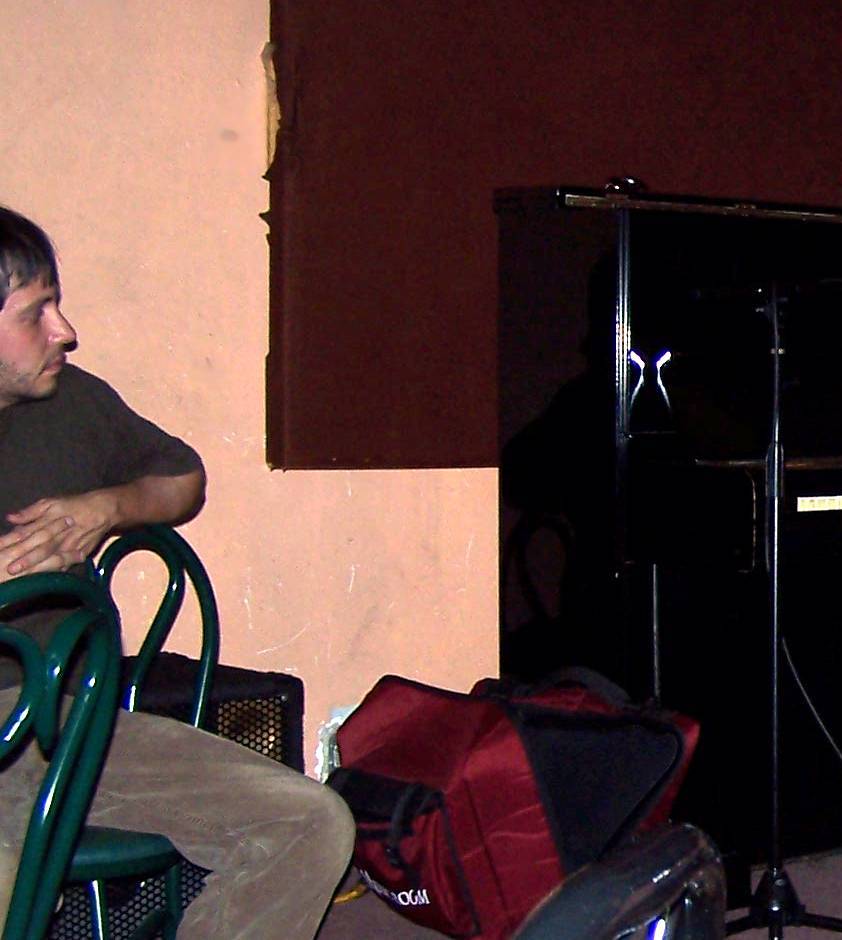 Noticing him no longer at the piano, Michael (okay, maybe not quite) barked, "You want to play on this or you want to take this one off?" My, these artsy types can be awfully testy!
Anyway, with Ed back at the ivories...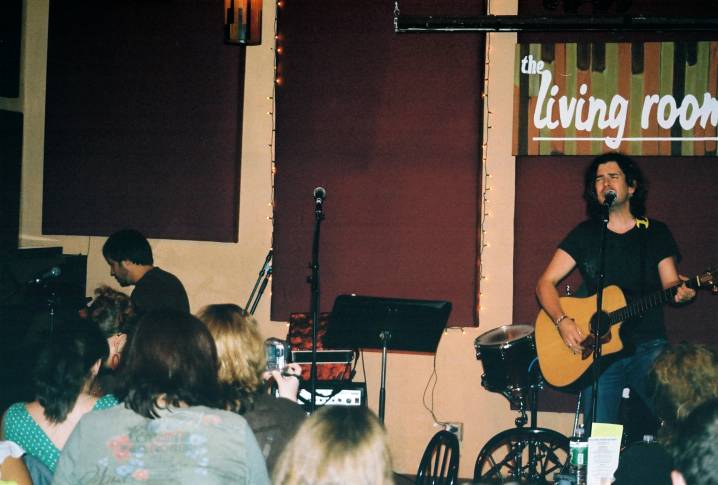 ...the show resumed without further interruption...
"The circus lights shine as bright as day..."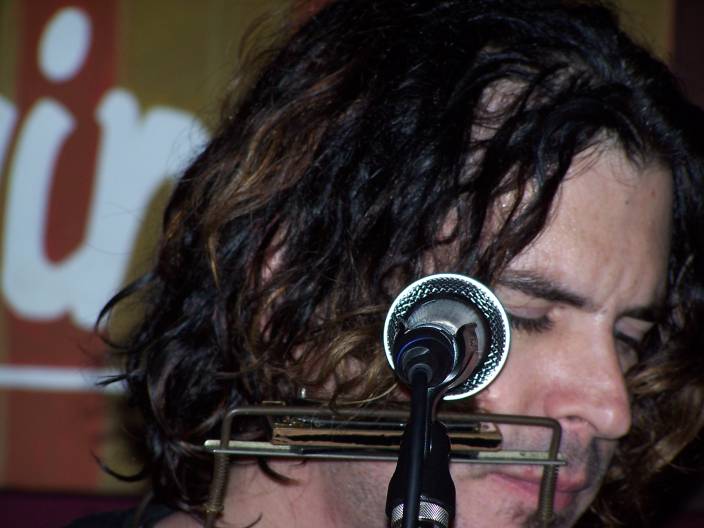 ...with the announcement of an upcoming appearance on the Weekend Today show "at an obscenely early hour", along with the (to him clearly displeasing) addendum that the network wouldn't allow him to play "The American In Me". Although I realize the song has its strong adherents, who I firmly believe have the right to their opinions, as noted previously I don't think it among his stronger compositions (which is really the more important point than any potential political associations) so truly believe NBC did Michael a great (even if unwanted) favor. Be that as it may, I don't want to waste space here feeding any kind of controversy...
"It's the American in me..."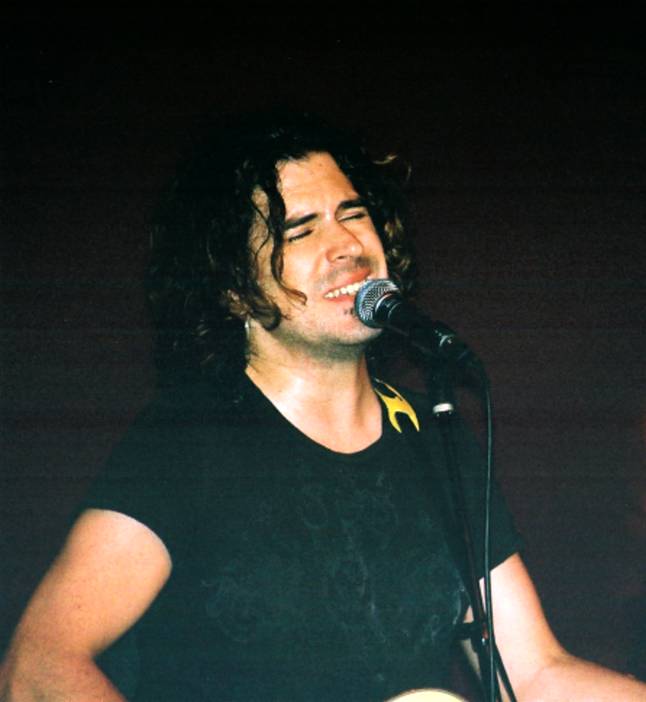 ...especially when the final song of the set proved one of my all-time favorites -- and one Michael can seem to pull out of the hat time and again to command pin-drop silence from any crowd by virtue of its riveting immediacy. That song, of course, being the indescribable "Wounded", for which Michael himself at last took a seat at the piano...
"All the pretty horses dancing in that moonlit field..."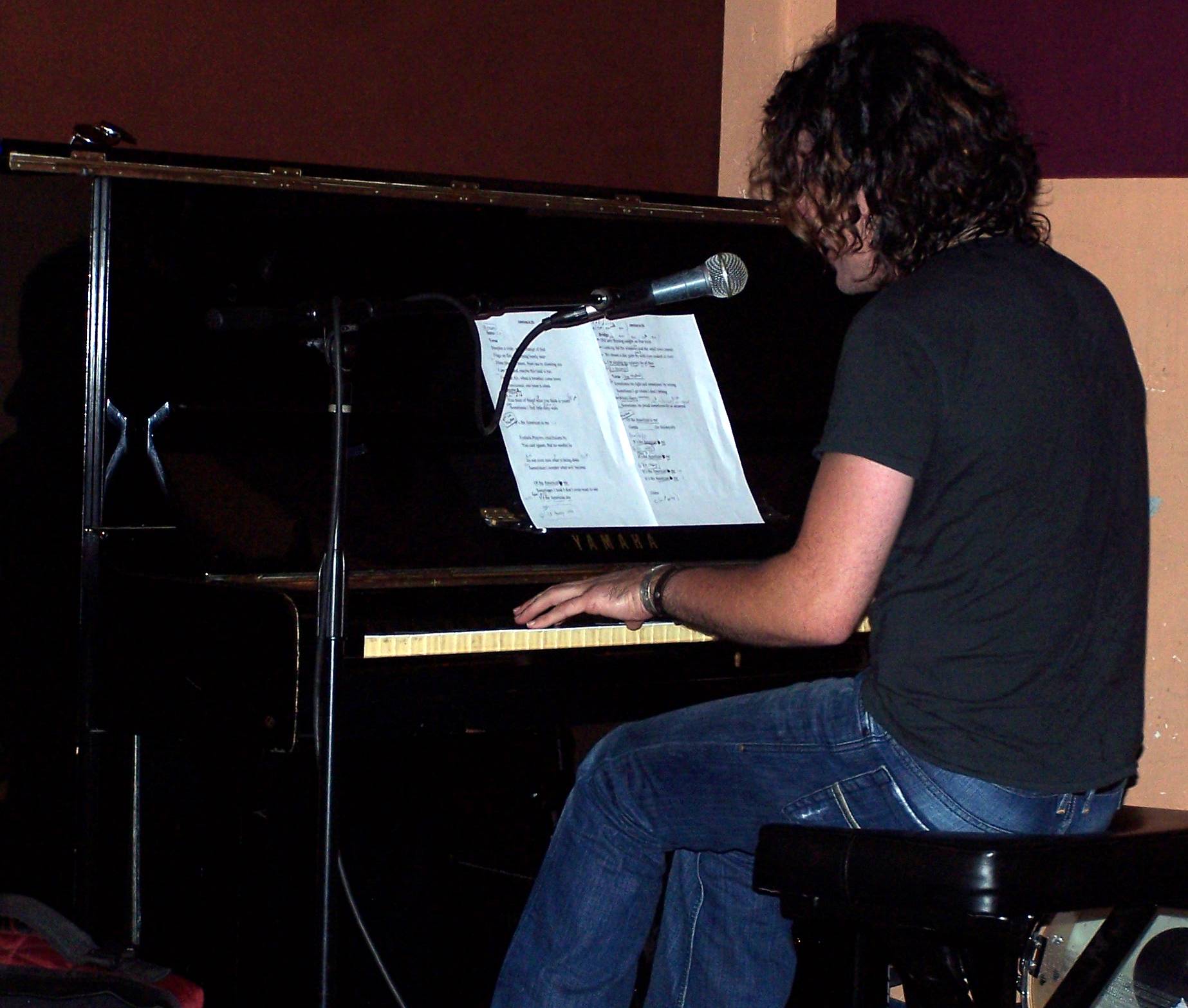 "but you lied to me when you spoke..."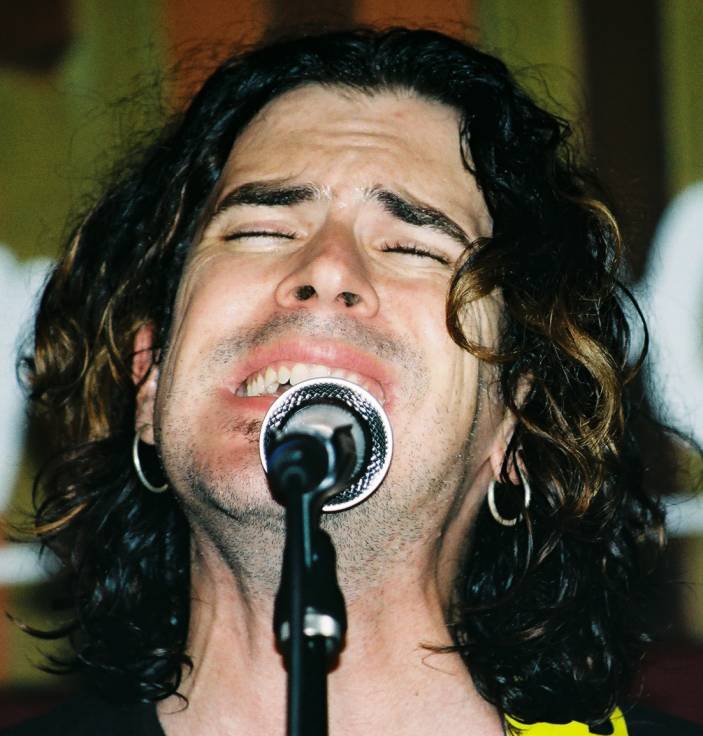 "I'm too tired for sleeping; I'm too wounded to hurt."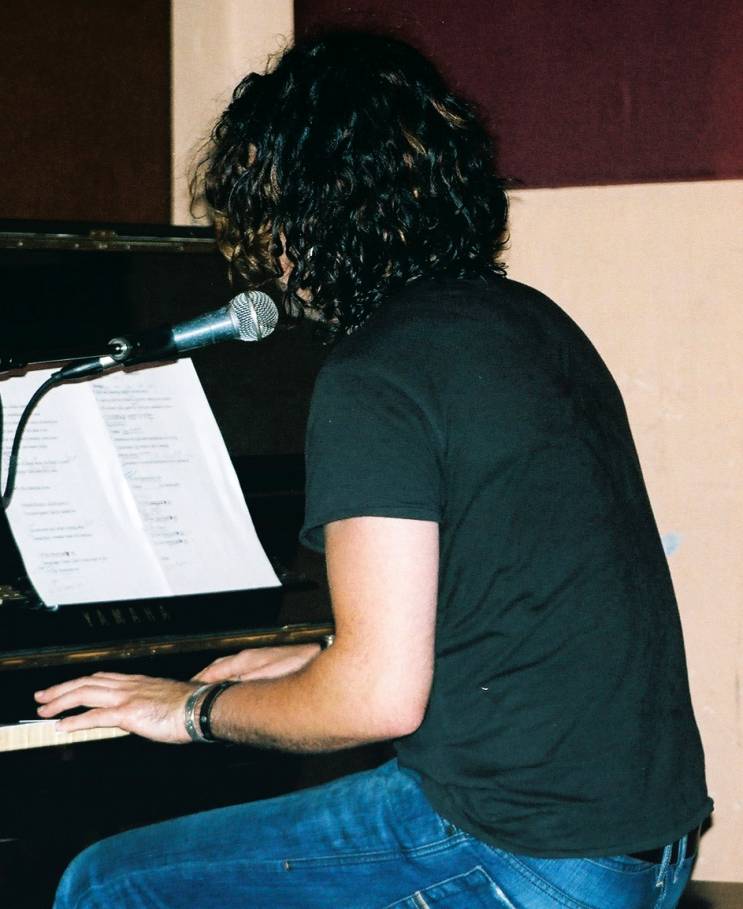 And, on that indeed ultra-high note, the show ended, with the indelible memory of its final strains following those in attendance as they filed out into the late summer New York night...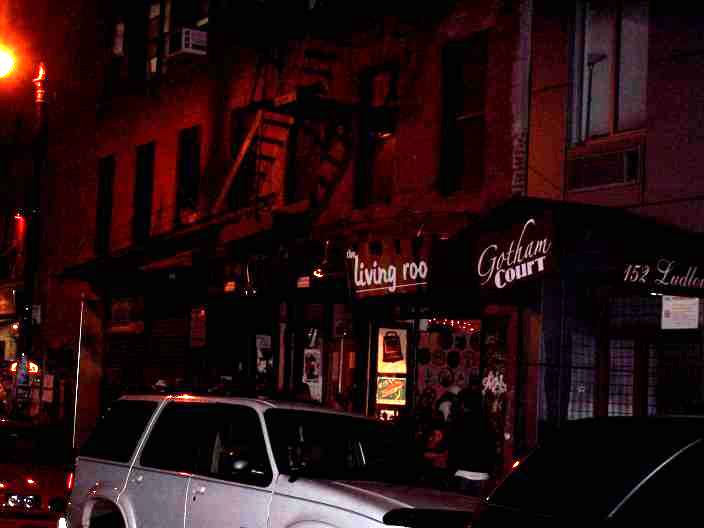 ...little knowing the best was yet to come -- when Michael returned to the Living Room for the final show of his August '07 residency two weeks later...
...a review page for which will be coming in the days ahead.
For now, however, once more...
As always,
Thank You, Michael (and Ed)!
And, again,
Please come back SOON!!!