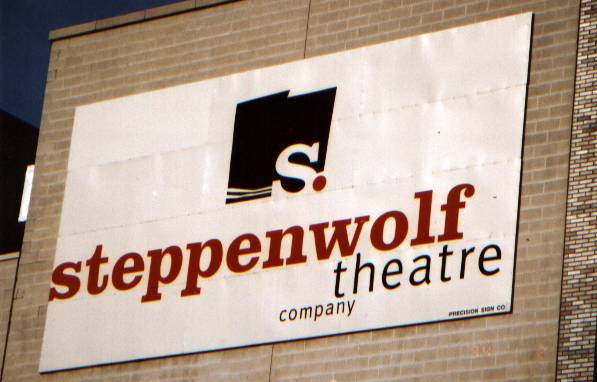 It wasn't until discovering the website (then known as) myklmcdermott.com back in late 1999 that I first realized the artist whose work I'd long since come to know and love on the albums, Gethsemane and Michael McDermott was a native of Chicago.
Strange as this now seems, prior to that time the greatest significance Chicago held for me was as the home of the renowned Steppenwolf Theatre and its founder, Gary Sinise. Having first encountered Mr. Sinise's work in the film, Of Mice and Men (which co-starred John Malkovich and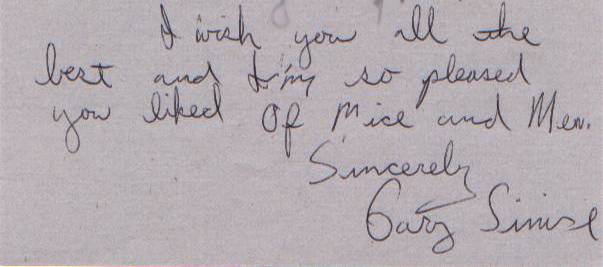 instantly became one of my all-time favorites), I had written him (in care of Steppenwolf) praising this endeavor, and been surprised and thrilled to receive from him a few weeks later a 2-page handwritten response.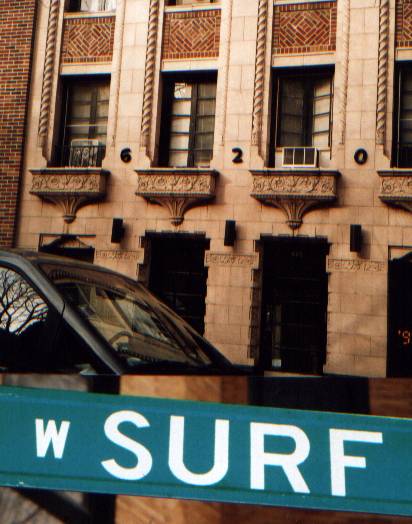 Naturally, this sealed in me something of a fondness for this "Windy City" I'd never yet had an opportunity to explore. And, of course, as I became more familiar with the music of Michael McDermott and discovered that so many of the colorfully depicted places scattered throughout his songs could be found in and around this town, the desire to one day experience Chicago firsthand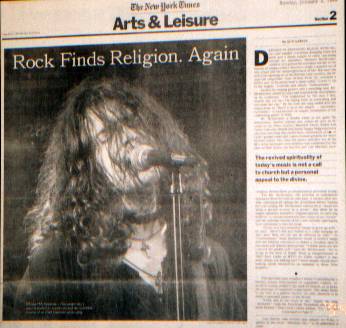 transformed into an unwavering determination to indeed eventually pay this city a visit -- a visit which couldn't possibly be complete, of course, without the key ingredient of a show by this incomparable artist performed on his "home turf".
And so, with his last East Coast gig of 2001 in the past and the first of 2002 still soooo far

off, sparked by what might arguably be termed a bit of manic artistic madness, at last the time arrived for a long overdue lesson in history and geography -- not to mention one really fantastic Michael McDermott show... And just in case anyone's still wondering, yes indeed it was worth the trip!!!

1/26/02
Even before the doors opened the place was packed! And when Michael took the stage and launched into "Upside Down", he appeared before a not only huge, but also incredibly enthusiastic crowd...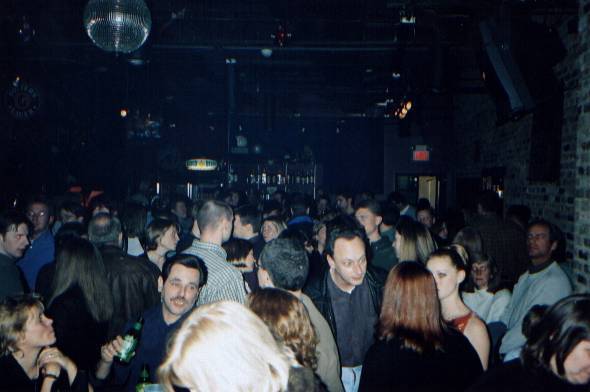 "...so many thoughts inside
my head;
so few words in my mouth...

Well, I'm upside down,
right side's wrong;

My wrong side's been
right
For far too long..."
Accompanied by TJ and Jack (on bass and bongos respectively) throughout the evening, Michael played many songs I'd never before heard live, including the darkly intense "Just West of Eden"...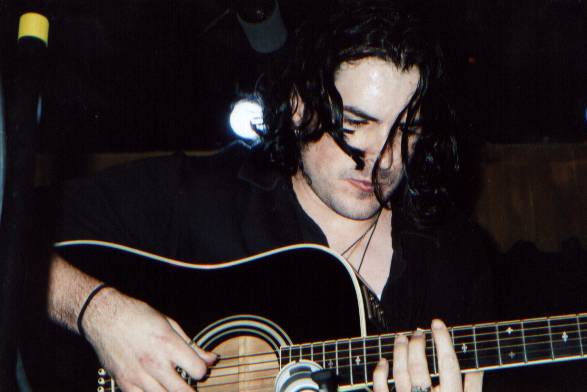 "Graced by the hours and the
mindless traps
In which even the noblest fall,

Love's longing flower
brought humility unto
us all..."

..and "Jezebel", which simply has to be one of the most just plain catchy songs ever recorded...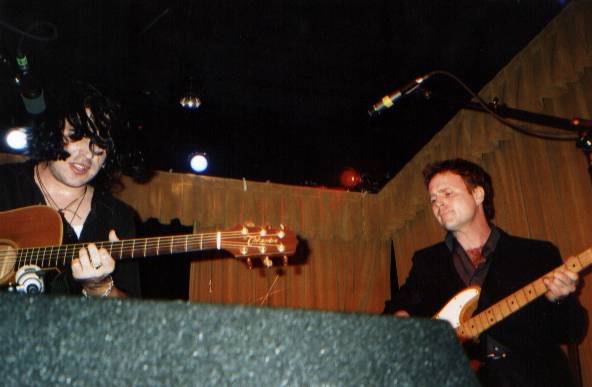 "Yeah, her amulets and
charms are so strong,

I cannot defend...

Where in the hell
has my lovely
Jezebel been?"


...though, of course, he threw in a bit of standard (although far from tired) fare as well, including "Leave It Up To The Angels", which the entire crowd clearly -- and very thoroughly -- enjoyed...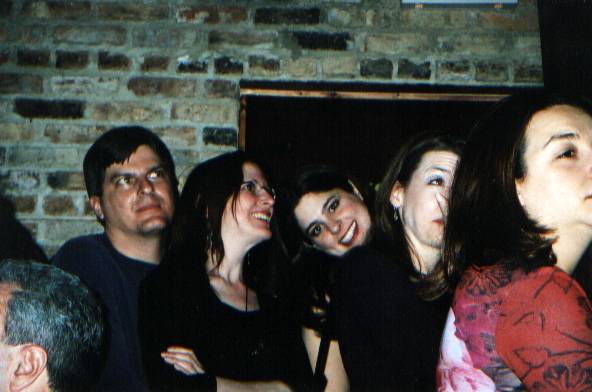 "I'm frightened by the
way I feel,
And maybe you are,
too...
I'm losing faith in
everything

And everyone

But you..."
After this Michael moved to the piano for the always beautiful, "Bourbon Blue"...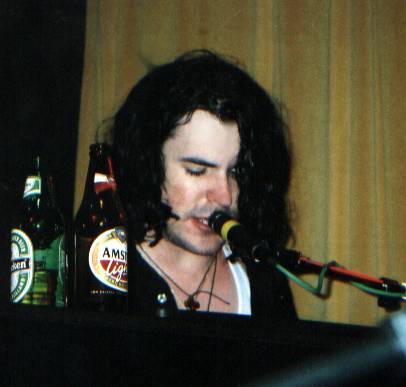 "Downward I was
falling, reaching

For a strand so true...
I'll keep holding on

For my bourbon blue."

...followed by my favorite of his newest creations, "Feel Like We Belong"...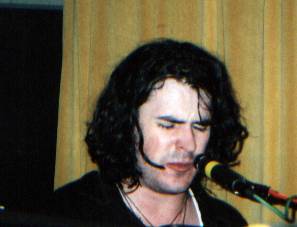 "In between is cruel
and mean...

Only with you
do I ever

Feel like I belong..."
Michael then invited the crowd to join him in a special song..."Happy Birthday"...in honor of Jack...before moving on to another of his as yet unreleased (and also among his most instantly appealing) songs, "What You Think You Become"...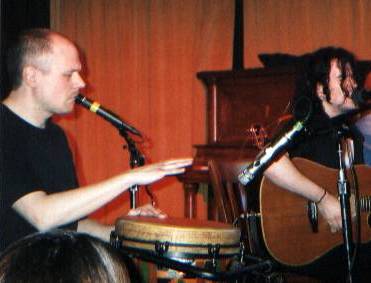 "Well, like begets liking;

I'm startin' all over
tonight...

Tonight..."
and "Summer Days", a song I'd often heard before on piano. This time, however, Michael performed it (very beautifully) on guitar...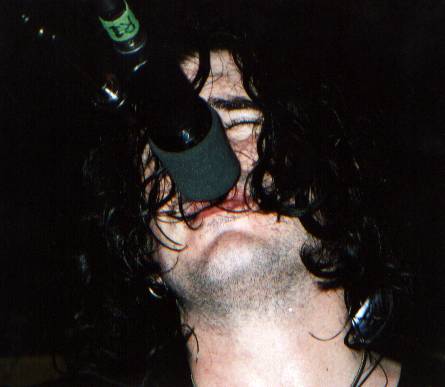 "Just feelin' disconnected,

Like we felt all along..."


Next Michael dedicated to his mom an incredibly moving and eloquent performance of the gorgeous and seldom heard live, "Right Here With You"...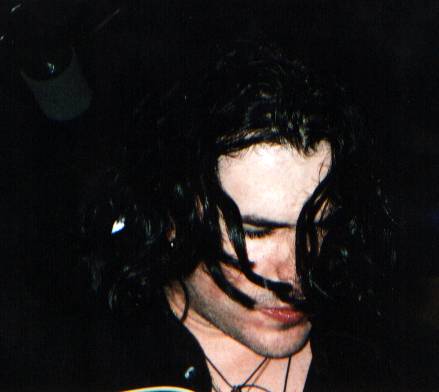 "There's nothing I'd
rather see,

Nothin' I'd rather do,

No place I'd
rather be
Than to be
right here
with you."
...which was followed by another of his latest compositions, "The Sword of Damocles" -- a song I'd also previously heard only on piano. Hmm, come to think of it, I can't help wondering if the flying beer you may have read about during his energetic performance of the piano version of this song at the December Bryn Mawr show may have prompted Michael's (safer?) decision to switch to guitar! But, whatever the reason, it still sounded great...
"Is it your reflection
Or just a disease
When you gaze upon
The sword of Damocles?"
And just when it seemed the night couldn't possibly get any better, the moment came for the always searing -- and soaring -- "Wounded"...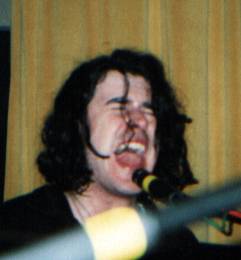 "I will implore
This dirty sky for rain
To wash away my
iniquities
So I may rise again..."
...which was followed by "Good Time Charlie's Got The Blues", a cover for which Michael asked Gary Stier (who had opened the show) to join him onstage, and which he said the late Mike Jordan had long ago performed...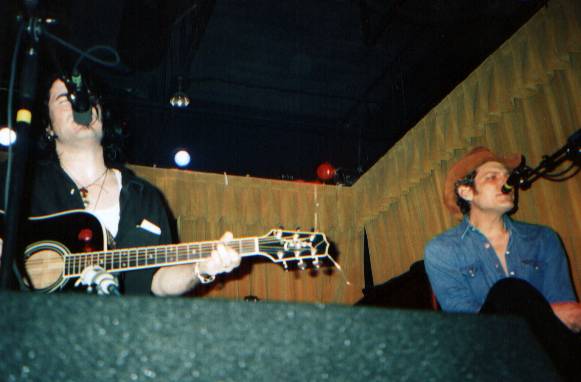 "Some gotta win;
Some gotta lose...
But good time Charlie's
got the blues..."
As the set began to wind down, Michael embarked on a series of staples performed at nearly every show, beginning with the ever-popular, "Unemployed"...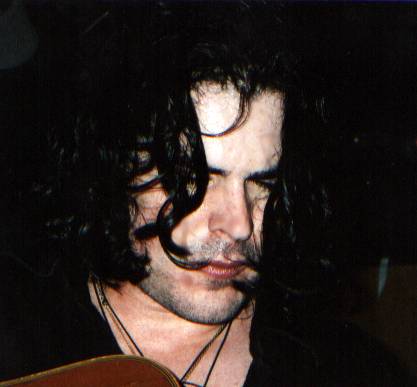 "You can call me
a slacker;
You can call me
a waste.
But I'm just a
pauper
With a prince's
taste...."
...and the lyrically ever-changing "20 Miles South of Nowhere"...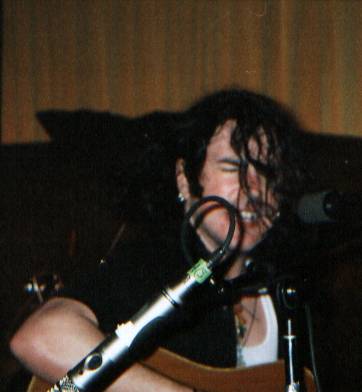 "The Last Chance Lounge
on the near North side,
Everybody's watchin'
the news...
The music comes back
when the Bears - Eagles
game comes on...

Hear Van the man
singin' the Irish Blues..."
...then moving on to the pounding intensity of "Junkie Girl" (aided by some excellent background vocal work from Jack)...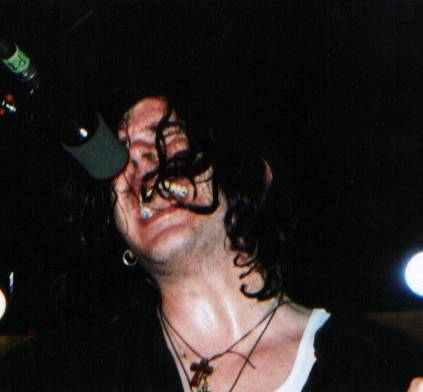 "The smartest woman
That I'd ever met...
My sweet soul lover
I'd never forget.."
...before at last concluding with the McDermott classic, "A Wall I Must Climb"...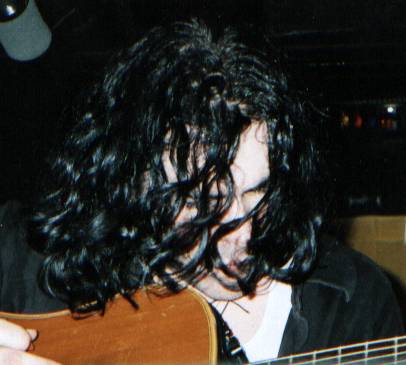 "My feelings, they were
stinging;
I was submerged down
in my defeat.
But I smiled for a second,
And for that second I felt
fine...
Pain is a wall I must climb..."
And although Michael indeed left the stage after this song, fortunately he proved very willing to quickly return in response to the crowd's eager demand for an encore. Taking a seat at the piano, he laughingly stated, "I'm like the guy at a party who won't start a conversation, but once somebody else does he never stops talking!" And so the musical conversation began afresh with the lovely "Around The World"...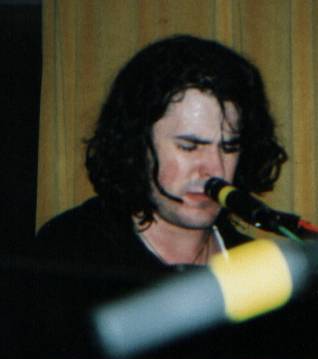 "I've been in books;
I've been in movies.
I've flown over six
of the seven seas...
I had to travel around
the world
Just to find my way
home."
...and continued with the jaunty "Broken Down Fence"...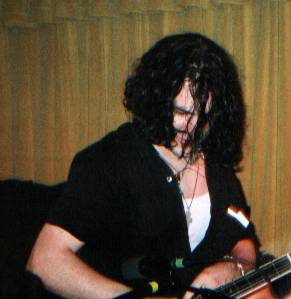 "Into a hip-hop daydream
I go walkin',
And the cevuessier
keeps on talkin'
And on the same stones
I keep on stumblin'
With the same mistakes,
baby, time and time
and time again..."

Once more Michael then attempted to leave the stage, only to be called back yet again for another encore. And so, accompanied again by Gary as well as TJ and Jack, he embarked on the final tune of the evening, "Forgotten"...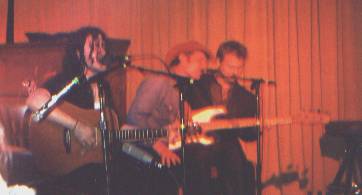 "Crimson veils and fairytales
and lights that seem
familiar,
There's a doorway to
the temple; there's a
spell that I've been
under..."

And although the spell of Michael's music we had all indeed been under inevitably had to end, still, as I've done on Michael's East Coast visits, I sought out a bit of proof that I'd actually experienced this amazing show...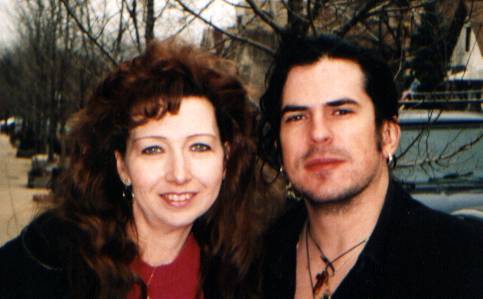 ...the memory of which will surely by none present ever be forgotten.
As always, for everything,
Thank You, Michael!!
(And, by the way,
Look out, Chicago...because I warn you...
I'll Be Back!!!)
Or go check out...